Orbital ATK Upgraded After Earnings: What You Need to Know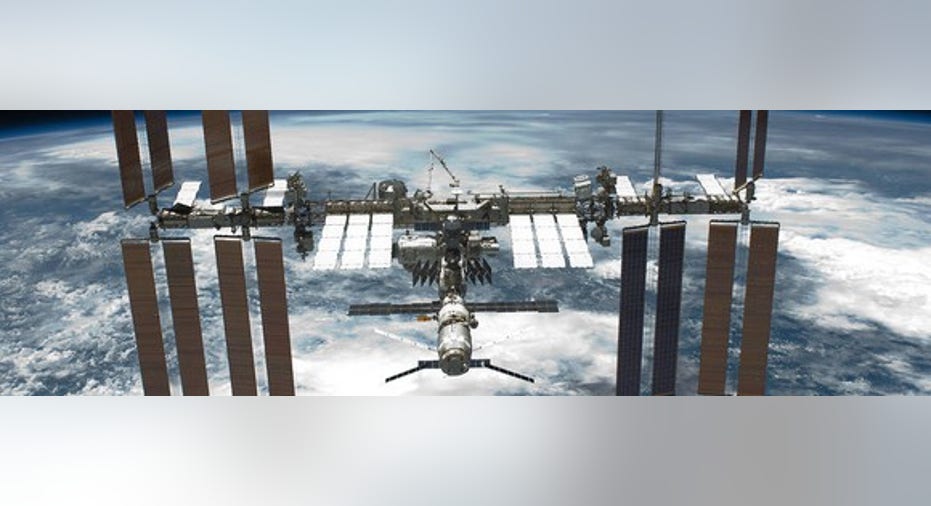 Every day, Wall Street analysts upgrade some stocks, downgrade others, and "initiate coverage" on a few more. But do these analysts even know what they're talking about? Today, we're taking one high-profile Wall Street pick and putting it under the microscope...
Rocket specialistOrbital ATK (NYSE: OA) reported poor earnings in its fiscal Q4 announcement yesterday, missing analyst estimates by $0.12 per share, and offering new-year guidance that only met the consensus -- not exceeded it. Yet investors didn't care.
Although Orbital missed on earnings, the company beat on revenue, and reported 11% quarterly sales growth and 21% growth in profits. This was more than enough to satisfy investors, who bid up Orbital shares 2.9% in Wednesday trading. They're bidding it up again today (another 2.7%) as applause from Wall Street begins to roll in.
Orbital ATK is counting on ISS resupply runs to build out its launch manifest and rebuild its revenue stream. Image source: NASA.
Here are three things you need to know.
1. A "12% discount to its peers"
Orbital ATK guidedinvestors to expect between $5.80 and $6.20 in per-share profit this year on revenue ranging between $4.55 billion and $4.63 billion. At the midpoints, these projections suggest roughly the same earnings Wall Street was already expecting, but a bit lighter revenue than had been participated (perhaps because Orbital already booked more revenue than expected in 2016).
Broadly confirming what Wall Street had already guessed at, Orbital ATK won a quick endorsement from Cowen & Co. this morning. As StreetInsider.com reports, Orbital has begun filling in gaps in its second-half 2018 revenue stream with new orders for launches for that time period. In particular, NASA has awarded Orbital a "CRS 2" order to send a resupply mission to the International Space Station.
With business beginning to recover from the setback of its 2014 rocket blowup, Cowen is confident enough of Orbital's chances that it has upgraded the stock to outperform. The analyst has also assigned a $108 price target that it says reflects an 18x valuation on expected earnings this year (i.e., 18 x $6 a share), arguing that such a multiple would be 12% cheaper than what investors are paying for its large-cap peers.
2. Can Cowen even math?
But here's the thing: That's not exactly true. Orbital is only expected to grow earnings at 10% annually over the next five years. But even leaving aside the question of whether 18 times earnings is an appropriate price to pay for that growth rate, 18x earnings is certainly not 12% cheaper than what peers of Orbital stock cost. Boeing (NYSE: BA) stock, for example, sells for precisely 18 times this year's projected earnings, while Lockheed Martin (NYSE: LMT) stock costs 19 times forward earnings.
In fact, both Boeing and Lockheed Martin sell for approximately the same valuation as Cowen is saying that Orbital ATK stock is worth. Now, that might be entirely appropriate. Boeing, Lockheed, and Orbital are all aerospace and defense companies after all. They're all in the same business of launching rockets into space. So why wouldn't they sell for similar multiples to earnings?
But as far as Cowen's assertion that 18 times earnings would be a cheap price to pay, because it offers a "12% discount to large cap peers"?
That simply is not the case.
3. Nevertheless, Wall Street persisted
Math aside, it should be pointed out that Cowen is not alone in its optimism over Orbital. In addition to Cowen's upgrade this morning, we note that Barclays Capitalhas also come out with a new $105 price target on Orbital (which it already recommended), while TheFly.com reports that Stifel Nicolaus has just announced a price target hike on Orbital stock.
Indeed, at $120 a share, Stifel's new price target is now the most optimistic of the three, a fact Stifel explains by arguing that investors are focusing too much on Orbital ATK's space launch business and may not be fully appreciating just own well the company's defense business is doing.
Bonus thing: Keep an eye on the cash
Another thing Stifel liked a lot about Orbital ATK's report yesterday was the fact that the stock seems to have momentum. Backlog, notes Stifel, was up 10% year over year, and Orbital ATK achieved a 1.3 book-to-bill ratio in 2016, meaning it took in about 30% more dollars' worth of new contracts than it booked as revenue for the year.
This promises strong growth in years ahead -- perhaps even stronger growth than the 10% earnings growth that is currently the Wall Street consensus. And if that turns out to be the case, well, 18 time earnings could turn out to be a bargain price for Orbital ATK -- regardless of how much Boeing and Lockheed cost.
10 stocks we like better than Orbital ATKWhen investing geniuses David and Tom Gardner have a stock tip, it can pay to listen. After all, the newsletter they have run for over a decade, Motley Fool Stock Advisor, has tripled the market.*
David and Tom just revealed what they believe are the 10 best stocks for investors to buy right now... and Orbital ATK wasn't one of them! That's right -- they think these 10 stocks are even better buys.
Click here to learn about these picks!
*Stock Advisor returns as of February 6, 2017
Rich Smith has no position in any stocks mentioned. The Motley Fool recommends Orbital ATK. The Motley Fool has a disclosure policy.