Orbital ATK Inc. Reports Strong New-Order Growth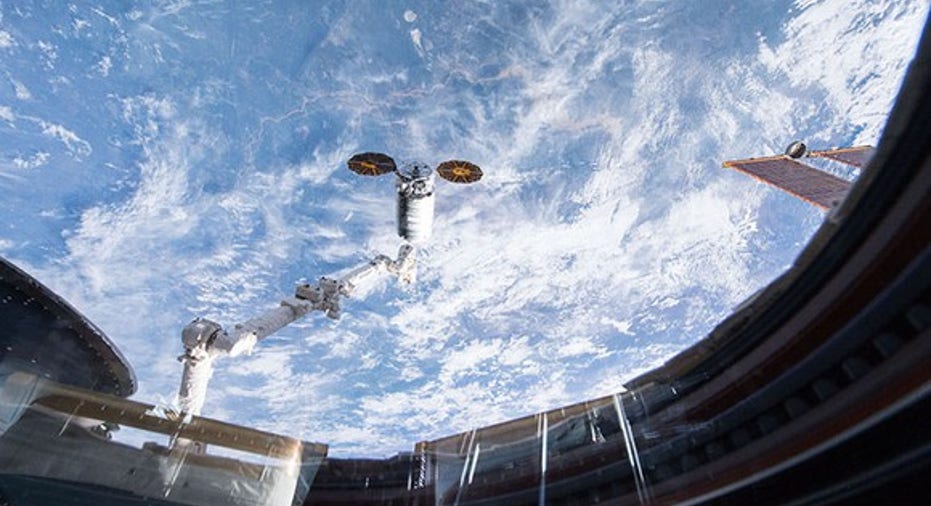 Image source: Orbital ATK.
Orbital ATK (NYSE: OA) continues to delay filing its quarterly results due to an ongoing review of its prior financial statements. That said, it was able to provide investors with a glimpse of its operations during the third quarter, which led it to believe that it can meet its full-year guidance.
Operations are on solid ground
In Orbital ATK's update press release, CEO David Thompson said that "from a new business and operational standpoint, Orbital ATK turned in a solid third quarter, highlighted by continued strong customer demand for our products and outstanding operational execution throughout the company."
Orbital ATK reported healthy new-business growth during the quarter, with the company recording $1.7 billion of firm and option contract bookings, as well as $315 million in option exercises under existing contracts. These contracts pushed the company's firm backlog up to $9.1 billion and its total backlog up to $15.2 billion.
For comparison, last quarter the company recorded $1.6 billion in new firm and option bookings to go along with $255 million in option exercises. At that time these contracts pushed the firm backlog up to $8.5 billion and the total backlog up to $15.2 billion. Given that starting point, new-order bookings in the third quarter represented a 7.3% sequential increase in the firm contract backlog and a 0.2% increase in the total backlog, which implies that revenue will grow in the future.
Turning to the operational highlights, COO Blake Larson noted in the press release that performance remained on track:
The solid quarter gave Orbital ATK the confidence to reaffirm its full-year guidance. The company currently expects revenue to be in the range of $4.45 billion to $4.5 billion and adjusted earnings to be between $5.30 to $5.50 per share. In addition, the company continues to return capital to investors, including $44 million in share buybacks and $16 million in dividends during the quarter. Finally, the board of directors recently increased the share-repurchase authorization by another $50 million.
Image source:Courtesy of Orbital ATK.
An update on the restatement
On Nov. 3 Orbital ATK filed a Form 8-K with the SEC to provide an update on the restatement of its previously issued financial statements. Three comments on that form stood out as noteworthy:
"The Company's previously issued financial statements for the fiscal year ended March 31, 2013 ("fiscal 2013") and the fiscal year ended March 31, 2014 ("fiscal 2014"), the quarters in fiscal 2013 and fiscal 2014, and related reports of independent registered public accounting firm thereon, should no longer be relied upon."
"The Company's revised preliminary estimate is that the total amount of the Contract loss will be lower than previously announced. The Company now estimates that the Restatement will reduce pre-tax operating income by approximately $350 million, rather than the approximately $400 to $450 million previously estimated, and after-tax net income by approximately $220 million, rather than the approximately $250 million to $280 million previously estimated."
"The Company believes that the misstatements that caused the Restatement indicate the existence of one or more material weaknesses in its internal control over financial reporting and disclosure controls and procedures during the Restated Periods, in addition to material weaknesses previously disclosed. The Company has already begun to remediate these material weaknesses."
In other words, the problems run deeper than initially thought, which is forcing the company to go back even further in its restatement. That is partially due to the discovery of additional material weaknesses that itis working to address. However, the company does believe that the total loss on the contract in question will be less than initially anticipated.
While the company is working to clear everything up, the process is taking more time than it thought it would. It does not yet know when the review will be complete.
Investor takeaway
Operationally, Orbital ATK turned in a solid quarter, evidenced by the increase in new orders, which has it on pace to meet its full-year guidance. That said, the accounting issues continue to overshadow these results, and will likely continue to do so until the company finishes the review and publishes its findings and financial results.
10 stocks we like better than Orbital ATK When investing geniuses David and Tom Gardner have a stock tip, it can pay to listen. After all, the newsletter they have run for over a decade, Motley Fool Stock Advisor, has tripled the market.*
David and Tom just revealed what they believe are the ten best stocks for investors to buy right now and Orbital ATK wasn't one of them! That's right -- they think these 10 stocks are even better buys.
Click here to learn about these picks!
*Stock Advisor returns as of November 7, 2016
Matt DiLallo owns shares of Orbital ATK. The Motley Fool recommends Orbital ATK. Try any of our Foolish newsletter services free for 30 days. We Fools may not all hold the same opinions, but we all believe that considering a diverse range of insights makes us better investors. The Motley Fool has a disclosure policy.