Orbital ATK Inc Earnings Rocket Higher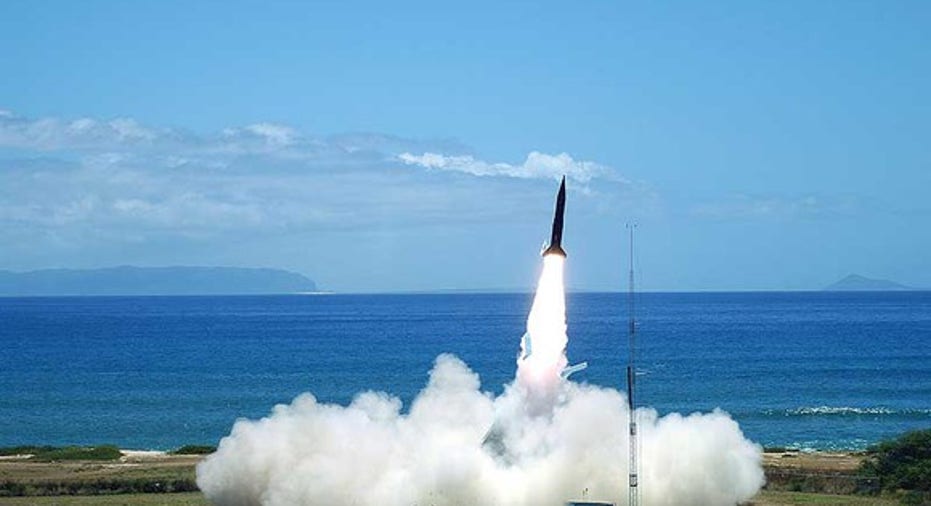 Orbital ATK (NYSE: OA) is still working on an accounting review to resolve a legacy contract issue. As a result, it was only able to report preliminary numbers for the recently completed fourth quarter of 2016. However, that initial look was a good one and shows that its underlying operations are doing quite well right now, which is a trend the company expects will continue in 2017.
Orbital ATK results: The raw numbers
Data source: Orbital ATK.
What happened with Orbital ATK this quarter?
Orbital ATK's space systems group propelled results this quarter.
Flight systems group revenue rose 4.6% year over year to $406 million while operating income increased 2.1% to $53.2 million due to higher volume in the launch vehicle division. Meanwhile, full-year revenue was up 1.8% to $1.5 billion due to the inclusion of Orbital Sciences' results in 2016. That said, full-year operating income plunged 14.1% because of a favorable contract closeout adjustment in 2015.
Revenue in the defense systems group was up 8.3% from the year-ago quarter thanks to higher activity on armament systems division contracts. That said, operating income dropped 13.9% to $45.1 million due to favorable profit adjustments in 2015's fourth quarter. For the full year, revenue was flat at $1.8 billion while operating income slipped 6.4% to $171.5 million due to the favorable adjustments in 2015.
Space systems group revenue jumped 29.3% to $424 million while operating income rocketed 108% to $33.7 million as a result of higher activity on advanced program division and satellite systems division contracts. Full-year revenue was up 6.2% to $1.2 billion while operating income surged 178.5% due primarily to the exclusion of pre-merger Orbital results in 2015.
During the quarter the company recorded $1.225 billion in new firm and option contract bookings as well as receiving $750 million in option exercises under existing contracts. As a result, the company's firm backlog stood at $9.34 billion at the end of the year, up 13% versus year-end 2015. Meanwhile, Orbital's total backlog was $14.36 billion, up 10% year over year.
Image source: Orbital ATK.
What management had to say
CEO David Thompson commented on the company's performance:
Despite working through some accounting issues, 2016 was an excellent year for the company on a financial and operational level. One of the highlights was free cash flow, which totaled $360 million for the full year and was above the high end of its $270 million to $325 million guidance range. The company returned $194 million of that cash to shareholders last year, repurchasing $124 million in stock and paying $70 million in dividends. The share repurchases reduced the company's share count by 3.2% year over year and was a contributor to the surge in earnings per share during the fourth quarter.
Looking forward
Orbital ATK expects its financial results to continue marching higher in 2017. The company sees revenue in the range of $4.55 billion to $4.625 billion, which is up 3% from 2016's revenue at the midpoint. Meanwhile, the company expects earnings in the range of $5.80 to $6.20 per share, up 20% at the midpoint. Finally, the company anticipates generating another $250 million to $300 million in free cash flow this year, which it plans to continue returning to investors via dividends and buybacks. In fact, Orbital ATK recently increased its dividend 6.5% and expanded its buyback program by $200 million.
10 stocks we like better than Orbital ATKWhen investing geniuses David and Tom Gardner have a stock tip, it can pay to listen. After all, the newsletter they have run for over a decade, Motley Fool Stock Advisor, has tripled the market.*
David and Tom just revealed what they believe are the 10 best stocks for investors to buy right now... and Orbital ATK wasn't one of them! That's right -- they think these 10 stocks are even better buys.
Click here to learn about these picks!
*Stock Advisor returns as of February 6, 2017
Matt DiLallo owns shares of Orbital ATK. The Motley Fool recommends Orbital ATK. The Motley Fool has a disclosure policy.