Oracle's Cloud Business Is Growing Stronger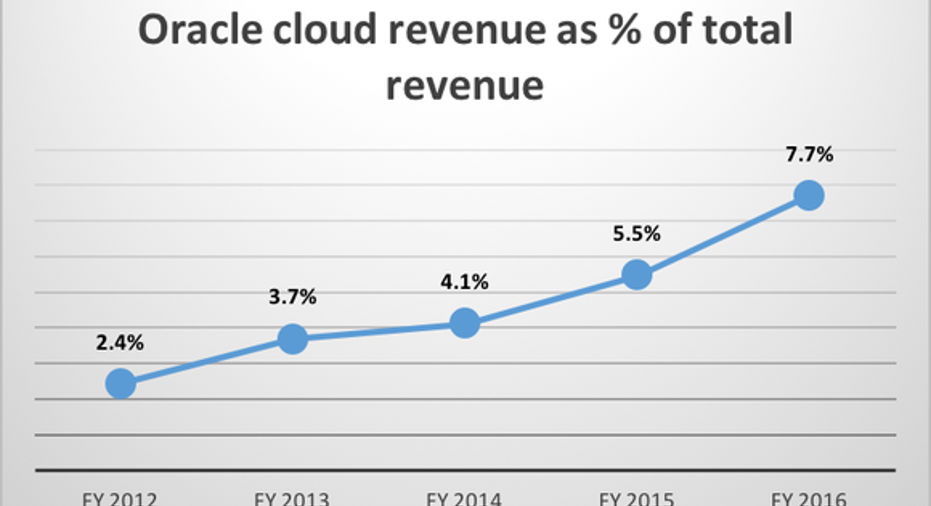 Although total fourth-quarter revenue came in relatively flat, Oracle investors have reason to be optimistic that the company's cloud strategy is coming to fruition. Oracle's software as a service (Saas) and platform as a service (PaaS) revenue grew 66% in the fourth quarter, accelerating its annual pace of 36% year-over-year growth. The company is guiding toward even faster growth for in Q1, as it expects cloud revenue to grow between 75% and 80%. Longer term, Chairman Larry Ellison has even higher hopes for its $2.9 billion cloud business:
Despite the incredible growth rates coming from cloud, Saas and PaaS revenues are still a small portion of Oracle's overall business. Oracle's cloud revenue in its latest fiscal year is only 7.7% of its total sales. Therefore, increasing cloud revenue wasn't strong enough to offset the loss of business in its more profitable on-premise business. Overall revenue in 2016 decreased 3% from the prior year. Nevertheless, the trend of growing its cloud business relative to total revenue is heading in the right direction.
Source: company filings
Oracle isn't the only software giant showing success transitioning its traditional on-premise business to the cloud. Last year, Ellison, who's never shy regarding his feelings about the competition, said he no longer pays attention to SAP . However, Oracle's German counterpart has also made significant inroads into the cloud.
SAP's cloud business in its latest quarter ending March grew 35%. Its trailing-12-month cloud revenue came in at 2.46 billion euros, an 80% increase over the same time frame the prior 12 months. Translated to U.S. dollars at the average exchange rate over one year, SAP's cloud revenue was $2.72 billion, which is slightly below Oracle. Contrary to Oracle, SAP was able to grow its overall revenue in Q1 by 5%.
The race to $10 billion
Although Ellison hopes to lead the first software company to grow into a $10 billion cloud business, his chances are pretty slim. Salesforce.comis already at $7 billion in revenue over its past 12 months. In addition to SAP's fighting for the same business as Oracle, Workday, Inc. is also aggressively going after Oracle's turf.
At $1.26 billion in trailing-12-month revenue, Workday is doing less than half the cloud business as Oracle and SAP. However, it's growing at a rapid pace, growing first-quarter revenue at 38% over last year. Unearned revenue -- which is a more accurate reflection of its business, as not all revenue is collected up front -- grew 42% over last year. Additionally, the company founded by former Peoplesoft co-founder Dave Duffield and executive Aneel Bhusri is aggressively going after Oracle's bread and butter. The former victims of a hostile takeover by Oracle are rapidly expanding their Workday Financials solutions to go along with the company's HR software suite.
Margin pressure
Both SAP and Oracle can be criticized for being late to the cloud-computing game. The hesitation was somewhat justified given the sacrifice it had to make to its high-margin on-premise business. Cloud solutions aren't as profitable as on-premise software, but the software juggernauts had to move aggressively to changing customer demands. However, it comes with a sacrifice to margins.
Source: company filings.
Although a shift to the cloud was a necessary strategy change for the tech behemoths, the payoff hasn't been to kind to investors. Both Oracle and SAP are trailing the S&P 500 since 2013 by a wide margin.
Despite its recent struggles, neither company is taking its foot off the pedal. In May, Oracle acquired Opower, the leading provider of customer engagement and energy efficiency cloud services to utilities. Meanwhile SAP has set a target of 8.0 billion euros in cloud revenue by 2020.
High hopes and talking a big game seem to be SAP and Oracle's forte. However, results have been mediocre at best.It remains to be seen if the aggressive move into the cloud will pay off for investors.
The article Oracle's Cloud Business Is Growing Stronger originally appeared on Fool.com.
Palbir Nijjar owns shares of Workday. The Motley Fool owns shares of and recommends Salesforce.com and Workday. The Motley Fool owns shares of Oracle. Try any of our Foolish newsletter services free for 30 days. We Fools may not all hold the same opinions, but we all believe that considering a diverse range of insights makes us better investors. The Motley Fool has a disclosure policy.
Copyright 1995 - 2016 The Motley Fool, LLC. All rights reserved. The Motley Fool has a disclosure policy.