OPEC Was Just About the Only Fuel These Energy Stocks Needed in November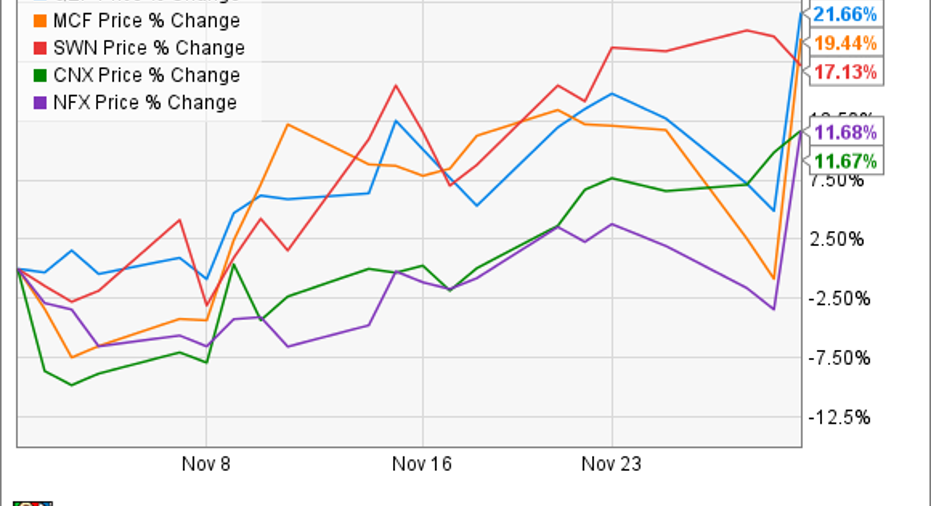 Image source: Newfield Exploration Co.
What happened
Investors would be hard-pressed to find an energy stock that sank last month. That is because OPEC finally reached an agreement to cut its output, which should bring stabilization and higher prices to the oil market. The announcement of a deal sent oil prices off to the races on the month's final day, which took energy stocks up with it. This rising tide lifted nearly all boats, including QEP Resources (NYSE: QEP), Contango Oil & Gas (NYSEMKT: MCF), Southwestern Energy (NYSE: SWN), Consol Energy (NYSE: CNX), and Newfield Exploration (NYSE: NFX):
So what
While the OPEC stole the show, QEP Resources did have some good news for its investors last month, announcing that it reached an agreement with a third-party midstream provider to resolve a commercial dispute relating to the company's South Antelope acreage. Because of that, QEP Resources can complete the 23 wells it drilled in the region that are awaiting completion. While those wells will not add any production volumes this year, they will boost output in early 2017 when they come on line. That could be perfect timing for the company because oil prices might be even higher as the OPEC agreement takes effect, enabling it to earn more money from these wells and those it drills in the future. In fact, after keeping its output roughly flat this year, QEP could boost production next year should prices rise as a result of the deal, which is something investors clearly anticipate.
Contango Oil & Gas, meanwhile, released third-quarter results in early November, but they were not all that great, with the company recording a loss of $12.4 million, or $0.55 per share, which was $0.27 per share worse than analysts expected. On a more positive note, Contango Oil & Gas said that it started drilling its first Southern Delaware Basin wells in mid-October, which should start producing by early next year. Again, those wells could come on at the perfect time because the OPEC deal should lead to steadily improving oil prices over the next few months.
Newfield Exploration also reported its third-quarter results early last month. All things considered, they were pretty good, with the company recording adjusted net income of $89 million, or $0.45 per share, which sailed past the consensus estimate by $0.22 per share. Furthermore, the company increased its full-year production outlook and said it would add drilling rigs at the end of the year, with an eye toward boosting production in 2017. In fact, it has the liquidity and optionality to add even morerigs next year should commodity prices improve, which is now much more likely as a result of the OPEC deal.
Image source: Southwestern Energy Company.
Southwestern Energy did not have any news-driven catalysts last month other than an upgrade from BMO Capital. Analysts moved it from market perform to outperform while setting an $18 price target due to its valuation compared to other natural gas-focused drillers. Speaking of which, Southwestern Energy's focus on gas might suggest that it has less to gain from the OPEC agreement. However, the company's NGL production will benefit from higher oil prices because they typically sell for a percentage of the price of crude instead of trading off the price of gas. Because of that, Southwestern Energy stands to collect higher cash flow for that output, as well as what little oil it does produce, thanks to the agreement.
Consol Energy is also primarily a natural gas producer, so it will also benefit from higher NGL prices, which is one reason its stock rallied last month. That said, the company also produces quite a bit of coal, which should benefit from Donald Trump's White House triumph in November. Another catalyst driving Consol higher last month was its agreement with an affiliated midstream company to sell a stake in the Anchor System for cash and units. That deal increases liquidity, which gives it the flexibility to take advantage of higher commodity prices resulting from the twin November catalysts.
Now what
All five of these companies are now in a much better position to thrive going forward after OPEC stepped in to support the oil market. That decision will likely enable these producers to ramp up spending to boost output, which should drive earnings and cash flow growth. Investors certainly see that happening, which is why they went on a buying spree the day OPEC finalized its agreement.
10 stocks we like better than QEP Resources When investing geniuses David and Tom Gardner have a stock tip, it can pay to listen. After all, the newsletter they have run for over a decade, Motley Fool Stock Advisor, has tripled the market.*
David and Tom just revealed what they believe are the 10 best stocks for investors to buy right now... and QEP Resources wasn't one of them! That's right -- they think these 10 stocks are even better buys.
Click here to learn about these picks!
*Stock Advisor returns as of Nov. 7, 2016
Matt DiLallo has no position in any stocks mentioned. The Motley Fool has no position in any of the stocks mentioned. Try any of our Foolish newsletter services free for 30 days. We Fools may not all hold the same opinions, but we all believe that considering a diverse range of insights makes us better investors. The Motley Fool has a disclosure policy.