Online Brokerages Rally as Investors Pour Cash into Equities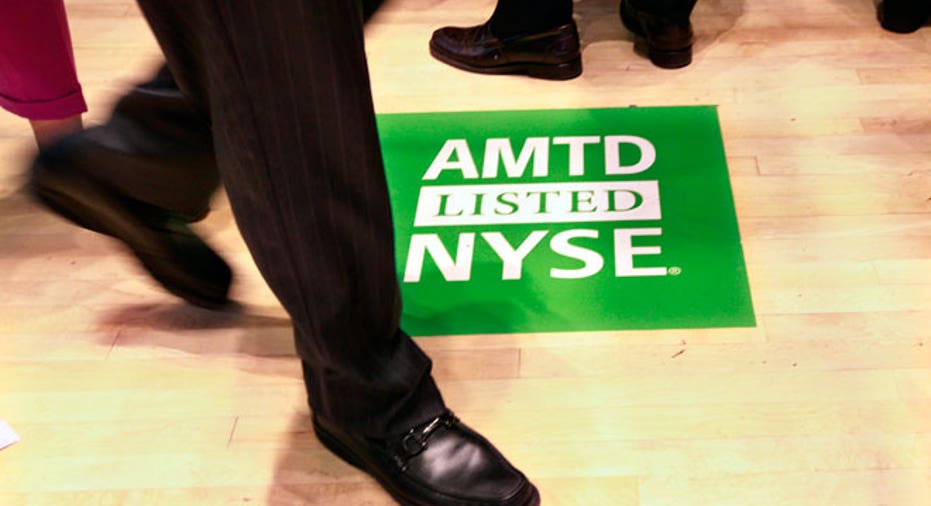 More retail investors are putting their money into the market, and online brokerages are reaping much of the benefit.
Shares of the major online brokerages ticked higher on Thursday following upbeat trading data for the month of May from both TD Ameritrade (NASDAQ:AMTD) and E*Trade (NASDAQ:ETFC) as investors poured cash into equities.
TD Ameritrade said average client trades per day climbed 13% in May to 417,000 from the same period last year. Trades were up 9% from April.
The Omaha, Neb.-based securities brokerage said total client assets as of May 31 were $530.9 billion, up 23% from the year-earlier period, while average spread-based balances grew 14% to $83.8 billion. Average fee-based balances grew 37% to $119.9 billion from the same period in 2012.
Shares of TD Ameritrade jumped 2% to $22.90 in recent trade and are up close to 38% on the year. Credit Suisse (NYSE:CS) raised its price target on the company to $19 from $18.50, but maintained its "neutral" rating.
E*Trade's shares rose 1% on Thursday, putting them up 25% year-to-date. The New York-based brokerage said daily avenue revenue trades in May were up 15% from April.
Meanwhile, shares of the online provider of foreign exchange trading services, FXCM (NYSE:FXCM), were up 1.3% on the day to $14.07 and 40% on the year. Credit Suisse (NYSE:CS) raised its price target on FXCM to $18 from $15 on an "outperform" rating.
Charles Schwab (NYSE:SCHW) rode the industry's tailwinds, increasing 1% Thursday morning. Its shares have advanced about 34% since January 1.