One Move That Could Give Verizon the Upper Hand in IoT by 2017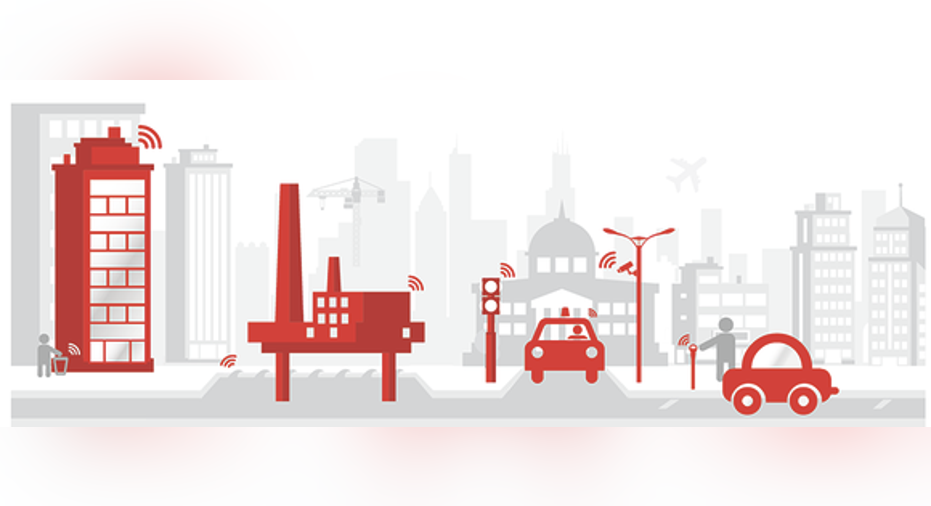 Source: Verizon.
The Internet of Things (IoT) is growing fast, and there's no slowing it down. By 2020, there will be 50 billion Internet-connected things, and those connections will be worth $1.3 trillion by 2019. And that's got Verizon Communications and AT&T linked in an epic battle for control over the wireless waves that connect those devices.
That's probably why Verizon's vice president of IoT Connected Solutions, Mark Bartolomeo, recently told FierceWireless that the carrier is seriously considering offering flat-rate,unlimited data plans for IoT connections next year.
The new IoT plan would not only be Verizon's only unlimited data plan (since it dropped its smartphone unlimited data plans five years ago), but it has the potential to significantly expand Verizon's Internet of Things position against AT&T.
Connecting the unconnected things on the cheapVerizon said it wants to connect things to the Internet that are currently too expensive to connect. The carrier gave the example of smart manhole covers that could tap into unlimited data transfers to inform cities when they're opened or closed. That doesn't sound all that exciting to you or me, but for cities looking to improve how they manage the mundane aspects of city blocks, it's music to their ears.
Of course, it's not just manhole covers that Verizon is interested in. Verizon is already testing out smart city solutions in places like Savannah, Georgia, and has smart city solutions monitor energy usage, pollution, and even remote electricity monitoring, so power companies can switch a home's power on and off without sending someone out to the house.
These smart city projects are more than just a show of technical know-how. North America is the dominant market for connected cities, and it's only expected to grow. "North America is expected to hold the largest market share and dominate the IoT in [the] smart cities market from 2015 to 2020, with the growing number of smart city projects and increasing grants from the U.S. government," according to a report from Markets and Markets.
Offering smart city customers cheap and flat-rate pricing could spur new interest in bringing devices online, and help Verizon outpace AT&T's smart city efforts. "The more devices and people on the network, the more value that's being created," Bartolomeo told FierceWireless.
But don't expect AT&T to take this sitting down.
AT&T's smart city effortsAT&T is making a big play in the connected city market as well, and has launched a slew of new initiatives over the past six months. The wireless carrier already has 10 cities lined up to partner with for some of its new smart city projects, and recently announced five new cities that will be part of its smart city framework.
The carrier is teaming up with Cisco,Ericsson, GE, Intel, Qualcomm, and othersto test out smart city solutions, including sensors for water usage and leaks, smart city parking, energy usage, and lighting.
AT&T says it's the IoT leader in North America, and cites its 25 million connected devices as of Q3 2015. But despite AT&T's impressive connection numbers, the company doesn't break out IoT revenue like Verizon does. Verizon brought in nearly $690 million in IoT revenue in 2015 (an 18% year-over-year increase), and another $200 million in fiscal Q1 2016.
Foolish thoughtsFor investors considering each carrier's IoT position, I think it's worth noting that Verizon is clearly communicating its Internet of Things revenue for its investors, while AT&T is holding back. If AT&T wants to be a leader in the IoT space then it needs to start coughing up some more details in its quarterly filings.
With Verizon on the brink of releasing a new, unlimited plan for IoT devices, I think AT&T will likely have to match Verizon's offering. Verizon has the potential to set the pace for IoT connection in the U.S., and AT&T doesn't want to fall behind.
If the nation's largest carrier starts offering unlimited IoT plans -- and AT&T fails to do the same -- then Verizon could grab a big lead in IoT connections in the same way it did when it launched 4G LTE ahead of its competitors.
The article One Move That Could Give Verizon the Upper Hand in IoT by 2017 originally appeared on Fool.com.
Chris Neiger has no position in any stocks mentioned. The Motley Fool owns shares of and recommends Qualcomm. The Motley Fool owns shares of General Electric Company. The Motley Fool recommends Cisco Systems, Intel, and Verizon Communications. Try any of our Foolish newsletter services free for 30 days. We Fools may not all hold the same opinions, but we all believe that considering a diverse range of insights makes us better investors. The Motley Fool has a disclosure policy.
Copyright 1995 - 2016 The Motley Fool, LLC. All rights reserved. The Motley Fool has a disclosure policy.