One Analyst Warms Up to Shake Shack, Chipotle, and Zoe's Kitchen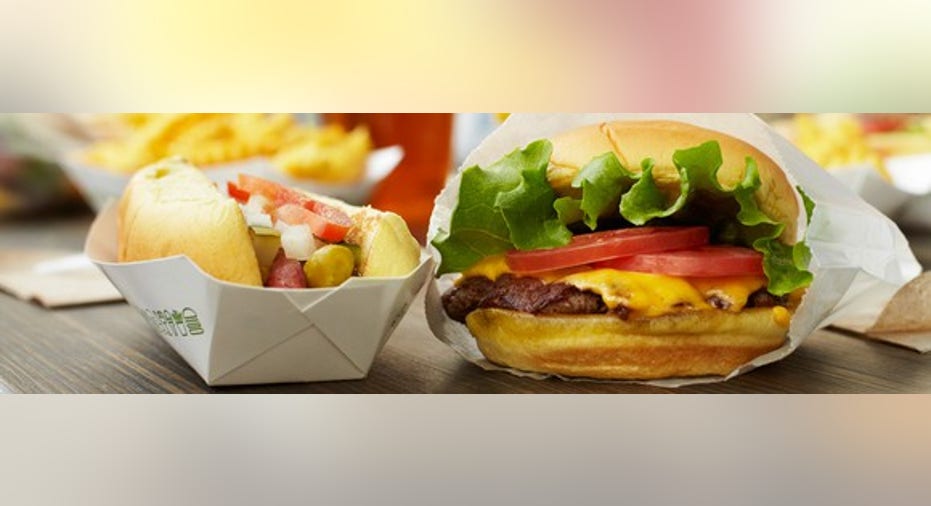 Image source: Shake Shack.
It's never too late -- or early -- to be hungry for restaurant stocks. Buckingham Research initiated coverage of Zoe's Kitchen , Shake Shack , and Chipotle Mexican Grill with bullish Buy ratings last week.
It's an interesting collection of eateries. Shake Shack and Chipotle have fallen sharply since peaking last summer, but Zoe's Kitchen remains near its highs. Shake Shack and Zoe's Kitchen are still early in their geographical expansion -- with 88 and 177 units, respectively -- but Chipotle is already at 2,066 locations.
However, what all three chains have in common is that they were market darlings at one point. If Buckingham Research is right, they will be the toast of the restaurants space again.
Zoe's Kitchen
There are plenty of great Mediterranean restaurants around the country, but most of them are indie operators. Zoe's Kitchen has taken Mediterranean cuisine, given it a fast-casual spin, and it's resonating with the masses. The fast-growing restaurant operator has been able to grow its comparable-restaurant sales by 6% or better for six consecutive years. It's off to another good start in 2016 with comps up a sharp 8.1% during the first quarter.
Zoe's owns all but three of its 177 locations, and it expect to open as many as 36 new eateries this year. It bumped its revenue, comps, and restaurant contribution margin guidance higher when it reported quarterly results three weeks ago.
Buckingham Research likes what it sees. It's slapping a $45 price target on the stock.
Shake Shack
Buckingham Research is also placing a price target of $45 on Shake Shack. It's the one posting the healthiest growth of the three stocks. Revenue soared 43% in its latest quarter, as rapid expansion and a 9.9% surge in comps combined to deliver heady growth.
The strong showing comes after an even more robust 2015 with comps skyrocketing 13.3%. Shake Shack owns most of its domestic units, a trait that it shares with Zoe's and Chipotle. This has also proven to be a scalable model with operating profit, adjusted EBITDA, and earnings all growing even faster than Shake Shack's revenue.
The stock hasn't been as hot as its financial performance. Shake Shack may be doing great. Its entry into the fried chicken sandwich market with theChick'n Shackmenu addition has won over a new cult audience. Itopened a restaurant in West Hollywood in March, and the chain is calling its first West Coast burger joint one of the most successful debuts in its 12-year history. However, the stock is trading slightly lower year-to-date, and that's where Buckingham Research sees the opportunity to buy in at an attractive entry point.
Chipotle Mexican Grill
Finally we have Chipotle, which unlike Shake Shack and Zoe's is in a pretty major funk. It's coming off of back-to-back quarters of disastrous double-digit declines in comps. Several isolated incidents of gastrointestinal-related maladies tied to its food has raised safety concerns, and nothing scares away a crowd like paying up for the chance to get ill.
Buckingham Research is initiating coverage of the burrito roller with a price target of $547. That's a 38% premium to where the stock is now, making it the one with the greatest upside if the analyst is right on all three price targets.
Analysts generally see the chain turning things around, but they can't seem to agree as to when it will happen. Some think it will take as long as 2018 before it regains its 2015 store-level results. With the stock having shed nearly half of its value since peaking last summer, Buckingham Research feels that now is the time to buy Chipotle -- as well as Zoe's Kitchen and Shake Shack.
The article One Analyst Warms Up to Shake Shack, Chipotle, and Zoe's Kitchen originally appeared on Fool.com.
Rick Munarriz owns shares of Shake Shack and Zoe's Kitchen. The Motley Fool owns shares of and recommends Chipotle Mexican Grill and Zoe's Kitchen. Try any of our Foolish newsletter services free for 30 days. We Fools may not all hold the same opinions, but we all believe that considering a diverse range of insights makes us better investors. The Motley Fool has a disclosure policy.
Copyright 1995 - 2016 The Motley Fool, LLC. All rights reserved. The Motley Fool has a disclosure policy.