Olive Garden Stock Reviews Are a Mixed Salad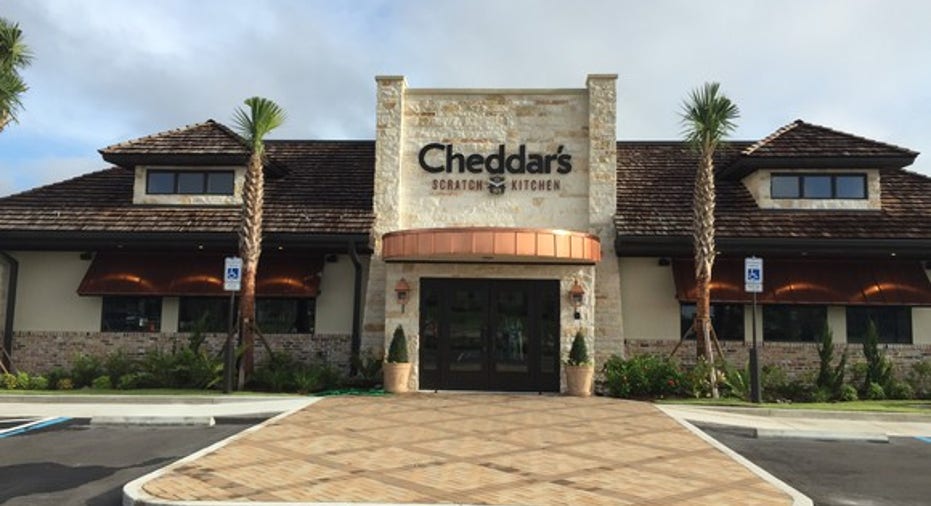 Olive Garden parentDarden Restaurants(NYSE: DRI)announced fresh quarterly results and a meaty acquisition on Monday, and by Wednesday Wall Street pros still couldn't agree if they liked what the company served up.
Peter Saleh at BTIG is downgrading the casual-dining giant, taking his rating from buy to neutral. He sees limited upside given the stock's current levels. He also feels that the $780 million acquisition of Cheddar's Scratch Kitchen won't be a material contributor to Darden's overall sales and profit growth for the next couple of years.
Will Slabaugh at Stephens is sticking to his neutral Equal Weight rating, but he is raising his price target from $75 to $85 after what he deemed to be "strong" fiscal third-quarter results. The stock closed at $82.62 on Tuesday, so his revised price goal doesn't suggest that there's a lot of upside from here. Slabaugh feels that many of the future positive catalysts are already priced into the stock.
Lynne Collier at Canaccord is more upbeat. She's pushing her price target on the shares from $84 to $90, and sticking to her buy rating. Analysts may simply be adjusting their price targets to account for the buoyant share price -- Darden stock is trading 14% higher so far this young year and 24% higher over the past 12 months -- but Collier does see the fundamentals improving. She's increasing her profit targets for fiscal 2017 and 2018.
Image source: Cheddar's Scratch Kitchen. http://cheddars.com/goodness/cheddars-scratch-kitchen-opens-in-port-st-lucie/
Making cheddar off of Cheddar's
Cheddar's Scratch Kitchen is a good catch for Darden. It's a dynamic high-volume concept, generating average annual restaurant volumes of $4.4 million. There are just 165 locations (all but 25 company-owned), giving Darden plenty of expansion opportunities.
Darden isn't afraid to unload chains. We saw that when it handed off Red Lobster a couple of years ago. It also isn't afraid to buy an eatery when it feels that it's missing a sweet spot in the market. Darden has acquired Yard House, LongHorn Steakhouse, and Capital Grille over the years.
Darden is being opportunistic here. Many of the recent eateries to go public have gotten crushed. Many pundits are playing up the current climate as a restaurant recession, making it less likely for any privately held concept to drum up enough underwriter interest to successfully go the IPO route.
Darden doesn't need Cheddar's. Its fiscal third quarter treated investors to upticks in revenue, adjusted earnings, and systemwide comps, metrics that have been going the wrong way for many of its peers. Besides, as Saleh at BTIG points out, Cheddar's doesn't move the needle at a parent company with more than 1,500 restaurants and topping $7 billion in annual revenue. However, it gives Darden another differentiated restaurant to throw at potential eatery sites. Darden is setting the table. It doesn't matter if some analysts or even more investors aren't ready to eat.
10 stocks we like better than Darden RestaurantsWhen investing geniuses David and Tom Gardner have a stock tip, it can pay to listen. After all, the newsletter they have run for over a decade, Motley Fool Stock Advisor, has tripled the market.*
David and Tom just revealed what they believe are the 10 best stocks for investors to buy right now... and Darden Restaurants wasn't one of them! That's right -- they think these 10 stocks are even better buys.
Click here to learn about these picks!
*Stock Advisor returns as of February 6, 2017
Rick Munarriz has no position in any stocks mentioned. The Motley Fool has no position in any of the stocks mentioned. The Motley Fool has a disclosure policy.