Olive Garden sales improve, boosting parent company Darden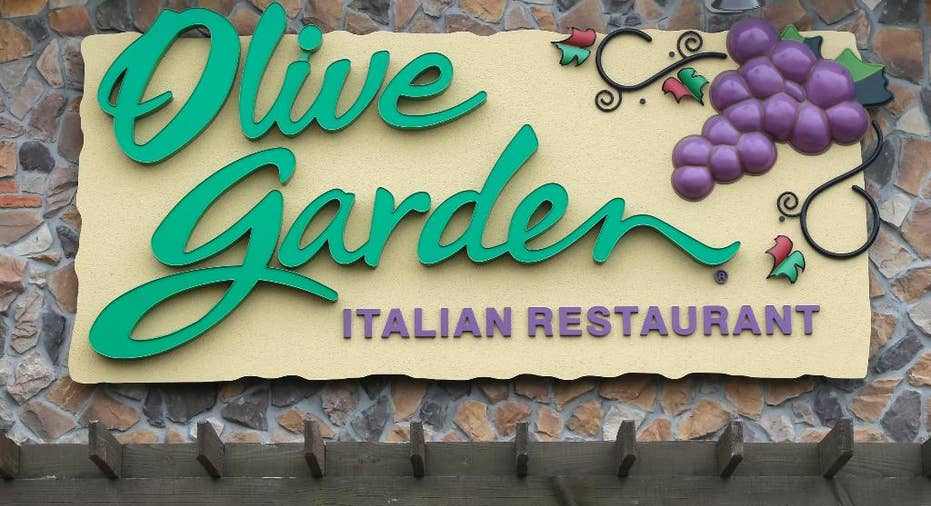 Sales at Olive Garden improved, helping parent company Darden post a nearly 28 percent jump in fiscal first quarter profit from the same period a year ago. The restaurant operator also said Tuesday it expects earnings for the year to be higher than it previously expected.
Its shares rose more than 3 percent before the stock market opened.
Darden said sales at its existing Olive Garden locations rose 2 percent in the quarter from a year ago and rose 1.3 percent for across all its restaurant brands. Olive Garden, the Italian-style eatery known for its breadsticks, is Darden's largest chain. Of the more than 1,500 locations Darden owns, more than half are Olive Garden restaurants. Darden's other chains include LongHorn Steakhouse, The Capital Grille and Bahama Breeze.
The Orlando, Florida-based company reported net income of $110.2 million, or 87 cents per share, in the three months that ended Aug. 28, compared with $86.4 million, or 67 cents per share, in the same quarter a year ago.
The results exceeded Wall Street expectations. The average estimate of 13 analysts surveyed by Zacks Investment Research was for earnings of 83 cents per share.
Revenue rose 1.6 percent to $1.71 billion in the period, missing Street forecasts. Ten analysts surveyed by Zacks expected $1.72 billion.
Darden said it now expects earnings for the year between $3.87 per share and $3.97 per share, up from its previous forecast between $3.80 per share and $3.90 per share. Analysts expected earnings of $3.87 per share, according to FactSet.
Shares of Darden Restaurants Inc. rose $2.14, or 3.5 percent, to $63.50 shortly before the stock market opened Tuesday.
_____
Elements of this story were generated by Automated Insights (http://automatedinsights.com/ap) using data from Zacks Investment Research. Access a Zacks stock report on DRI at http://www.zacks.com/ap/DRI
_____
Keywords: Darden Restaurants, Earnings Report