Oil Up; Gasoline Jumps on Line Explosion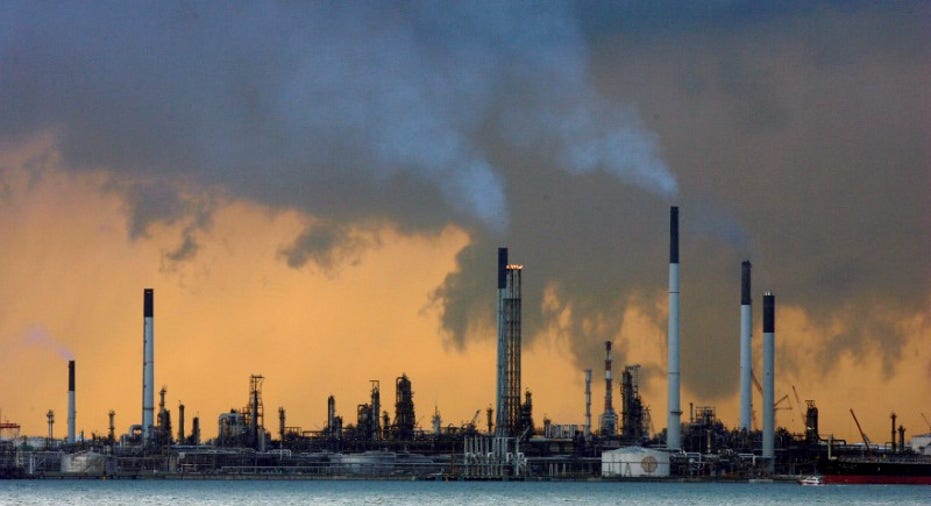 Oil prices edged higher on Tuesday as a weaker dollar boosted greenback-denominated commodities, although worries that OPEC will not do much to reduce a global glut kept the market near one-month lows.
U.S. gasoline futures dominated action outside of the crude oil complex, spiking 11 percent before giving back some gains, after Colonial Pipeline Co shut its main gasoline and distillates pipelines following an explosion in Alabama.
The dollar index, measured against a basket of currencies, hit a near two-week low after U.S. construction spending unexpectedly fell in September, setting the pace for what could be a mild downward revision to third-quarter U.S. growth estimates.
Brent crude was up 33 cents at $48.94 a barrel by 11:26 a.m. EDT. It traded as low as $48.51 earlier, after losing nearly 3 percent the day before in the biggest one-day drop since Sept. 23.
U.S. West Texas Intermediate crude rose 24 cents to $47.10. WTI's session low was $46.56, after a near 4 percent drop on Monday.
Crude prices rallied about 15 percent over a three-week span after the Organization of the Petroleum Exporting Countries proposed on Sept. 27 its first production cut in eight years to reign in a global oil oversupply. Brent hit one-year highs and WTI 15-month peaks in early October as OPEC kingpin Saudi Arabia talked up the plan, inviting non-member producers such as Russia to make cuts too.
In the past two weeks, however, a growing number of OPEC member have said they were unwilling or unable to cut, casting doubts on what the group could do when it meets on Nov. 30 in Vienna.
"Notwithstanding day-to-day rebounds, the oil rally since late September on the notion of OPEC cuts has been almost wiped out," said David Thompson, executive vice-president at Powerhouse, a commodities-focused broker in Washington.
"It looks like we will break down more momentously unless the Saudis intervene with big output cuts of their own," said Thompson, who sees WTI testing support next at $45.
OPEC officials approved on Monday a document outlining the exporter group's long-term strategy, in a sign its members are making progress in ironing out differences over how and when to manage production levels and, ultimately, oil prices.
"Even if the fear of such low prices leads OPEC to deliver an agreement on November 30, we reiterate our view that the odds of it succeeding are low," Goldman Sachs said in a research note.
(Additional reporting by Amanda Cooper in LONDON and Aaron Sheldrick in TOKYO; Editing by Marguerita Choy and William Hardy)