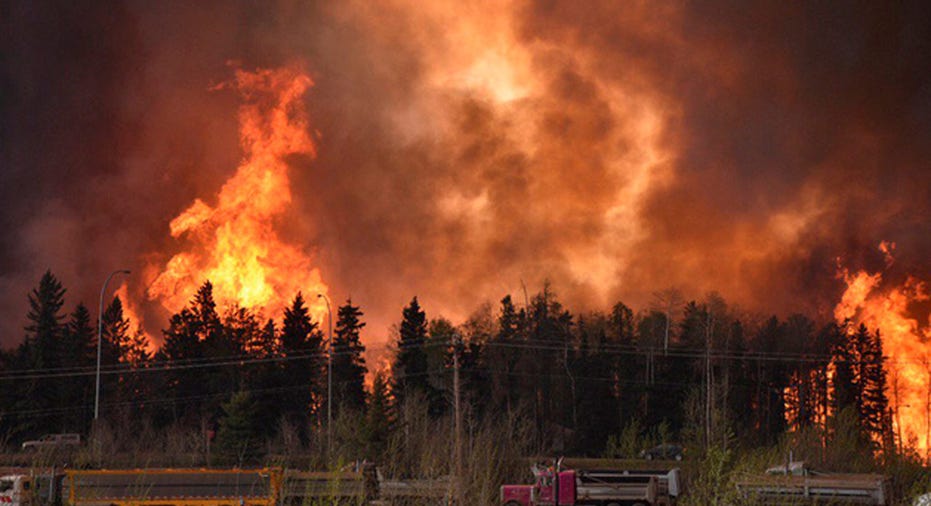 Oil prices rose about 1 percent on Friday as the dollar softened but benchmark Brent was on track to its biggest weekly loss in four months after investors cashed out from last week's six-month highs.
A wildfire that has shrunk Canadian oilsands crude production by a third, reports of a militant attack on a Chevron platform in Nigeria's oil-rich Niger Delta region and a drop in the number of U.S. oil drilling rigs also supported prices, analysts said.
The dollar, which has a huge impact on greenback-denominated commodities such as oil, slipped for the first time in four sessions after the U.S. economy added the fewest number of jobs in seven months in April. The slower jobs growth raised doubts on whether the Federal Reserve will hike interest rates before the end of the year.
Brent crude futures were up 60 cents at $45.61 a barrel by 1:12 p.m. EDT (1712 GMT). U.S. crude's West Texas Intermediate (WTI) futures rose 53 cents to $44.85.
For the week, Brent was on course to a 5 percent loss, its biggest weekly loss since January, while WTI headed for a 2 percent decline. The drop came after profit-taking by investors early in the week on April's gain of 20 percent or more in the two crude benchmarks.
"The global surplus still exists and there is still a possibility that oil prices could retrace further," Dominick Chirichella, senior partner at the Energy Management Institute, said.
"However, the market is trading more and more in sync with the forward-looking or perception view, with the current bearish fundamentals mostly priced into the market."
At least 720,000 barrels per day (bpd) of Canada's crude production capacity remained offline as the wildfires ravaged the oil town of Fort McMurray in Alberta and forced evacuation of workers and precautionary production cuts or shutdowns at about a dozen major facilities.
While most of the oilsands are to the north of the city, CNOOC Nexen's Long Lake facility and Athabasca Oil's Hangingstone project are south of Fort McMurray and were in danger, according to emergency officials. Both facilities have been evacuated.
The U.S. oil rig count, surveyed by industry group Baker Hughes, fell by four this week, extending their decline for a seventh week to the lowest levels since October 2009.
Some analysts said output in the Americas was declining so fast that the region that it looked like the region alone could resolve global oversupply.
"Unplanned oil supply disruptions have been a key element so far this year that have contributed to a tighter oil market than was otherwise expected," said analyst Guy Baber of Simmons & Co.
(By Barani Krishnan; Additional reporting by Karolin Schaps in LONDON; Editing by Marguerita Choy)