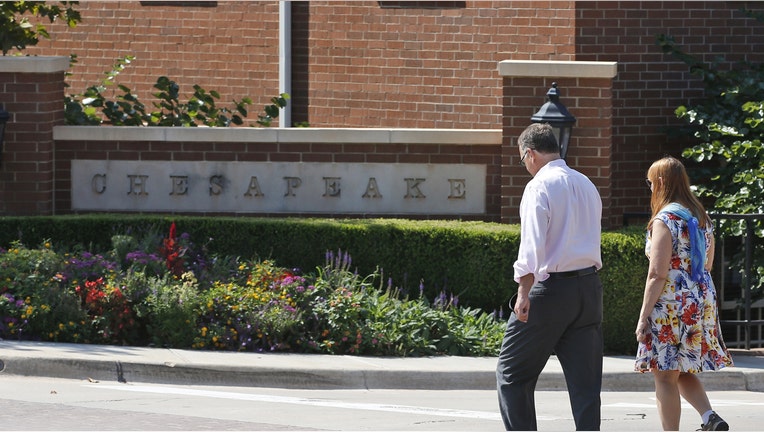 Chesapeake Energy (NYSE:CHK) posted red ink in the fourth quarter and announced plans to cut spending in half amid the ongoing oil swoon.
Chesapeake, the second-largest producer of natural gas behind Exxon Mobil (NYSE:XOM), reported a $2.23 billion loss, or $3.36 a share, versus a year-ago profit of $586 million. Stripping out one-time charges and a smaller number of outstanding shares, Chesapeake matched Wall Street estimates with an adjusted loss of 16 cents a share.
Revenue tumbled 53% to $2.65 billion. Analysts were anticipating a steeper drop to $2.63 billion.
Shares rallied as much as 25% to $2.74. Through Tuesday, Chesapeake's stock had declined 43.7% since the start of 2016.
Like other energy producers, Chesapeake has responded to cheap oil prices by shutting down some drilling projects. Chesapeake wrote down $2.83 billion worth of oil and natural gas properties in the fourth quarter, and its average operated rig count dropped to 14 from 67 a year ago. Oil and natural gas production in 2016 is expected to decline as much as 5%, excluding asset sales.
Chesapeake provided guidance for total capital expenditures of $1.3 billion to $1.8 billion this year, representing a 57% reduction year-over-year based on the midpoint of the projected range.
"In light of the challenging commodity price environment, our focus for 2016 is to improve our liquidity, further reduce our cost structure and address our near-term debt maturities to strengthen our balance sheet," CEO Dough Lawler said in a statement.
Chesapeake has sold off assets and cut jobs following years of debt-fueled spending on land rights. With depressed commodity prices putting more pressure on its balance sheet, the Oklahoma City-based firm recently halted its preferred dividends to help conserve cash.
S&P Global Market Intelligence wrote in a research note last week that Chesapeake has made material adjustments to "help weather the current environment," although "longer-term solvency issues continue to present a closing gap of recovery in the troubled commodity price backdrop."
| Ticker | Security | Last | Change | %Chg |
| --- | --- | --- | --- | --- |
| CHK | CHESAPEAKE ENERGY CORP. | 4.13 | +0.15 | +3.77% |
| XOM | EXXON MOBIL CORPORATION | 83.63 | +0.22 | +0.26% |
| CVX | CHEVRON CORP. | 118.13 | +0.62 | +0.53% |
By the end of 2015, Chesapeake had $9.7 billion in debt, much higher than the company's market value of around $2 billion. Chesapeake plans to continue purchasing its debt while it's trading at a discount.
Earlier in February, Chesapeake assured investors that it has no plans to seek bankruptcy protection.
During a conference call with analysts, CEO Doug Lawler said there are no concerns about Chesapeake's ability to ramp-up drilling activity in 2017 if oil prices begin to recover.
U.S. crude was trading 2.6% lower at $31.03 a barrel on Wednesday, while natural gas came close to setting a new 16-year low. Natural gas for March delivery slipped as low as $1.76 per million British thermal units.
Saudi Arabia's oil minister said the country is ready to let oil prices fall to the $20 mark after a potential agreement between OPEC and non-member producers was derailed. Meanwhile, U.S. data showed a larger-than-expected increase in domestic oil stockpiles.