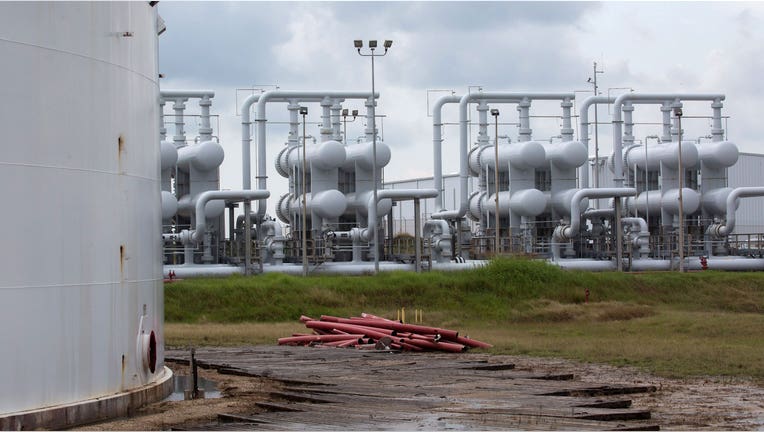 Oil prices rallied again on Thursday, boosted for a second day by U.S. government data that showed a surprising crude inventory drop, then crude futures pared gains as traders worried that OPEC was not nearing an agreement to reduce a global glut.
Oil prices got more support from the dollar's slide a day after the Federal Reserve kept U.S. interest rates unchanged.
U.S. West Texas Intermediate (WTI) crude futures were up $1, or 2.2 percent, at $46.34 a barrel by 1:35p.m. EDT (1735 GMT). The session high for WTI was $46.52.
Brent crude futures rose 65 cents, or 1.4 percent, to $47.48. The session peak for Brent was $47.83.
Crude futures gave back some gains after Reuters reported that two days of talks in Vienna among delegates of the Organization of the Petroleum Exporting Countries, including those from Saudi Arabia and Iran, had yielded no major breakthrough on production cooperation.
The meeting was held in advance of Sept. 26-28 talks in the Algerian capital between OPEC and other major oil producers, led by Russia, on a potential output freeze.
"It's still early days before the talks in Algiers, but the meeting in Vienna proves the difficulty that archrivals Saudi Arabia and Iran have in agreeing to an oil production accord," said Tariq Zahir, crude futures trader at Tyche Capital Advisors in New York.
"Also, anything they agree on will have to be implemented to make a difference and OPEC doesn't have history on its side for compliance."
Oil prices have rallied several times this year on hints of output curbs by OPEC and other oil exporters, only to fall later as production rose. Saudi and Russian oil production are at record highs while Libya and Nigeria are restarting key crude exports that had been stalled.
This week, oil rose after Wednesday's report by the U.S. Energy Information Administration that crude stockpiles fell 6.2 million barrels last week, versus market expectations for a build of 3.4 million barrels. U.S. crude stocks have fallen by an unexpected 21 million barrels this month so far.
Despite that draw, energy monitoring service Genscape reported on Thursday a build of about 213,000 barrels at the Cushing, Oklahoma delivery base for WTI futures for the week ended Sept. 20, traders said.
Cushing inventories are an important aspect of total U.S. stockpiles. The Genscape report, coming on top of a build of 526,000 barrels at Cushing reported by the EIA for the week ended Sept. 16, suggested that total U.S. stockpiles may start climbing again soon.
"We also feel that the market will need to recognize bearish aspects within the (EIA) data," Jim Ritterbusch of Chicago-based oil markets consultancy Ritterbusch & Associates said, citing rising U.S. crude production and oil rigs as among them. (By Barani Krishnan; Additional reporting by Amanda Cooper in LONDON and Henning Gloystein in SINGAPORE; Editing by Marguerita Choy, David Clarke and David Gregorio)