Oil rises as dollar falls, U.S. Gulf Coast braces for hurricane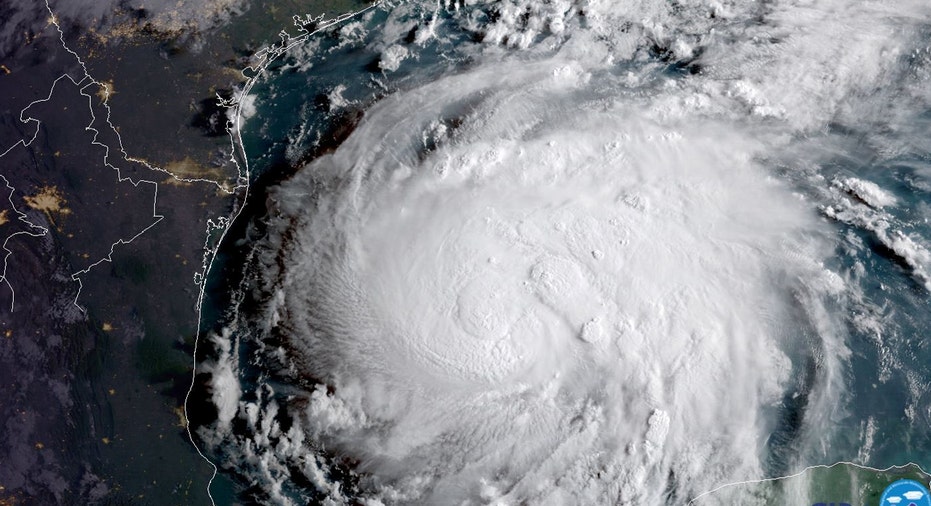 Oil prices rose on Friday as the dollar fell and as U.S. petroleum industry braced for Hurricane Harvey, which could become the biggest storm to hit the U.S. mainland in more than a decade.
The dollar, in which oil is priced, fell after Federal Reserve Chair Janet Yellen made no reference to U.S. monetary policy in her speech at the annual central bank research conference in Jackson Hole, Wyoming.
Harvey became a Category 2 storm as it crossed the Gulf of Mexico with winds of 110 mph (175 kph), 145 miles (235 km) off Port O'Connor, Texas, the National Hurricane Center said.
Refineries, terminals, production platforms and other infrastructure have begun preparations or shutdown procedures with the hurricane set to make landfall on the central Texas coast on Friday night or early on Saturday as a Category 3 hurricane. Texas is home to 5.6 million barrels of refining capacity, and Louisiana has 3.3 million barrels.
The NHC, which has warned that catastrophic flooding were expected across portions of southern and southeastern Texas, expects Harvey to move slowly and linger over Texas for days.
Some tracking models show the storm could circle back out over Gulf waters after making landfall, and then take aim at Houston midweek, giving the nation's four most populous city a double dose of rain and wind.
U.S. crude futures were up 31 cents, or 0.7 percent, at $47.74 a barrel by 11:27 a.m. EDT (1527 GMT), having hit a session high of $47.91. Brent crude was 30 cents higher at $52.34 after touching a high of $52.68. U.S. crude's discount to Brent <WTCLc1-LCOc1> widened to its biggest in two years.
Gasoline futures were up over 1 percent and hit their strongest levels in four months and were the highest in two years for this time of year. U.S. gasoline crack spreads, a key measure of margins, <RBc1-CLc1> are at strongest in five years for this time of year.
The front-month gasoline spread <RBc1-RBc2> rallied to the highest level in two years.
Gulf Coast conventional cash gasoline prices <RU-DIFF-USG> for shipment on the Colonial Pipeline were seen hitting a near three-year high.
"The inmates are running the asylum in gasoline and distillate with cracks and spreads up strongly as the latest forecasts show 20 inches (51 cm) of rain for the Corpus to Houston area of Texas," said Scott Shelton, broker at ICAP in Durham, North Carolina.
"Wind and rain and the unknown effects of both generate a 'Get me flat' mentality in futures and the cash markets which has resulted in strength in both."
Energy companies have pulled workers from offshore oil platforms and halted onshore drilling in south Texas.
A little less than 10 percent of offshore U.S. Gulf of Mexico crude output capacity and nearly 15 percent of natural gas production had been halted by midday on Thursday, government data showed.
The Port of Corpus Christi, Texas, was closed to vessel traffic, a spokeswoman for the city's Port Authority said.
Corpus Christi oil refineries run by Citgo Petroleum, Valero Energy Corp and Flint Hills Resources also began shutting down.
Beyond the storm's potential impact on the oil industry, crude remains in ample supply globally despite efforts led by the Organization of the Petroleum Exporting Countries (OPEC) to hold back production to prop up prices.
A joint OPEC and non-OPEC monitoring committee said an extension to the supply pact beyond March was possible, though not yet decided.
Part of the reason for the crude glut has been a 13 percent jump in U.S. output since mid-2016 to 9.53 million bpd, close to the record 9.61 million bpd hit in June 2015.<C-OUT-T-EIA>
(By Devika Krishna Kumar; Additional reporting by Christopher Johnson in London, Henning Gloystein in Singapore and Ahmad Ghaddar in London; Editing by Marguerita Choy and David Goodman)