Oil Prices: Why Oil May Never Hit $100 per Barrel Again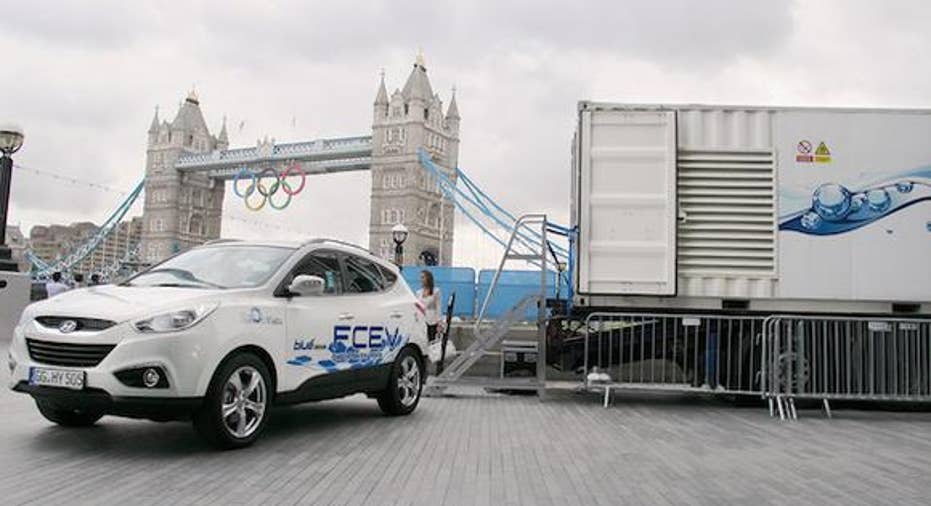 Could new sources of fuel be a threat OPEC can't overcome? Image: ITM Power.
The decline of the energy industry in the U.S. was swift in 2015 and for investors the losses were widespread. In addition, the pain spread to average Americans with an estimated 250,000 jobs lost in the oil & gas industry alone in 2015.
Calls for a recovery in oil prices haven't come to fruition and now shale drillers, big oil companies, and OPEC are in a standoff that may leave more collateral damage than anyone expected. All three hope oil rises to $100 per barrel again but each wants to take as much of that energy pie as they can. But when you look at where the oil market sits today I don't think $100 per barrel oil is in our future, this year or ever again.
OPEC can't let oil hit $100 per barrel If you're going to take away one thing from this article it's that OPEC doesn't want to see the consequences of $100 per barrel oil ever again. There's a trifecta of negativity when oil goes over $100 per barrel: U.S. consumers use less oil, U.S. companies produce more oil, and the U.S. imports less oil from OPEC. That's Econ 101, as you can see in the chart below.
US Crude Oil Production data by YCharts
As the world's most influential marginal producer, OPEC can sway prices with its own production choices. As it let oil remain over $100 per barrel between 2010 and 2014 it let competitors into the market, reduced demand for its product, and backed itself into the corner it's in today that requires years of low oil prices to squeeze out high cost producers. It won't make that mistake again.
Innovation hasn't stopped with $35 oil While OPEC looks at the dynamic facing oil prices over the next 5-10 years, companies around the world are thinking about what transportation will look like in 50 years. And that hasn't stopped because of low oil prices.
Electric vehicle innovation and production growth can be seen as a proxy for these changes, but long-term we'll have hydrogen vehicles, ride sharing, and even better mass transit (think Hyperloop) to help reduce dependence on oil.
Ford has developed a concept car with solar cells integrated in the roof, powering the car as you drive. Image: Ford and SunPower.
Tesla Motors gets a lot of attention for its plan to build 500,000 electric vehicles by 2020 and that will play a modest role in reducing oil consumption. But the fact that automakers like Ford has been touting electric vehicles and autonomous vehicles at CES in Las Vegas recently may be even more important. CEO Mark Fields says the company's EV and self-driving plans will be aimed at the mass market, not just luxury vehicles, which could help drive wide adoption of alternative fuel vehicles in a decade or less.
There's also Toyota (NYSE: TM), which recently launched the hydrogen powered Mirai on a limited basis. Toyota would argue that hydrogen is an even better source of energy than electricity EVs use because it's easier to fill your car with hydrogen.
Adding to the plans of Tesla Motors, Ford and Toyota, tech companies like Google (NASDAQ: GOOG) putting over a million miles on autonomously driven vehicles and you have a level of disruption to energy and transportation that we haven't seen in a century.
OPEC has to be worried that tech companies and automakers are going to develop new products that bypass oil to transport people, denting demand. Remember, when oil dropped from $100 to $35 per barrel it was because the market was oversupplied by about 1-2 million barrels per day, which is less than 3% of demand everyday. Oil prices are extremely sensitive to demand changes and OPEC can't afford to lose a significant number of customers to electric or hydrogen vehicles or we could see prices decline even further than they did in 2015.
OPEC is in trouble and it knows it When you look at the macro trends above you begin to see that OPEC can't let oil jump to $100 per barrel. It risks allowing competitors like shale drillers to take share and it also kills demand for oil. In addition, it has to cash in on oil while it can because companies like Tesla, Ford, Toyota, and Google are building vehicle platforms that don't require oil as their base source of energy.
OPEC is stuck between a rock and a hard place, forcing some very difficult decisions for the oil cartel. At the end of the day, I think OPEC will let oil prices rise to $60-$80 per barrel in the next two years but it'll be careful not to let it rise high enough to spur too much new oil production. Longer term, I see new, cleaner technologies continuing to take share, slowly diminishing our need for oil. Add it up and the days of $100 oil are behind us. That's good news or bad news, depending on who you ask.
The article Oil Prices: Why Oil May Never Hit $100 per Barrel Again originally appeared on Fool.com.
Suzanne Frey, an executive at Alphabet, is a member of The Motley Fools board of directors. Travis Hoium owns shares of Ford and SunPower. The Motley Fool owns shares of and recommends Alphabet (C shares) and Tesla Motors. The Motley Fool recommends Ford. Try any of our Foolish newsletter services free for 30 days. We Fools may not all hold the same opinions, but we all believe that considering a diverse range of insights makes us better investors. The Motley Fool has a disclosure policy.
Copyright 1995 - 2016 The Motley Fool, LLC. All rights reserved. The Motley Fool has a disclosure policy.