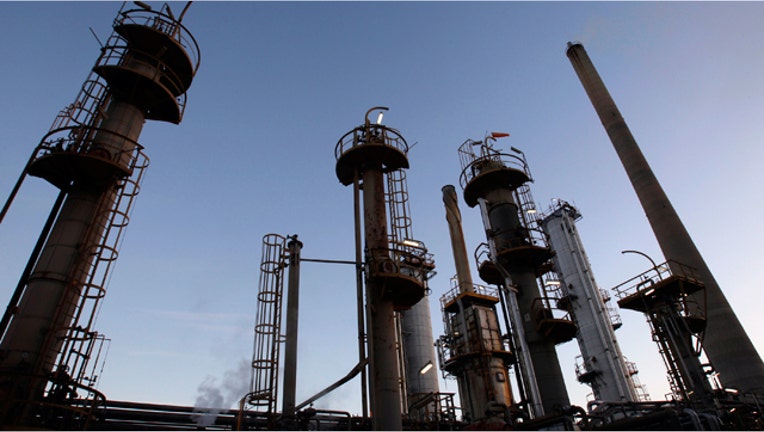 Oil rose towards $109 a barrel on Friday as a showdown between Israel and the Palestinians stoked worries about supply, but ample stockpiles and concern about the well-being of the global economy tempered gains.
Investors were concerned that Arab producers may be drawn into any possible Israeli-Palestinian conflict, which could impact their supply lines.
They took little immediate notice to a call from Iraq's representative to the Arab League for Arab states to use oil as a weapon to put pressure on the United States and Israel over the attacks on Gaza.
Brent has held above $100 for most of this year on fears of disruption from the Middle East with a weak demand outlook capping further gains.
Brent crude rose 70 cents to $108.71 a barrel by 1450 GMT. U.S. oil gained 89 cents to $86.34.
Analysts said more than adequate supplies of oil have prevented crude prices from moving higher on the fighting between Israelis and Palestinians over Gaza.
Samuel Ciszuk, analyst with British-based consultancy KBC Energy Economics, said there was no current threat to oil supply from the Gaza conflict.
"If we would see protests erupting on a very large scale in Egypt, putting pressure on the government to do something radical and/or popular protests spreading through the region, then we could start saying that risks to supply are increasing."
The slowing of the global economy continues to pressure financial and commodity markets. European shares fell for a third day on Friday as the weak outlook and uncertainty over U.S. budget talks weighed on investors.
"This all translates to a slowing of global oil demand growth and if it were not for the growing geopolitical risk in the Middle East, oil prices would likely be in a much steeper downtrend," said Dominick Chirichella of New York's Energy Management Institute.
"The bottom line for oil is simply there is a shortage of demand versus the growing supply situation."
TRADING SPREADS
The unrest in the Middle East has resulted in Brent futures rising more than the U.S. benchmark, which is weighed down by U.S. factors such as higher inventories, weak demand growth outlook and a potential financial crisis.
That widened the price difference between the two crudes to $26 a barrel in the previous session, the most since October 2011, and the spread <CL-LCO1=R> may stay wide for sometime. It was at around $23 during London trading on Friday.
"While an easing of Middle East concerns will invariably lead to a narrower spread, we feel that the extent of this narrowing is more limited than a month ago," analysts at Standard Bank said in a report.
"The main impetus for a sustained narrowing will have to come from support in the WTI market - support which does not look as promising anymore."
U.S. crude inventories rose last week while gasoline and distillate stockpiles fell along the East Coast where the fuel distribution system was still recovering from Hurricane Sandy, the U.S. Energy Administration said.
Crude stockpiles in the world's largest consumer rose nearly 1.1 million barrels, below estimates for a build of 1.9 million barrels. Overall distillate stockpiles fell by 2.54 million barrels versus a 1.3 million barrel drawdown forecast.