Oil Prices Fall as Investors Worry About EU Summit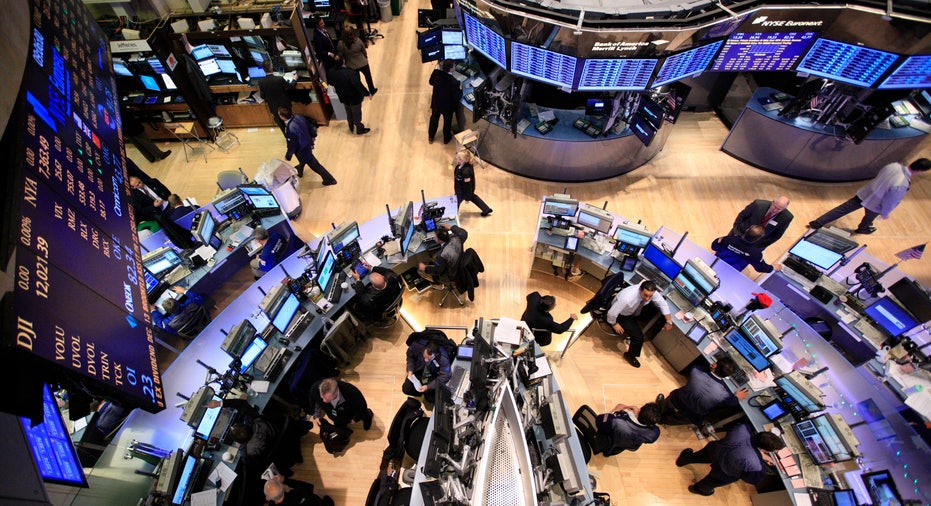 Crude oil futures fell 3 percent o n T hursday, heading for the worst quarterly performance since the 2008 financial debacle, on worries that an EU summit will not find durable solutions to the euro zone crisis, stifling global growth prospects.
Weaker U.S. equities on Wall Street after the U.S. Supreme Court decision upholding key elements of President Barack Obama's healthcare reform law added to the day's pressures on crude futures.
Despite recent gains, Brent crude futures were on track to end the second quarter with a drop of about 25 percent, the worst since the last quarter of 2008, at the height of the financial crisis after the collapse of Lehman Bros.
U.S. crude futures, meanwhile, were poised to see a fall of about 24 percent, also the biggest quarterly loss since the last quarter of 2008.
Trading on Wall Street was volatile, with healthcare stocks hit after the Supreme Court upheld the centerpiece "individual mandate" provision of the Obama healthcare overhaul. Equities were already lower on skepticism that the European Union Summit will result in concrete measures.
"It's the euro zone problems, the strength of the dollar and the weak equities, said Stephen Schork, president of the Schork Group in Villanova, Pennsylvania, commenting on the reasons for the day's price drop.
By 2:40 p.m. EDT (l840 GMT), Brent crude oil futures for August traded in London at $91.63, down $1.87, after having slid to a session low of $90.88.
U.S. August crude settled at $77.69 a barrel, falling $2.52, the lowest settlement for front-month U.S. crude since Oct. 4 last year.
"The further fall in equities triggered by the Supreme Court decision ... exerted selling pressure on crude futures," said Addison Armstrong, director of market research at Tradition Energy in Stamford, Connecticut.
Technical support for U.S. crude at around $79 was breached in the surge of selling after equities slid further, Armstrong said.
Economic data released on the day also weighed on crude futures. U.S. GDP for the for the first quarter grew at a 1.9 percent annual pace, but consumer spending and export growth were not as robust as previously thought.
Another set of data showed that weekly jobless benefit claims fell, but still remained too high, reflecting weakness in the job market.
In Wednesday's trading, crude futures rose on a strike by Norwegian oil workers that reduced North Sea oil output and data that showed U.S. crude and distillate stockpiles declined last week. In overnight Asian trading, crude futures initially rose on Thursday on those factors, but later retreated amid negative perception about the EU summit.
LOW EXPECTATIONS
EU leaders began a meeting in Brussels on Thursday openly divided, with German Chancellor Angela Merkel pitting herself against France and Italy and insisting they put the bloc's fundamental problems ahead of emergency action.
But French President Francois Hollande said he expected agreement on emergency steps to help euro zone partners whose borrowing costs have reached unsustainable levels.
"Market sentiment is very negative," said Carsten Fritsch, a commodities analyst at Commerzbank in Frankfurt. "There are concerns that the EU summit will disappoint."
Analysts say the euro zone debt and financial crisis is stifling activity in the region, eroding investor confidence and dampening economic growth outlook in other parts of the world.
NORWAY STRIKE
Norwegian oil production has been further cut by 290,000 barrels per day, according to a union official, from 240,000 bpd earlier this week, as an oil workers' strike that began on Sunday continued with no signs of a resolution.
But the government of Norway, the world's eighth-largest oil exporter, has said it is not about to intervene, a local industry association said.
State-controlled oil and gas company Statoil shut its key Oseberg field center on Sunday and other fields including Statoil's Heidrun field and BP's have also been affected by the strike.
IRAN SANCTIONS
Crude oil futures have fallen about 30 percent from their year's high of $128.40 for Brent and $110.55 for U.S. crude, both hit in March, despite a slated embargo of Iranian crude beginning July 1.
The fall in prices has been largely due to a rise in the output from the Organization of Petroleum Exporting Countries, mostly with higher supplies from Saudi Arabia, which is countering the threat of a sudden drop in Iranian supplies. In a meeting earlier this month, however, OPEC agreed to adhere to its output target of 30 million bpd set in December.
Iran is at loggerheads with world powers over its disputed nuclear program that earlier this year had raised fears of that Tehran would block the Strait of Hormuz, a vital oil shipping lane.
Keeping an eye on Iran, Saudi Arabia has reopened an old oil pipeline built by Iraq to bypass Gulf shipping lanes, giving Riyadh scope to export more of its crude from Red Sea terminals should Iran try to block the strait, industry sources said.
Meanwhile, the Obama administration, which has imposed global financial sanctions intended to make business with Iran difficult, has granted exceptions to the sanctions to China and Singapore, Secretary of State Hillary Clinton announced.