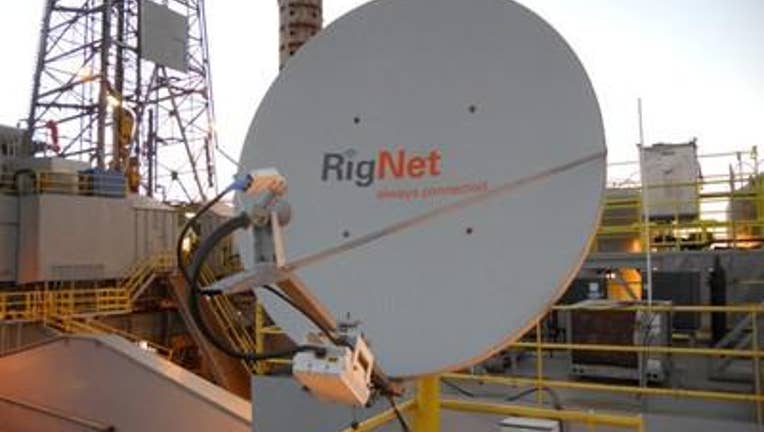 Image source: RigNet.
The fourth quarter was a rough one RigNet , in large part because the downturn in the offshore drilling industry continues to rage on. Persistently low oil prices are hampering demand for drilling rigs and therefore muting demand for the offshore communications services that RigNet provides.
However, if that wasn't bad enough, RigNet is now having a contract dispute with a Telecoms System Integration (TSI) customer, a fight that took an additional chunk out of revenue and earnings during the quarter.
RigNet results: The raw numbers
| Metric | Q4 2015 Actuals | Q4 2014 Actuals | Growth (YOY) |
| --- | --- | --- | --- |
| Revenue | $52.2 million | $86.7 million | (39.8%) |
| Quarterly cash earnings | $0.6 million | $14.0 million | (95.8%) |
| EPS | $0.03 | $0.78 | (97.7%) |
Data source: RigNet.
What happened with RigNet this quarter?RigNet was hurt by the one-two punch of weaker customer activity and the contract dispute:
The dispute negatively affected revenue by $9.6 million. If revenue is adjusted for the dispute, it would have been $61.8 million for the quarter, which was still down 28.7% from the prior year's fourth quarter because of lower customer spending on oil and gas projects as a result of weaker oil prices.
In breaking down revenue further, its Managed Services revenue was $57.1 million, down 6.2% compared with last quarter. Meanwhile, TSI revenue, excluding the project under contractual dispute, was $4.7 million, down 14.5% from last quarter.
Quarterly cash earnings plunged because of the contract dispute, which forced the company to take a $15.6 million adjustment to income. However, if that adjustment wasn't made, quarterly cash earnings would have increased to $16.2 million, up 15.7% from the year-ago quarter. That's primarily due to the company's ability to reduce its costs though headcount reductions.
What management had to sayInterim CEO Marty Jimmerson,commenting on the company's results, said:
Operating conditions are tough right now for RigNet, and those conditions aren't expected to improve anytime soon. That's why the company is looking outside the energy sector for new market opportunities. Its ability to capture those opportunities will help it mute some of the sting that weaker oil prices are having on demand for its service offerings.
Looking forwardThere's no telling when industry conditions will improve, because there isn't much visibility in the offshore drilling market right now, largely because no one is sure when oil prices will improve enough to give oil companies incentive to start pouring more money into offshore drilling activities. That said, even when oil prices improve, there's about a 12- to 15-month lag time before offshore activities will see the impact of those prices, according to the CEO of offshore driller Seadrill . Consequently, Seadrill doesn't expect activity to rebound until 2017, which suggests that 2016 will be a tough year for RigNet.
The article Oil Prices and a Contract Dispute Sink RigNet Inc. Earnings originally appeared on Fool.com.
Matt DiLallo owns shares of RigNet and Seadrill. The Motley Fool recommends RigNet and Seadrill. Try any of our Foolish newsletter services free for 30 days. We Fools may not all hold the same opinions, but we all believe that considering a diverse range of insights makes us better investors. The Motley Fool has a disclosure policy.
Copyright 1995 - 2016 The Motley Fool, LLC. All rights reserved. The Motley Fool has a disclosure policy.