Oil pares gains into settlement; U.S. fuel stockpiles rise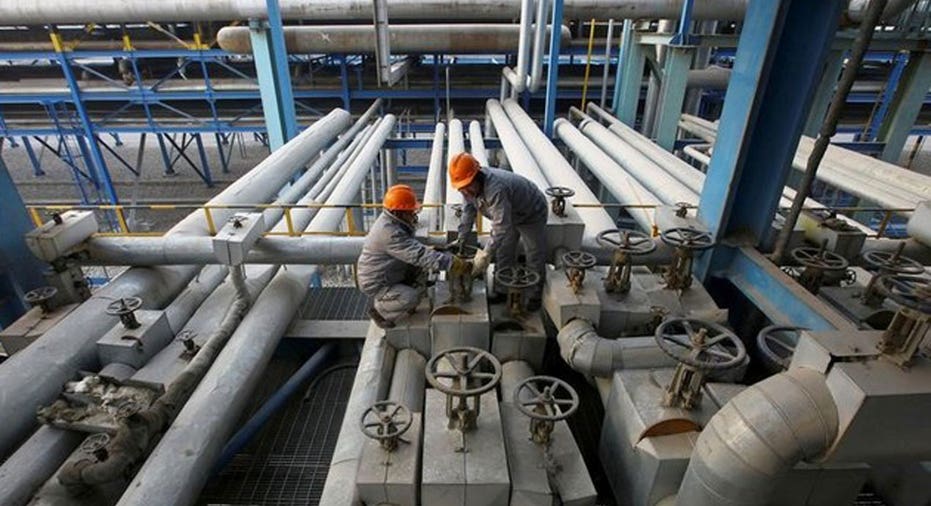 Oil prices settled slightly higher on Wednesday, with Brent touching three-week highs and then retreating after a surprising drop in U.S. refining rates and an unexpected build in fuel stocks signaled slower demand in the world's top oil consumer.
Brent crude futures settled up 27 cents to $58.15 a barrel, off the three-week high of $58.54 a barrel hit earlier on worries about ongoing tensions around oil-rich Iraq and Iran.
U.S. West Texas Intermediate (WTI) crude futures settled 16 cents higher at $52.04 a barrel.
U.S. crude inventories fell 5.7 million barrels last week, the Energy Information Administration said, exceeding analysts' expectations.
Refiners throttled down activity as the autumn maintenance season got underway, and refining rates fell 4.7 percentage points to 84.5 percent of total capacity, the seasonally slowest rate of output since 2011.
Inventories of gasoline and diesel rose, reviving concerns about elevated stockpiles during a time of slower demand.
"A setback in refinery utilization rates occurred as refiners undergo seasonal maintenance," said Anthony Headrick, energy market analyst at CHS Hedging LLC in Inver Grove Heights, Minnesota. "Builds in refined products and a setback in refined product demand provides weight to the energy complex."
Tensions in the Middle East supported oil prices. Iraq Kurdistan's oil exports more than halved as Iraqi military retook some big fields from Kurdistan's Peshmerga forces.
"It remains to be seen whether the Kurds, after withdrawing from the region they claim to be entitled to, will allow crude oil to be transported by pipeline across their territory to the Turkish Mediterranean port of Ceyhan," said analysts at Commerzbank.
Another notable Middle Eastern threat to oil supply is the ongoing dispute between the U.S. and Iran. U.S. President Donald Trump last week refused to certify Iran's compliance over a nuclear deal, leaving Congress 60 days to decide further action.
During the previous round of sanctions against Iran, 1 million barrels per day of oilwere cut from global markets.
Ahead of OPEC's next official meeting, sources told Reuters its members were leaning toward extending an oil supply cut deal struck with Russia and other producers. Three OPEC sources said keeping curbs in place until the end of 2018 was likely; a fourth said an extension of six to nine months would be needed.
Executives in London noted the recent oil price rally has boosted hedging activity among U.S. shale producers, which could signal stepped-up production heading into 2018. This would further complicate OPEC's designs on steadily higher prices.
"Our U.S. colleagues are hedging like mad at $56 a barrel so we will see another wave of investment in U.S. shale, no doubt about it," Patrick Pouyanne, CEO of oil major Total, said. U.S. small and midsized producers are ahead of the usual pace for hedging, which could imply more production, analysts said.
(Additional reporting by Karolin Schaps in Amsterdam and Henning Gloystein in Singapore; Editing by Chris Reese, Marguerita Choy and David Gregorio)