Oil News: Devon Energy Corp is Reportedly Brewing Up a Multi-Billion Deal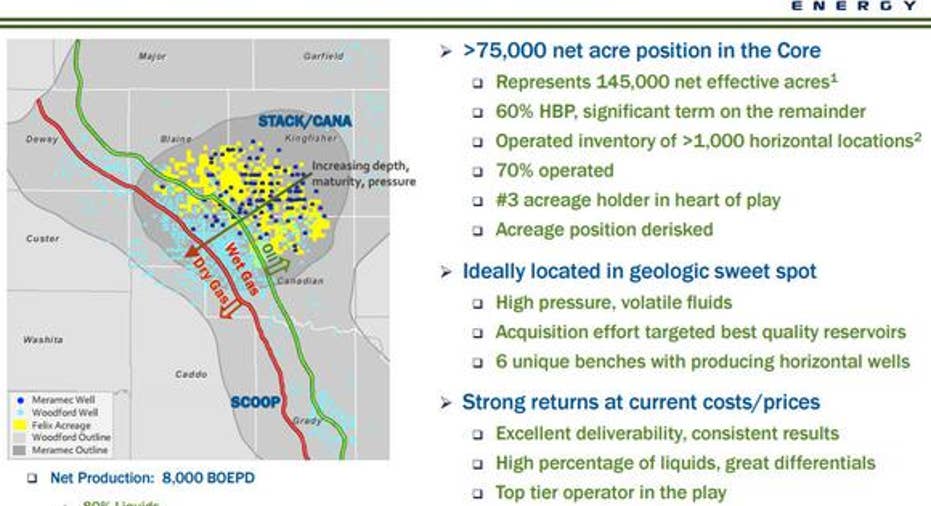 According to a report by Reuters, Devon Energy is in discussions to acquire privately held Felix Energy. The report said that Devon Energy made a cash-and-stock offer that would value Felix at $2 billion, which includes the assumption of debt. Devon's main attraction to Felix is its acreage position in the STACK play of Northern Oklahoma, which is an area where Devon also has oil and gas acreage as well as midstream infrastructure.
Getting the scoop on the STACK playThe STACK play, which stands for Sooner Trend Anadarko Basin Canadian and Kingfisher Counties is starting to draw a lot of industry attention due to its strong potential for oil and natural gas liquids. It's a play that Devon Energy is in the process of de-risking, having drilled over 100 wells in the region. The slide below notes that the company built a 75,000 net acre position liquids rich windows.
Source: Devon Energy Corp Investor Presentation.
In acquiring Felix, Devon would not only roughly double the size of its acreage position in the STACK, but would be acquiring very complimentary acreage.
Source: Felix Energy Inventor Presentation.
What's also worth noting is that the bulk of Felix' acreage is in the oil window, which is yielding solid drilling returns even at current commodity prices. Felix noted that it's enjoying a more than 40% internal rate of return at current well costs and commodity prices.
The next big thing?That compelling drilling return at current commodity prices is what's really drawing the industry to this particular area. Newfield Exploration , for example, has shifted the bulk of its capital out of the Eagle Ford and Bakken plays to instead focus on developing its acreage in the STACK. CEO Lee Boothby noted in the company's third-quarter press release that Newfield Exploration had,
In other words, the company sees the STACK being the key driver of growth going forward, because the economics are so compelling at current prices, and will become even more so when prices improve.
In fact, Felix Energy estimates that at a $6 million well cost its best wells could generate upwards of a 140% internal rate of return once oil tops $70 per barrel. That said, STACK producers are still just beginning to understand how to develop this play, so future returns and recoveries could be even better. Newfield, for example, is just beginning to drill what it calls NEW STACK SXL wells, which are delivering much better initial production performance than prior wells. The implication here is that as companies continue to test and develop this play it's quite likely that performance could further improve.
Investor takeawayWhile the deal hasn't been announced just yet, it appears that Devon Energy is about to bulk up on its STACK position. It's a play that is just starting to catch the industry's eye given that the returns are quite lucrative at current prices. Because of that, the potential is there for this play to turn into something really special, especially once the industry has a firm grasp on the best techniques to develop the play and oil prices improve.
The article Oil News: Devon Energy Corp is Reportedly Brewing Up a Multi-Billion Deal originally appeared on Fool.com.
Matt DiLallo has no position in any stocks mentioned. The Motley Fool owns shares of Devon Energy. Try any of our Foolish newsletter services free for 30 days. We Fools may not all hold the same opinions, but we all believe that considering a diverse range of insights makes us better investors. The Motley Fool has a disclosure policy.
Copyright 1995 - 2015 The Motley Fool, LLC. All rights reserved. The Motley Fool has a disclosure policy.