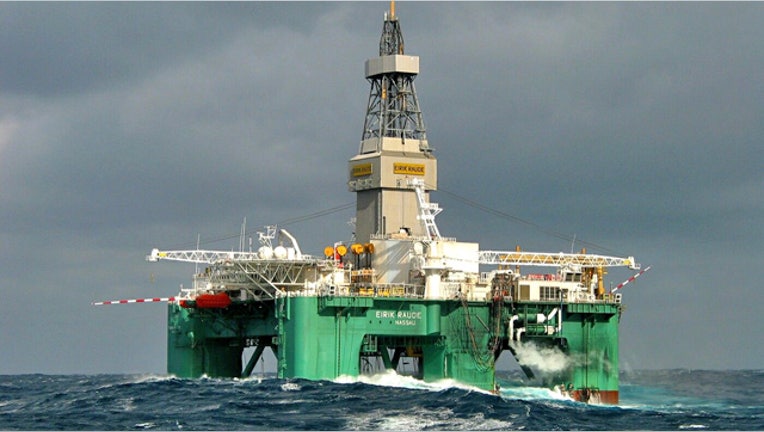 Oil prices slumped sharply Tuesday on expectations of growing supplies and broad concerns about the pace of global growth.
Light, sweet oil for February delivery fell $2.11, or 4.2%, to $47.93 a barrel on the New York Mercantile Exchange.
Brent, the global benchmark, fell $2.01, or 3.8%, to $51.10 a barrel on ICE Futures Europe.
Both contracts hit their lowest prices since April 2009.
The selloff accelerated Tuesday as traders looked ahead to weekly U.S. inventory data, which are expected to show that crude-oil supplies grew last week. New indications that top exporter Saudi Arabia is unwilling to cut production also weighed on the market.
The price drop roiled other markets. Currencies of oil-producing nations fell against the dollar and shares of energy companies slid. Bond yields fell to fresh lows as investors, worried about deflation, piled into safer assets.
Oil futures have plunged for months on concerns that the global market is oversupplied, largely due to unexpectedly strong U.S. output. Demand growth also has fallen short of expectations.
"Oil is the thing that's pretty much driving all the financial markets right now," said Jeffrey Sherman, portfolio manager at DoubleLine Capital LP, which oversees about $64 billion in assets. "This is essentially the market realizing that global growth is probably slowing."
Energy companies are cutting back on spending in response to low prices, but it could take months for production growth to slow, market watchers say.
The U.S. Energy Information Administration is set to release storage data for the week ended Jan. 2 on Wednesday. Analysts surveyed by The Wall Street Journal expect the report to show that domestic oil supplies rose by 300,000 barrels in the week, while gasoline inventories grew by 3.2 million barrels and stocks of distillates, including heating oil and diesel fuel, rose by 2.3 million barrels.
The American Petroleum Institute, an industry group, said late Wednesday that its own data for the same week showed a 4-million-barrel decline in crude-oil supplies, according to an industry source. The group also said that gasoline supplies grew by 6.9 million barrels and distillate stocks rose by 9.1 million barrels, according to the source.
The Organization of the Petroleum Exporting Countries opted not to lower its production quota in November, disappointing many investors and traders who had counted on the cartel to restore balance to the market.
"The market's trying to find that level where there's a supply response, " said Amrita Sen, oil analyst at Energy Aspects in London. "OPEC is usually the quickest supply response, and it's not there at the moment."
Saudi Arabia, OPEC's biggest exporter, reaffirmed its stance this week. On Monday, the kingdom lowered the price of its benchmark light oil in the U.S., a sign that it may be trying to regain market share and push prices low enough that U.S. shale-oil production becomes unprofitable. Saudi price cuts to the U.S. in recent months have weighed on prices.
On Tuesday, Saudi Arabia's King Abdullah said the country will address the recent decline in oil prices with "a solid will," according to a speech read by his crown prince on state television Tuesday. The 90-year-old king is in the hospital being treated for pneumonia. The speech blamed current tensions in the oil market on "the slow growth in the global economy," rather than on the ample supply growth that analysts and traders say was the chief cause.
"Over a significant part of the last 15 years, we've had Saudi Arabia and others playing a swing producer role. They've now decided not to," said Tim Guinness, chief investment officer of Guinness Atkinson Asset Management Inc., which oversees $300 million in energy equity investments. "There is excess supply in the short run, and it wouldn't surprise us to see the oil price go below $40."
Gasoline futures for February delivery fell 2.71 cents, or 2%, to $1.3543 a gallon, the lowest settlement since March 2009.
Diesel futures fell 2.30 cents, or 1.3%, to $1.7262 a gallon, the lowest level since September 2009.
(Timothy Puko and Summer Said contributed to this article.)