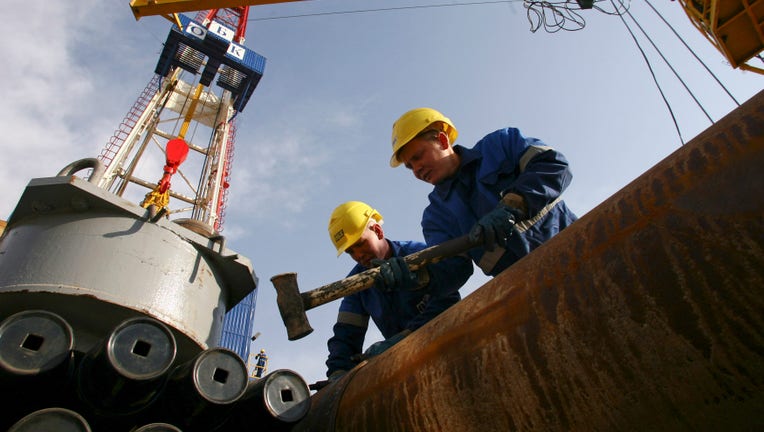 Oil prices were flat on Monday as the shutdown of a pipeline cut supplies of UK Brent oil and offset concerns about the U.S. and Chinese economies.
The 80,000 barrel per day (bpd) Brent pipeline was shut on Saturday for the second time in seven weeks after a leak was found at the Cormorant Alpha platform in the North Sea.
The operator of the 10,000 bpd platform said on Monday it was still unclear when the pipeline system would reopen. Total halted all its oil exports from the North Sea area due to the shutdown.
Brent futures were up 7 cents at $110.47 per barrel at 1137 GMT after earlier falling to $110.25 a barrel. U.S. crude were down 16 cents to $90.52 per barrel.
"The shutdown is stopping the prices from falling and strengthening backwardation. If it wasn't for the Brent shutdown, we would have seen the losses extend," Jefferies Bache analyst Christopher Bellew said.
Prices had fallen more than 7 percent in the last three weeks as a political stalemate over the U.S. budget stoked fears over oil demand in the world's top consumer.
Automatic spending cuts, known as the "sequester", were triggered on Friday as lawmakers failed to agree on a resolution to prevent them, rattling an already fragile economic recovery.
According to the International Monetary Fund, the U.S. spending cuts could cost the world's biggest oil consumer about 0.5 percent of its economic growth, a factor that would weigh on global oil demand.
The impact is likely to be felt in the second quarter, Bank of America Merrill Lynch analysts said in a report on Friday.
"The sequester and discussions on the budget, which will need to be passed by the end of the month, will continue to provide headlines from the United States, and that is never good for the global sentiment," analyst Olivier Jakob of Switzerland-based Petromatrix said.
Data on Friday showing a slowdown in China's factory growth in February to a four-month low fuelled concerns.
Concerns over the prospects of the euro zone's recovery were highlighted as the region's sentiment tumbled in March, breaking a six-month trend of gains.
Crude output from the 12-member Organization of Petroleum Exporting Countries (OPEC) rose to 30.32 million barrels per day in February from 30.21 million in January, the first climb since October, a Reuters survey showed.