Oil higher on lower Iran exports, rising US supply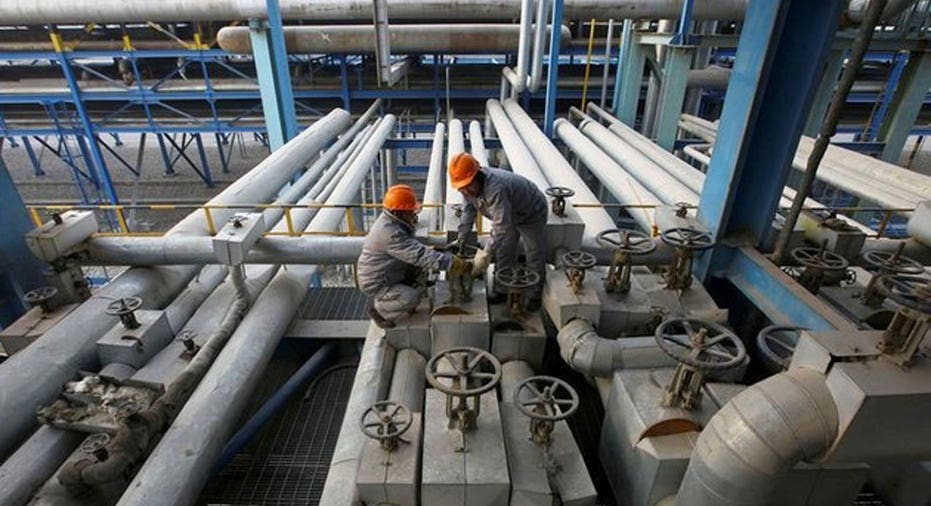 LONDON, Aug 29 (Reuters) - Oil prices rose on Wednesday, supported by news of a fall in Iranian crude supplies as U.S. sanctions deter buyers, but gains were limited by evidence of a rise in U.S. inventories.
Benchmark Brent crude oil was up 50 cents at $76.45 a barrel by 1330 GMT. U.S. light crude was 60 cents higher at $69.13 a barrel.
Iran's crude oil and condensate exports in August are set to drop below 70 million barrels for the first time since April 2017, well ahead of the Nov. 4 start date for a second round of U.S. economic sanctions, preliminary trade flows data on Thomson Reuters Eikon show.
Bowing to pressure from Washington, many crude buyers have already reduced orders from Iran, OPEC's third-biggest producer.
Although Tehran is offering steep discounts, Iran's August crude oil and condensate loadings are estimated at 2.06 million barrels per day (bpd) versus a peak of 3.09 million bpd in April.
"U.S. sanctions towards Iran are now increasingly kicking in which will help to dry up the physical crude oil market," said SEB Markets commodities analyst Bjarne Schieldrop.
U.S. crude inventories rose by 38,000 barrels to 405.7 million barrels in the week to Aug. 24, the American Petroleum Institute said on Tuesday.
Official U.S. fuel inventory and crude production data was due to be published later on Wednesday by the Energy Information Administration (EIA).
Traders said reports of potential investment in Venezuela's struggling oil production also affected markets. Venezuelan crude exports have halved since 2016 to below 1 million bpd.
To stem tumbling output, Venezuelan state-run oil firm PDVSA said on Tuesday it had signed a $430 million investment agreement to increase production by 640,000 bpd at 14 oilfields, although some analysts doubted whether this investment would go through given the instability in the country.
Despite the risk of disruption, especially from OPEC-countries like Venezuela, Iran, Libya and Nigeria, Bank of America Merrill Lynch said global supply could climb towards the end of the year.
"Heading into 4Q18, we expect rising non-OPEC oil production as supply outages abate and greenfield projects ramp up," the U.S. bank said. "Non-OPEC supply outages are at a 15-month high of 730,000 bpd. However, nearly half of these volumes are in the process of being restored."
Adding to that will be new production in Canada, Brazil and the United States, which the bank said "should provide a substantial boost to non-OPEC supplies" during the second half of the year "taming upside pressures on Brent crude oil prices."
(Reporting by Christopher Johnson in London and Henning Gloystein in Singapore Editing by Dale Hudson and David Evans)