Oil and Gas Stock Roundup: Strategy Updates Stole the Show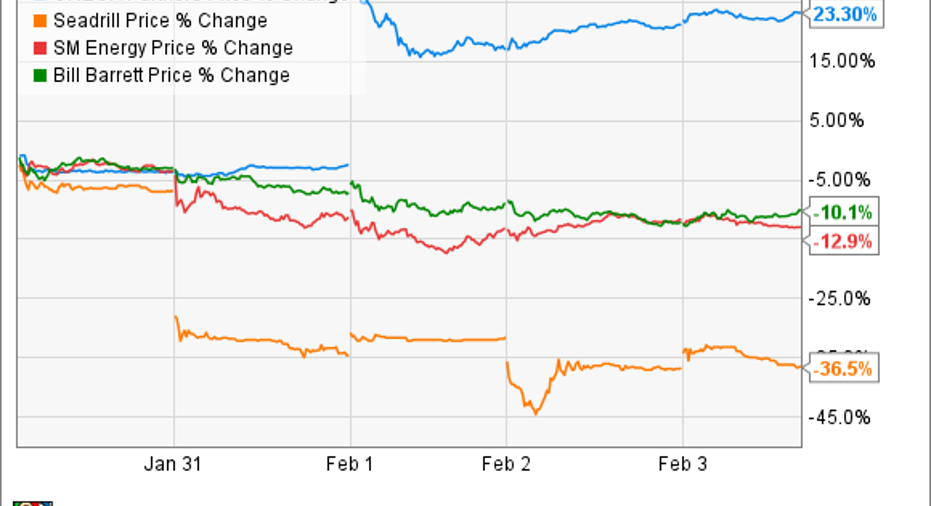 Image source: Getty Images.
What happened
Crude oil had a pretty quiet week, edging up less than 1% and closing at $53.83 per barrel. Because of that, crude was not much of a factor driving oil stocks one way or the other.
However, it was far from a quiet week in the oil patch as several companies updated the market on their strategies, driving big moves in their stocks. Leading the way, according to data from S&P Global Market Intelligence, were ONEOK Partners (NYSE: OKS), Seadrill (NYSE: SDRL), SM Energy (NYSE: SM), and Bill Barrett Corp. (NYSE: BBG):
So what
Midstream company ONEOK Partners surged after deciding to abandon the MLP structure by agreeing to merge with its general partner ONEOK (NYSE: OKE) in a $9.4 billion deal. Under the terms of the deal, ONEOK Partners unitholders will receive 0.985 shares of ONEOK for every unit of the MLP they currently own, which represents a 22.4% premium to its pre-deal price. The deal will enable ONEOK to lower its capital costs while providing a clear path for future dividend growth.
Unfortunately, not every strategy update had the same positive impact. That was certainly the case for shale driller SM Energy, which stumbled this week after reporting its most recent well results and hinting at its 2017 plans. The well results were exceptional: They included one of the best wells drilled to date in the Midland Basin. However, the company's guidance for 2017 was a bit ambiguous. SM Energy said that part of its 2017 strategy would be to invest capital in improving completion techniques and to further delineate its Midland Basin position. As a result, the company might not grow production as quickly this year as investors had hoped.
Meanwhile, fellow shale driller Bill Barrett plunged after updating investors on its strategy for commodity price hedges in 2017 and 2018. In the update, Bill Barrett noted that it had hedged 7,750 barrels of oil per day (Bpd) during the fourth quarter, at an average price of $72.57 per barrel, along with 5,000 MMBtu/d of gas at $4.10. However, the company has chosen to hedge less oil and more gas for 2017, with an average of 6,434 Bpd hedged at $58.76 per barrel, and twice as much gas hedged at less than $3 per MMBtu. This strategy appears to reflect management's belief that oil prices have more room to run, while gas prices might not. That said, investors seem concerned that the decision to hedge less oil could come back to bite the company, should prices tumble.
Finally, Seadrill's stock crashed after the company announced an update to its debt restructuring strategy, noting that the restructuring has been taking longer than hoped and has proven to be more complex than expected. Furthermore, Seadrill warned that one of the likely outcomes of that restructuring would be a significant dilution of existing shareholders. That, of course, did not sit well with investors, many of whom bailed on the stock this week.
Now what
What's interesting about the companies involved in this week's slate of movers is the one stock that did not move that much: ONEOK. Of the group, it stands to benefit the most from the strategy change, because its decision to absorb ONEOK Partners will cut costs and drive dividend growth. Because of that, it is the one stock that I would take a closer look at, to see if the market missed something.
10 stocks we like better than ONEOK Partners When investing geniuses David and Tom Gardner have a stock tip, it can pay to listen. After all, the newsletter they have run for over a decade, Motley Fool Stock Advisor, has tripled the market.*
David and Tom just revealed what they believe are the 10 best stocks for investors to buy right now... and ONEOK Partners wasn't one of them! That's right -- they think these 10 stocks are even better buys.
Click here to learn about these picks!
*Stock Advisor returns as of January 4, 2017
Matt DiLallo owns shares of Seadrill. The Motley Fool owns shares of and recommends ONEOK. The Motley Fool recommends ONEOK Partners. The Motley Fool has a disclosure policy.