Oil and Gas Stock Roundup: Refining Comes Roaring Back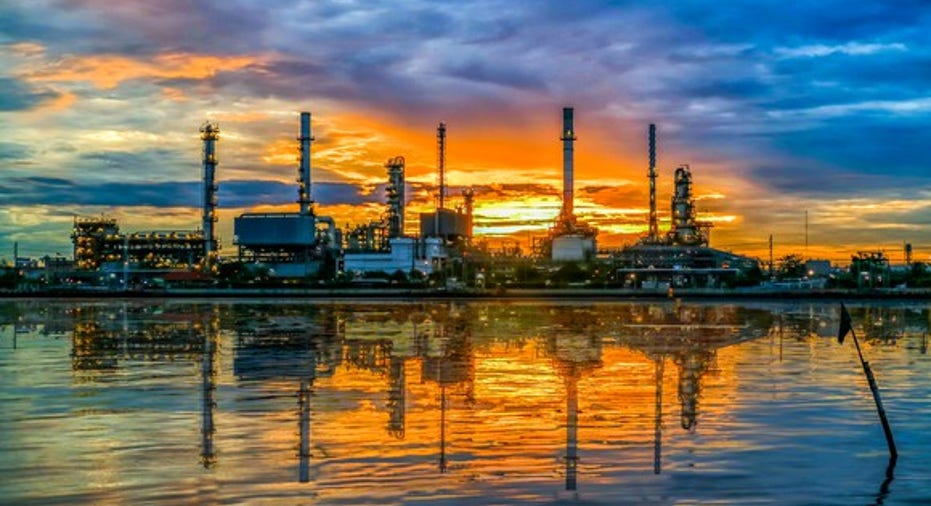 What happened
Last year was a brutal one for refiners as surging compliance costs and shrinking margins cut deeply into earnings. However, industry conditions appear to be on the upswing in 2017, evidenced by the expectation-thrashing first-quarter reports from Valero Energy (NYSE: VLO), Phillips 66 (NYSE: PSX), and CVR Refining (NYSE: CVRR). Those results not only fueled rallies for those refiners, but according to data fromS&P Global Market Intelligence, independent refinersAlon USA Energy (NYSE: ALJ) andPBF Energy (NYSE: PBF)got a big boost from the results as well because investors expect the same when they report next month.
So what
Valero kicked off the earnings season for the segment, reporting net income of $305 million, or $0.68 per share, which beat the consensus estimate by $0.05 per share. One of the drivers of that expectation-beating result was that costs to meet biofuel blending obligations -- primarily through the purchase of renewable identification numbers (RINs) -- fell $15 million from the prior year to $146 million. While Valero did warn that these costs will remain a significant headwind for the upcoming quarter, they are declining, and the company is working with regulators to address this issue.
Image source: Getty Images.
Meanwhile, CVR Refining and its parent CVR Energy (NYSE: CVI) reported a blockbuster quarter this week. CVR Refining earned $67 million, or $0.45 per share, which trounced the analyst consensus by a whopping $0.42 per share. That result helped CVR Energy to earn $0.26 per share, which was $0.31 per share above expectations. That said, CVR Refining did blast the "wild volatility in the market for RINs" as a problem during the quarter. However, the company overcame that by operating exceptionally well and benefiting from a new pipeline, which enhanced the crude supply at one of its refineries.
Finally, Phillips 66 reported a bounce-back quarter. The diversified energy manufacturer earned an adjusted profit of $294 million, or $0.56 per share, which blew past the consensus estimate by $0.51 per share. But while the company's refining segment improved during the quarter, it still ran in the red due to turnarounds and higher costs. However, it more than overcame that issue by delivering robust earnings in its chemicals segment and improving results in its midstream business.
These improving refining results gave investors hope that independent refiners PBF Energy and Alon USA Energy will surpass forecasts when they release first-quarter reports in the coming weeks, which is why those stocks rallied sharply this week. In PBF Energy's case, investors appear confident that the company's May 4 report will blow past the consensus estimate that the refiner will report a loss of $0.53 per share. Likewise, investors seem to think that Alon USA Energy's May 9 report could show that it eked out a profit instead of a $0.10-per-share estimated loss. That said, if either company misses investors' rising expectations, it could cause these stocks to give back last week's gains.
Now what
After a tough 2016, it would appear that market conditions are improving in the refining sector. However, the biggest obstacle remains the volatile cost of RINs, which is a problem that the Trump administration has promised to tackle. If it does indeed follow through on that pledge, then 2017 could be a great year for refining stocks.
10 stocks we like better than CVR RefiningWhen investing geniuses David and Tom Gardner have a stock tip, it can pay to listen. After all, the newsletter they have run for over a decade, Motley Fool Stock Advisor, has tripled the market.*
David and Tom just revealed what they believe are the 10 best stocks for investors to buy right now... and CVR Refining wasn't one of them! That's right -- they think these 10 stocks are even better buys.
Click here to learn about these picks!
*Stock Advisor returns as of April 3, 2017
Matt DiLallo owns shares of Phillips 66. The Motley Fool has no position in any of the stocks mentioned. The Motley Fool has a disclosure policy.