Office Depot Stock Jumps on Amazon Rumors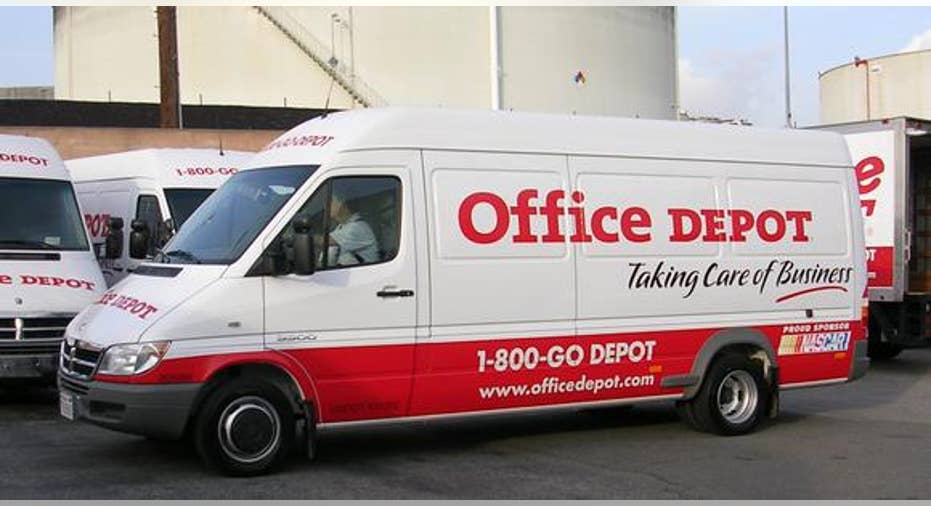 Image source: Office Depot.
What: Shares of office supply chain Office Depot jumped on Thursday thanks to a report from the New York Post suggesting that Amazon was interested in acquiring the company's corporate business. This comes as the proposed merger between Office Depot and Staples faces major regulatory roadblocks. At 2:45 p.m. ET Thursday, shares of Office Depot were up about 10%, shares of Staples were up 2.5%, and shares of Amazon were down 2.5%.
So what: Both Staples and Office Depot operate retail and corporate businesses. The retail stores cater to individuals and small businesses and face intense competition from big-box stores and online retailers. The corporate business, which sells supplies to large organizations, has meaningful barriers to entry, given the size of the contracts and the infrastructure needed to fulfill those contracts.
The major sticking point preventing the Staples-Office Depot merger from going through is the potential for the resulting corporate business to be too dominant. The FTC pointed out that Staples and Office Depot are often the two top bidders for large business contracts, and that a merger would likely result in higher prices.
According to the Post, Amazon is believed to be interested in buying Office Depot's corporate business in a deal that would clear the way for the Staples-Office Depot merger to go through. This would make Amazon Business, which is the company's business-to-business arm, a major player in the corporate office supply market, giving Staples a serious competitor.
Now what: The rumor that Amazon is interested in Office Depot is unconfirmed, and there's no guarantee that any type of deal will take place. It's unclear whether Staples would agree to acquire only the retail business of Office Depot in the event that Amazon buys the rest, as that business faces heavy competition, and both companies have been actively closing stores in recent years. A three-way deal involving Amazon seems unlikely, but only time will tell.
The article Office Depot Stock Jumps on Amazon Rumors originally appeared on Fool.com.
Timothy Green has no position in any stocks mentioned. The Motley Fool owns shares of and recommends Amazon.com. Try any of our Foolish newsletter services free for 30 days. We Fools may not all hold the same opinions, but we all believe that considering a diverse range of insights makes us better investors. The Motley Fool has a disclosure policy.
Copyright 1995 - 2016 The Motley Fool, LLC. All rights reserved. The Motley Fool has a disclosure policy.