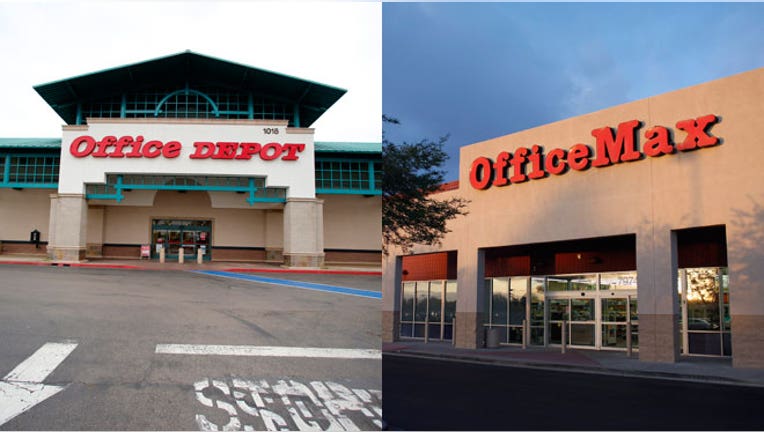 No. 2 U.S. office retailer Office Depot Inc (NYSE:ODP) on Tuesday closed its deal to buy smaller rival OfficeMax Inc (NYSE:OMX) and named the two firms' chief executives as co-CEOs of the combined company.
The closing came on the same day that both companies reported third-quarter results that missed Wall Street's profit targets, due to weak sales.
Last week, the retailers received regulatory approval for their $976 million deal. It aims at cutting costs, consolidating stores, boosting clout with suppliers and improving their chances of fighting market leader Staples, as well as online and discount rivals.
Uncertainty around the timing of the Federal Trade Commission approval made it challenging to find a new CEO by the time the deal closed, the committee in charge of the search said. But it expects to complete the process in the "near future."
Neil Austrian, chairman and CEO of Office Depot, and Ravi Saligram, president and CEO of OfficeMax, will serve as co-CEOs in the meantime.
The combined company will use the name "Office Depot, Inc" and will trade on the New York Stock Exchange under the symbol ODP. It will continue to operate from both Boca Raton, Florida, and Naperville, Illinois, until a new CEO is on board and a final decision on a headquarters location is made.
Office supply stores are fighting a battle for relevance, with shoppers increasingly buying their paper, toner and technology online from Amazon.com Inc, drugstores or mass merchants. Analysts covering office supply stores have long called for consolidation in what they see as a cluttered sector whose sales crumbled during the last recession.
BOARD CHANGES
The combined company would have had revenue of about $17 billion for the 12 months ended Sept. 28. It expects to incur about $200 million in one-time operating costs this year, and up to an additional $400 million in integration costs and $200 million to $250 million in capital spending over the next three years.
By the end of the third year following the close of the merger, it expects cost savings in the upper half of the previously estimated $400 million to $600 million range.
OfficeMax directors Joseph DePinto and William Montgoris, and five Office Depot directors, including Kathleen Mason and Justin Bateman, have decided not to seek appointment to the combined company's board.
OfficeMax's third-quarter net income fell to $30.4 million, or 34 cents a share, from $433.0 million, or $4.92 a share, a year earlier. Excluding store closure charges, merger-related costs and a host of items, OfficeMax earned 15 cents a share, falling short of analysts' average estimate of 22 cents a share, according to Thomson Reuters I/B/E/S.
Office Depot's net income, after preferred stock dividends, was $133 million, or 41 cents a share in the third quarter, compared with a net loss on that basis of $70 million, or 25 cents a share, a year earlier. Excluding items, it earned 2 cents a share, missing the estimate of 6 cents a share.
(Reporting by Dhanya Skariachan; Editing by Gary Hill, Leslie Adler and Dan Grebler)