Obama, Yellen Discuss Regulation, Economy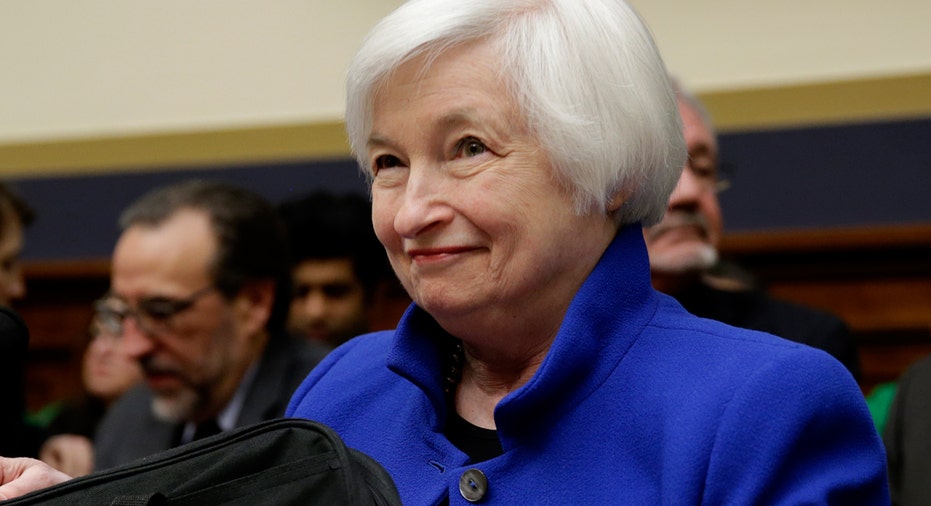 President Barack Obama discussed the state of the economy and financial regulation during an Oval Office meeting with Federal Reserve Chairwoman Janet Yellen on Monday afternoon, according to a White House statement.
"They discussed both the near and long-term growth outlook, the state of the labor market, inequality, and potential risks to the economy, both in the United States and globally," the statement read. "They also discussed the significant progress that has been made through the continued implementation of Wall Street reform to strengthen our financial system and protect consumers."
White House spokesman Josh Earnest told reporters before the meeting that Mr. Obama "has been pleased with the way that [Ms. Yellen] has fulfilled what is a critically important job, both as it relates to making policy decisions that have a significant impact not just on the U.S. economy but on the global economy, but also making sure that the Fed is following through on the important regulatory responsibilities that they have."
Mr. Earnest said he "would not anticipate" that Ms. Yellen would go into detail on the path of interest rates at the meeting in order to preserve "both the appearance of and the fact of the independence of the Federal Reserve and the chair."
The Federal Reserve declined to comment.
Mr. Earnest also said the Obama administration would make "a forceful case" for the Senate Banking Committee to consider two nominees to the Federal Reserve Board of Governors and criticized Committee Chairman Richard Shelby for holding up the nominations.
Mr. Shelby (R., Ala.) has said he would not hold a vote on the two Fed nominees until the White House nominates a vice chairman for supervision at the Fed, a position called for under the 2010 Dodd-Frank law.
"It is a tough case to make for Sen. Shelby to say that he's not going to fill any vacancies on the Fed until one specific vacancy has been filled," said Mr. Earnest. "I don't think it matches people's common sense about how the senator should fulfill his duties."
Mr. Shelby's office didn't immediately respond to a request for comment.
Mr. Obama nominated Allan Landon, a former Bank of Hawaii chief executive, and Kathryn Dominguez, an economist at the University of Michigan, to the Fed's board of governors in 2015.
Fed officials and Democrats have urged the Senate to act on the nominations, which would fill the two vacancies on the seven-member board. The vice chairman for supervision is to be selected from the governors.
Mr. Earnest said Mr. Shelby's "failure to act expeditiously in this area is something that has already garnered strong criticism of his conduct and his continued obstruction of two highly qualified Federal Reserve nominees is only going to enhance that criticism."