Oaktree Capital Looks to Work Past Volatile Markets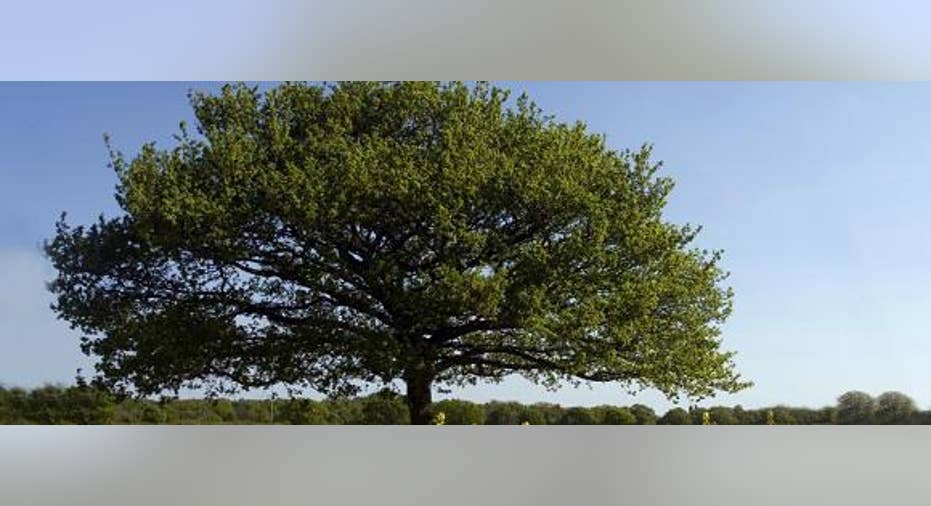 Image source: Oaktree Capital.
Investment managers face two challenges when markets fall. First, they have to keep the investors they serve happy enough to avoid losing assets under management. Yet because the revenue and earnings they generate are in part tied to their performance, their own financials can come under pressure. Oaktree Capital Group has worked hard to overcome volatile markets, but coming into Thursday's first-quarter financial report, Oaktree investors weren't certain whether the company would be able to avoid substantial declines in key metrics. Oaktree's results did indeed reflect the market's volatility, but record management fees helped cushion the blow and kept the company moving in the right direction. Let's look more closely at the latest from Oaktree Capital and how it sees things playing out in the future.
Oaktree looks to spring forwardOaktree Capital's first-quarter results reflected some of the tough conditions in the financial markets. Total segment revenue of $312.9 million was down 21% from year-ago levels, although that was actually far better than the 26% drop that most investors were expecting. Adjusted net income for Oaktree Capital Group fell 30% to $105 million, working out to $0.49 per Class A unit. That was a penny below the consensus forecast among investors.
Deeper in the report, Oaktree's financials showed other signs of the volatility the market has seen lately. Assets under management weighed in at $96.9 billion, down 3% over the past 12 months. Distributable earnings per Class A unit fell $0.09 from year-ago levels to $0.68. Lower incentive income held back Oaktree's results, and investment income also fell in some areas. Oaktree's special economic net income metric registered an even deeper drop, falling more than 80% to $41.2 million and working out to just $0.13 per Class A unit.
Yet some of the news from Oaktree was quite positive. Assets that generate management fees rose 2% from year-ago levels, ending up just shy of $80 billion. That produced record management fees of $201.3 million, and the company said that fee-related earnings climbed 25% as a result.
CEO Jay Wintrob seemed content with Oaktree's performance. "Despite significant market volatility in the first quarter," Wintrob said, "we had a good beginning to 2016, highlighted by growing management fees." Moreover, the CEO pointed to successful closed-end fund offerings in areas such as real estate and power and energy, and he believes that the market downturn could give Oaktree a better opportunity to use near-record levels of available cash to invest in prudent investments.
How will Oaktree Capital beat the market?In addition, Oaktree continues to market a number of closed-end funds in several different areas. Target industries include real estate and infrastructure investments, and some of Oaktree's funds will target the European markets. Closed-end funds offer opportunities to capture management-fee income in a very stable way, because unlike open-end mutual funds, closed-ends involve specified offerings of shares that aren't redeemable by the fund company on a daily basis.
Yet to maximize its potential, Oaktree will have to reverse the recent declines in incentive income. During the first quarter, incentive income fell by more than a third to $96.6 million, representing a substantial and important portion of the company's overall income.
More favorable market conditions could make it easier for Oaktree to reap more incentive-based income and also improve investment income as well. In addition, a rebound in energy specifically could help reverse the impairment charges that Oaktree had to take during the first quarter in relation to certain collateralized loan obligations. Those charges were a big part of what sent investment income down more than 70% from year-earlier levels.
Oaktree Capital shareholders didn't respond dramatically to the news, with shares trading on either side of the unchanged level in the first two hours of trading following the announcement. With a long history of overcoming adversity in the financial markets, long-term investors should feel comfortable that Oaktree is doing what it can to maximize its performance regardless of market volatility.
The article Oaktree Capital Looks to Work Past Volatile Markets originally appeared on Fool.com.
Dan Caplinger has no position in any stocks mentioned. The Motley Fool owns shares of and recommends Oaktree Capital. Try any of our Foolish newsletter services free for 30 days. We Fools may not all hold the same opinions, but we all believe that considering a diverse range of insights makes us better investors. The Motley Fool has a disclosure policy.
Copyright 1995 - 2016 The Motley Fool, LLC. All rights reserved. The Motley Fool has a disclosure policy.