NYC sets affordable homes record: 24,500 financed in 2017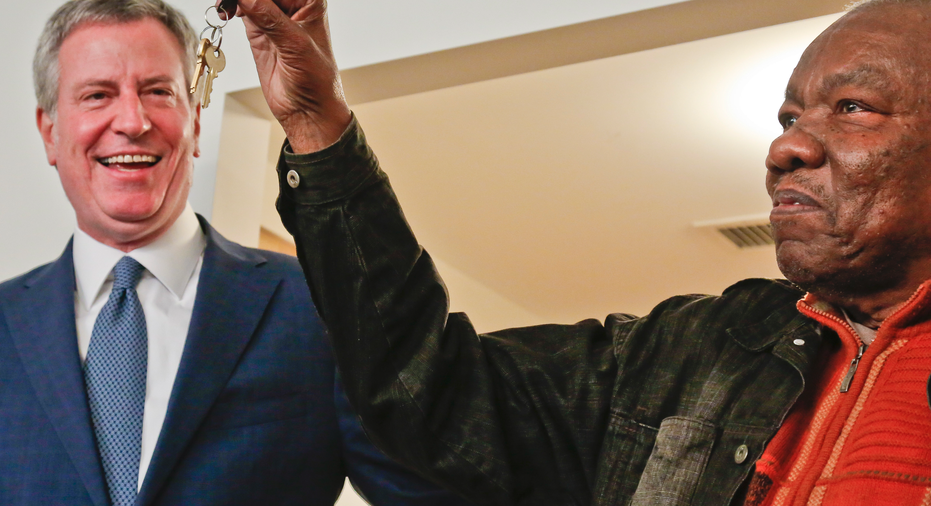 New York City preserved or created more than 24,500 affordable homes last year, breaking a record for the nation's biggest city, Mayor Bill de Blasio announced Tuesday.
The previous record was just over 23,100, set in 1989.
The more than $1 billion effort last year mostly preserved affordable homes — over 17,300 of them. Another 7,200 new ones were created. Nearly half of the apartments have rents affordable to a resident making about $33,400 per year as an individual, or $43,000 for a family of three.
"We are putting keys in the hands of New Yorkers who need affordable housing. We're making sure they can keep that affordable housing for the long term," the mayor said at an event at a new senior citizens' residence in Brooklyn.
De Blasio, a Democrat re-elected last year, has made affordable housing a centerpiece of his two mayoral campaigns. He's set a goal of creating and preserving 300,000 affordable apartments by 2026.
In the last four years, the city has preserved or created over 87,500 affordable dwellings, enough to house nearly 164,000 people in all, the mayor said.
Still, activists have pressed his administration to build more affordable housing for senior citizens, among other goals. Thousands of people and several local officials rallied outside City Hall in October, calling on the mayor to do more.
After winning re-election the next month, he announced an update to his affordable housing plan that focuses more on senior citizens, includes new homeownership programs and envisions getting proposals on more housing on vacant spots in existing affordable complexes.
Meanwhile, the city Tuesday unveiled a new housing website and plans new ads promoting resources to help people apply for affordable housing, fight eviction and freeze their rent.