NxStage Medical Cuts Its Losses as Critical Care Leads Sales Higher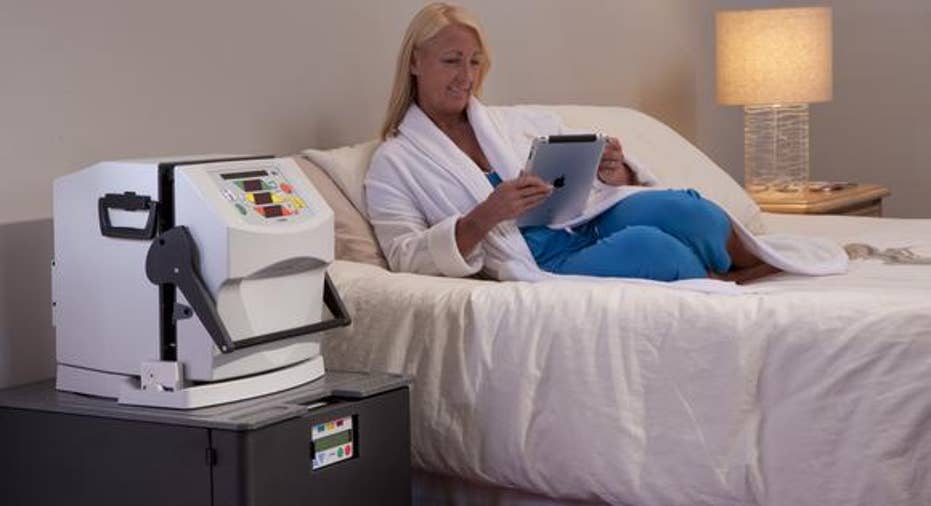 Image source: NxStage Medical.
Profitability often eludes small companies seeking to expand their businesses, and for home dialysis specialist NxStage Medical , the challenge of spending money on research and development while also marketing its products and implementing strategic solutions is a tough one to overcome. Coming into Wednesday's first-quarter financial report, NxStage investors were expecting a net loss from the company, but they wanted signs of solid revenue gains that pointed toward increased adoption of NxStage products. That's largely what investors got, as NxStage managed to limit its losses and boost sales. Let's take a closer look at the latest from NxStage Medical and what the company expects for the future.
NxStage stays healthyNxStage Medical's first-quarter results compared favorably to what most of those following the stock were expecting to see. Sales were up more than 12% to $89.2 million, which was slightly higher than the $88.4 million consensus forecast among investors. NxStage lost $1.28 million, but that worked out to just $0.02 per share, which was less than the $0.05-per-share loss that most investors were looking for.
The System One device segment continued to be main contributor to NxStage's overall sales growth. Overall, total segment revenue picked up more than 16%, and a big piece of the growth came from the critical care sub-segment and its 23% sales boost. The larger home-treatment subsegment also posted double-digit percentage increases in revenue, demonstrating the value of the System One product to customers. Minor gains in the other products segment helped offset a 6% drop in NxStage's In-Center traditional dialysis offerings. Services revenue more than quadrupled from year-ago levels, although that still makes up less than 3% of NxStage's overall sales.
CEO Jeffrey Burbank put the results into a broader business context. "This is an exciting time for NxStage," Burbank said, and "our focus on innovation and execution is clearly driving the results we expected." The CEO also noted that its products business is moving forward well, characterizing the growth as "firing on all cylinders and making phenomenal progress."
What's next for NxStage Medical?NxStage Medical is also optimistic that it's on the right path with its business. In Burbank's words, the success of the products business "provides us with increasing confidence around our target of total company profitability in 2017. ... Beyond 2016, we believe that we have one of the industry's most robust product pipelines on tap that can help take us from our current $1 billion market opportunity to a $5 billion opportunity."
NxStage's guidance reflected some of that optimism. In NxStage's near-term guidance for the second quarter, projections for $89 million to $91 million in sales would be higher than the roughly $87.5 million that analysts had expected. Net losses of $1 million to $3 million would be less than the current forecast. NxStage also gave positive news about its full-year projections, guiding investors toward the upper end of its previously disclosed range of between $355 million and $360 million in sales for 2016.
What will remain important in NxStage's efforts to achieve profitability will be to find ways to get the word out and drum up business. The company will present Thursday at the Deutsche Bank annual healthcare conference in Boston, and investors should hope that Burbank and his team can deliver presentations that will resonate with potential customers.
Despite its results, NxStage investors didn't seem satisfied, sending the stock down around 5% in morning trading following the announcement. For some, it will be important to see NxStage prove that it can make money before they'll feel entirely comfortable investing in the stock themselves.
The article NxStage Medical Cuts Its Losses as Critical Care Leads Sales Higher originally appeared on Fool.com.
Dan Caplinger has no position in any stocks mentioned. The Motley Fool owns shares of and recommends NxStage Medical. Try any of our Foolish newsletter services free for 30 days. We Fools may not all hold the same opinions, but we all believe that considering a diverse range of insights makes us better investors. The Motley Fool has a disclosure policy.
Copyright 1995 - 2016 The Motley Fool, LLC. All rights reserved. The Motley Fool has a disclosure policy.