NXP Semiconductors, NV: Steady Sailing Into the $38 Billion Qualcomm Buyout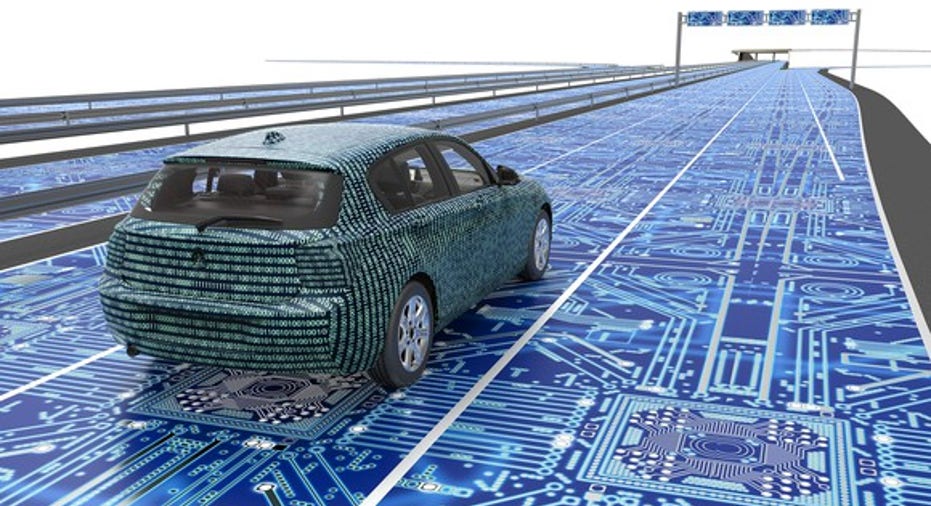 Netherlands-based semiconductor maker NXP Semiconductors (NASDAQ: NXPI) reported first-quarter results last week. Here's what investors need to know about NXP's report as the pending $38 billion buyout byQualcomm (NASDAQ: QCOM) moves closer to completion.
NXP's first-quarter results: The raw numbers
| Metric | Q1 2017 | Q1 2016 | Change (YOY) |
| --- | --- | --- | --- |
| Revenue | $2.21 billion | $2.24 billion | (1%) |
| Free cash flows | $464 million | $326 million | 42% |
| Net income attributable to shareholders | $1.31 billion | ($398 million) | N/A |
| GAAP earnings per share (diluted) | $3.79 | ($1.16) | N/A |
Data source: NXP Semiconductors. YOY = year over year.
What happened with NXP this quarter?
The year-ago report included $799 million of expenses related to the then-recent acquisition of Freescale Semiconductor. Backing out those costs, NXP's net income more than tripled from $401 million to $1.3 billion. Adjusted earnings also tripled from $1.14 to $3.79 per share.
But that's still not the whole story. NXP sold its Standard Products division to a consortium of Chinese investors in February. NXP Standard Products is now a stand-alone, private business known as Nexperia, a name taken from one of that division's most successful product lines. Treating that segment as a discontinued operation, NXP's sales from continuing operations increased 7% year over year.
The deal also contributed $1.6 billion to NXP's operating income for the quarter as the Chinese investor group sent over a $2.75 billion check to pay for the unit. Excluding that one-time item, adjusted earnings actually held steady year over year, at exactly $1.14 per diluted share.
The Standard Products windfall was immediately put to work, reducing NXP's long-term debt balances by $2.7 billion. Long-term debt totals now stand at $6.5 billion, or 2.1 times trailing adjusted EBITDA profits. The company's credit ratings might qualify for an upgrade into investment-grade territory at this point.
The company's wafer fabs hummed along at a 95% utilization rate, up from 92% in the fourth quarter and 90% in the year-ago period.
NXP has stopped providing forward guidance targets, and it no longer holds earnings calls after these quarterly reports. The Qualcomm acquisition is making those details redundant.
Image source: Getty Images.
What management had to say
In a prepared statement, NXP CEO Rick Clemmer outlined strong demand for the company's products in the automotive computing market, tempered by a revenue trough in secure identification solutions.
"With the divestment of our Standard Products group, our overall product portfolio has a sharpened focus on the higher growth, desirable margins, and stickier market segments," Clemmer said. "Our first quarter performance reflects a confirmation of a return to our annual growth trajectory."
Looking ahead
The Qualcomm deal looms large on the rapidly approaching horizon. NXP shares are trading at roughly $107 per share these days, less than 3% below Qualcomm's all-cash tender offer. A couple of regulatory approvals still remain from markets like China and Russia.
I would be surprised if this merger didn't close by the end of NXP's third quarter. With little deal arbitration value left to exploit, investors are better off taking their NXP investments off the market. If you still want to stay invested in NXP and its automotive computing success, I'd like to point out that Qualcomm shares have been trading at a discount recently.
10 stocks we like better than QualcommWhen investing geniuses David and Tom Gardner have a stock tip, it can pay to listen. After all, the newsletter they have run for over a decade, Motley Fool Stock Advisor, has tripled the market.*
David and Tom just revealed what they believe are the 10 best stocks for investors to buy right now...and Qualcomm wasn't one of them! That's right -- they think these 10 stocks are even better buys.
Click here to learn about these picks!
*Stock Advisor returns as of May 1, 2017.
Anders Bylund has no position in any stocks mentioned. The Motley Fool owns shares of and recommends Qualcomm. The Motley Fool also recommends NXP Semiconductors. The Motley Fool has a disclosure policy.