NXP Semiconductors, NV Shows Off Its Automotive Computing Muscle At CES 2017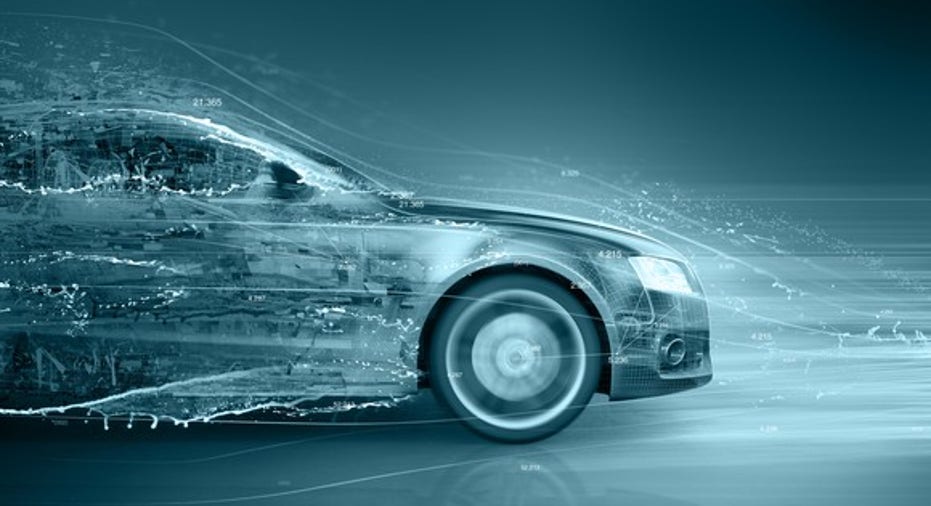 Image source: Getty Images.
At the CES technology gala this week, NXP Semiconductors (NASDAQ: NXPI) took the opportunity to remind everyone why the company is a major force in automotive computing. NXP's market-leading car-based computing tools are exactly why Qualcomm (NASDAQ: QCOM) is paying $36.4 billion for the company in a blockbuster deal.
At the show, NXP partnered up with several companies to demonstrate a "collective vision of safe and secure end-to-end mobility through a highly automated driving demonstration and experience." It's the car of the future, if you will -- equipped with enough sensors and computing tools to become an automated upgrade to your everyday driving experience.
In NXP's specific piece of the hands-on technology demonstration, the company is highlighting the traffic safety improvements you can achieve by making the car communicate with other cars and with connected landmarks in the driving environment. It's NXP's so-called RoadLINK platform in action, in collaboration with automotive parts giant Delphiand privately held start-up Savari.
"Self-driving cars must be perfectly safe and secure," said NXP executive Lars Reger. "This requires, firstly, an array of high-performance sensors; secondly, a powerful detection and sensor fusion system complemented with cloud connectivity; and thirdly, an efficient system play with industry leaders."
And of course, his RoadLINK system was designed to bring all of these critical components together in a single, easy-to-manage package.
RoadLINK-equipped cars can talk to each other, sending messages to ensure that every vehicle knows what all the other pieces of the traffic flow are doing. They also connect to road signs, traffic lights, real-time traffic updates, and mapping tools. This deluge of incoming (and outgoing) information reduces the risk of missing a stop light, changing lanes onto a car in your blind spot, and a plethora of other traffic risks. And RoadLINK is built around NXP chips, from top to bottom.
The ultimate goal, besides driving business to NXP and its many partners, is to add layers of technology-powered safety to your driving experience. RoadLINK isn't exactly a self-driving solution yet, but may well be built into automated driving packages in the future. Instead, the system provides timely warnings to the human driver. It can also be hooked into the car's brake and control systems if the car maker wants to enable automatic emergency actions, but that's not a requirement for the basic RoadLINK system.
And if the real-world effects of all this exatra security wasn't already obvious enough, NXP's alliance made sure to spell it out in big, bold letters: "Participants will also learn how these emerging technologies will enable new, flexible insurance models." (Emphasis mine.)
Yeah. More than 35,000 Americans lost their lives in motor vehicle crashes in 2015, according to data from the Insurance Institute for Highway Safety. Reducing that annual death toll by just 10% would make a bigger difference than stopping the next 9/11 event. This is a big deal. NXP and friends are about to reset the assumptions of the auto insurance industry in a big way.
Of course, NXP has been showing off its RoadLink system at the CES show for several years now. But the system itself has matured over the years, and the car market has been getting more prepared to take a closer look at it.
This is NXP flexing its automotive computing muscle on a worldwide stage. You should pay attention, if only to build a mental model of how important NXP's automotive tools will be to Qualcomm in the years to come.
10 stocks we like better than NXP Semiconductors When investing geniuses David and Tom Gardner have a stock tip, it can pay to listen. After all, the newsletter they have run for over a decade, Motley Fool Stock Advisor, has tripled the market.*
David and Tom just revealed what they believe are the 10 best stocks for investors to buy right now... and NXP Semiconductors wasn't one of them! That's right -- they think these 10 stocks are even better buys.
Click here to learn about these picks!
*Stock Advisor returns as of January 4, 2017
Anders Bylund has no position in any stocks mentioned. The Motley Fool owns shares of and recommends Qualcomm. The Motley Fool also recommends NXP Semiconductors. The Motley Fool has a disclosure policy.