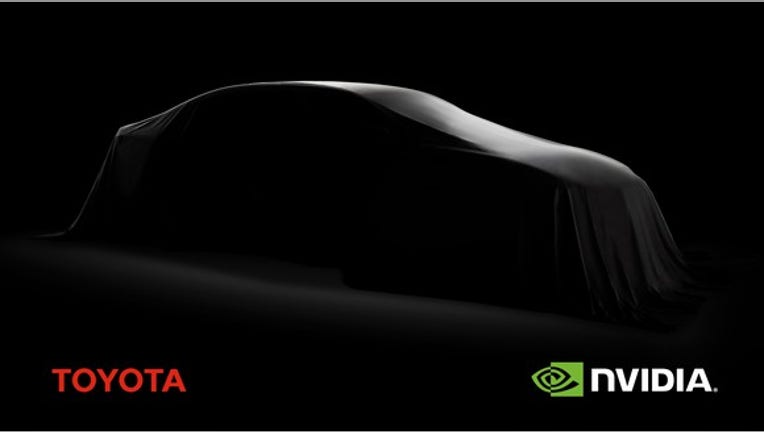 NVIDIA (NASDAQ: NVDA) recently announced thatToyota Motor (NYSE: TM) has selected its DRIVE PX car technology for self-driving vehicle development. NVIDIA's CEO calls Drive PX "the brain of the autonomous car."With Toyota as one of the biggest carmakers in the world and sitting third in U.S. auto market share, this is a big win for NVIDIA.
Toyota joins a bevy of self-driving car partnership announcements for NVIDIA, including Volkswagen AG's Audi, Tesla, Honda Motor, Daimler AG'sMercedes-Benz, and BMW.In total, there are over 200 partners using NVIDIA's DRIVE PX 2 car computing platform.NVIDIA's car computing solution helped its automotive segment revenue increase 52% in fiscal 2017 to $487 million, 7% of total revenue. The graphics company estimated its artifical intelligence car opportunity by 2025 at a total addressable market of $8 billion, allowing plenty of room for its auto segment to keep growing.
Toyota and NVIDIA team up to make autonomous driving a reality
NVIDIA and Toyota look to put a self-driving car on the road in the next few years. IMAGE SOURCE: NVIDIA INC.
"Toyota has worked on autonomous driving technologies for over 20 years with the aim of reducing traffic fatalities to zero as an ultimate goal, achieving smoother traffic, and providing mobility for all," said Ken Koibuchi, executive general manager at Toyota, in a press release. "Through this collaboration, we intend to accelerate the development of autonomous driving systems that are even more safe and capable."
The two companies didn't announce an actual vehicle rolling out anytime soon, but NVIDIA did state that this "will enhance the capabilities of autonomous driving systems planned for market introduction within the next few years."
Toyota signals how far in the lead NVIDIA really is
Intel (NASDAQ: INTC) and Toyota worked together back in 2011 on infotainment systems in cars where the central processing unit (CPU) was perfectly suitable for the job.But powering the brains behind self-driving cars is a much larger, more complicated task that only the power of the graphics processing unit (GPU) can handle with the necessary speed to make instant decisions with other cars and pedestrians on the road. For that, NVIDIA's GPU technology is better-suited.
The task of building a self-driving car is complicated and requires expertise from several technological areas, which is why you see partnership announcements happening left and right.One company provides processors, another cameras or sensors, and yet another has to provide HD mapping technology. Those are just a few of the main pieces. No single company can do it all.
NVIDIA DRIVE PX 2 for AutoCruise. IMAGE SOURCE: NVIDIA INC.
The DRIVE PX 2 with NVIDIA's latest Xavier chip can handle 30 trillion deep-learning operations per second.It serves as a platform to bring together data from sensors, cameras, lidar, and radar to make the necessary calculations to allow a car to understand its environment and drive safely without human assistance.Having a single device to process and interpret all this data is a lot better than the alternative of stringing together several different computers loaded into a car. The computing power of a GPU allows all of this capability to be packaged into a single computer, and that's very appealing to carmakers.
NVIDIA is still in the pole position
Intel's lack of expertise in GPUs puts it at a disadvantage to NVIDIA. However, Intel does have one major advantage in its roughly $10 billion in annual free cash flow, compared to NVIDIA's $1.5 billion.This financial muscle allowed Intel to catch up in a hurry with the recent announced acquisition of Israeli technology company Mobileyefor $15 billion. Still,it's not a guarantee that Intel will be able to catch up to NVIDIA by way of acquisitions. For the time being, NVIDIA appears to have maintained the lead in the self-driving car race by adding Toyota to its far-reaching alliance in the auto industry.
Find out why Nvidia is one of the 10 best stocks to buy nowMotley Fool co-founders Tom and David Gardner have spent more than a decade beating the market. (In fact, the newsletter they run, Motley Fool Stock Advisor, has tripled the market!*)
Tom and David just revealed their 10 top stock picks for investors to buy right now. Nvidia is on the list -- but there are nine others you may be overlooking.
Click here to get access to the full list!
*Stock Advisor returns as of May 1, 2017.
John Ballard owns shares of Nvidia. The Motley Fool owns shares of and recommends Nvidia and Tesla. The Motley Fool recommends BMW and Intel. The Motley Fool has a disclosure policy.