NVIDIA Stock: 2 Virtual Reality Advantages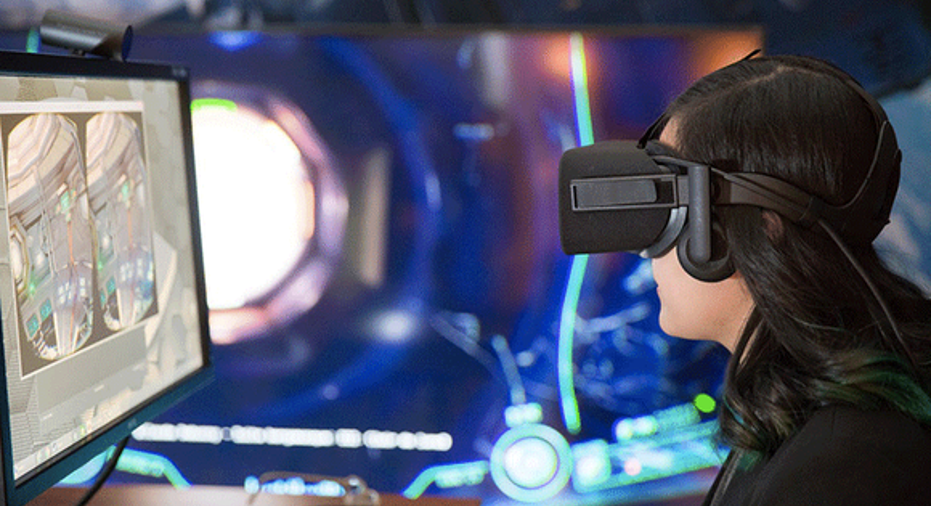 Image source: NVIDIA.
Chipmaker NVIDIA has its hands in some major tech trends these days. Aside from its mobile graphics processors, the company is a rising leader in the driverless car space with its Drive PX 2 platform and its recent release of the DGX-1 supercomputer. But NVIDIA's also using its current line of graphics processors to help usher in the coming virtual reality (VR) boom as well.
And the company has at least two advantages in the space over rival Advanced Micro Devices . NVIDIA is the leading provider of desktop graphics processor units (GPUs) needed to power high-end VR headsets like the Oculus Rift and the HTC Vive.
Superior graphics processing Right now, less than 1% of computers on the market are capable of handling the intense graphics processing needs of the Rift and Vive. But NVIDIA sees that small percentage as a huge area for growth.
The virtual reality market will grow from $6.7 billion this year to $70 billion by 2020, according to TrendForce. And there will be 171 million active VR users just two years from now.
All of those users will need PCs with powerful GPUs, and NVIDIA already makes one of the best graphics processors on the market, according to PCGamer.com. NVIDIA already has partnerships with 100 PC makers to make VR-ready desktops, and its GeForce GTX 980 GPUs are the only VR-ready notebooks on the market.
The company's GPUs also come with NVIDIA's Direct Mode feature, which offers plug-and-play compatibility between the GPU and VR headsets.
Of course, NVIDIA isn't the only company making GPUs for VR-ready computers. AMD is making big strides as well. HTC lists several AMD-powered computers that work with its Vive, and the Rift can run on AMD's Radeon R9 290.
But NVIDIA has started taking more discrete GPU market share as of late, and at AMD's expense. The company now holds more than 76% of the discrete desktop GPU market, while AMD takes less than 24%. Just three years ago AMD held 36% and NVIDIA had 64%.
A recent cloud advantageAside from putting powerful chips in PCs, the company also has an advantage in powerful cloud-based processing as well. Jason Paul, general manager of NVIDIAShield, Gaming and VR business, recently told Barron's that the company's GPUs are starting to be used in powerful server computers, which could eventually be used to process virtual reality from the cloud.
This would allow VR systems to process things like a user's movement by using cameras, instead of sensors. This appears to match up with the recent release of the company's DGX-1 supercomputer, which will be used for research by universities and for real-time, cloud-based processing for driverless vehicles.
This will take timeWhile NVIDIA has an advantage in the space right now, it's worth remembering that the virtual reality market may take time to go mainstream. Expensive headsets and VR-ready PCs could hurt VR in the short term. But VR is gearing up for a huge run in the coming years, and NVIDIA is poised to take advantage.
The article NVIDIA Stock: 2 Virtual Reality Advantages originally appeared on Fool.com.
Chris Neiger has no position in any stocks mentioned. The Motley Fool owns shares of and recommends Nvidia. Try any of our Foolish newsletter services free for 30 days. We Fools may not all hold the same opinions, but we all believe that considering a diverse range of insights makes us better investors. The Motley Fool has a disclosure policy.
Copyright 1995 - 2016 The Motley Fool, LLC. All rights reserved. The Motley Fool has a disclosure policy.