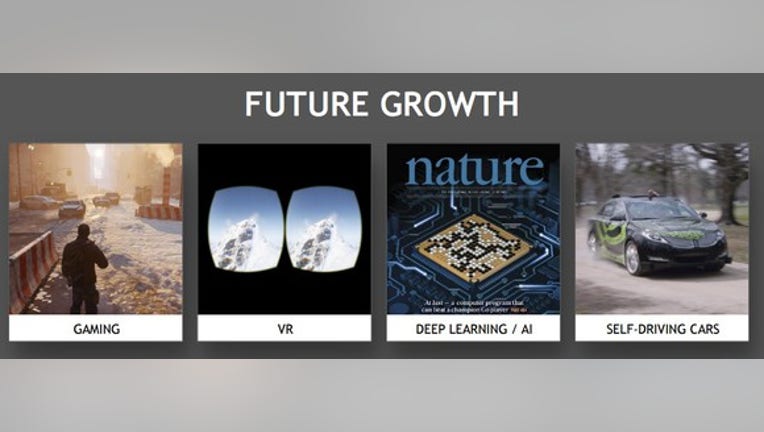 NVIDIA Corporation (NASDAQ: NVDA) reports its fiscal first-quarter 2018 results after the market closes on Tuesday, May 9.
To say that the graphics and mobile computing specialist is going into its report on a strong note with expectations high is an understatement. In fiscal 2017, ended Jan. 29,NVIDIA's year-over-yearrevenue increased 38% to $6.91 billion, earnings per share based on generally accepted accounting principles soared 138% to $2.57, and adjusted EPS surged 83% to $3.06.
Given this financial performance, it's not surprising that NVIDIA was the best-performing stock on the S&P 500 in 2016 with its 227% total return. While shares have taken a breather in 2017 -- they're down 2.7% -- they've still returned a whopping 194% for the one-year period through May 4, versus the broader market's 18.3%.
Let's take a look at expectations for NVIDIA and what investors should focus on in Tuesday's report.
NVIDIA's new GeForce GTX 1080 Ti graphics card, touted as the company's most powerful GeForce card ever. Image source: NVIDIA.
The headline numbers
The previous period's results and Wall Street's estimates to use as benchmarks:
Data sources: NVIDIA and Yahoo! Finance. YOY = year over year.
NVIDIA guided for revenue of$1.90 billion, plus or minus 2%, so it's not surprising that the consensus estimate is very close to this number.The company, which doesn't provide earnings guidance, has been whipping Wall Street's EPS estimates: It beat estimates in all four quarters in fiscal 2017, with the past two beats being crushed by 46% and 19%, respectively. That doesn't necessarily mean another earnings beat is coming, but it seems more likely than not.
Focus on gaming and data center
NVIDIA reports its results across two business segments -- its coregraphics processing units (GPUs) and Tegra processors (which are used in things that are mobile) -- and also across its four main market platforms, which include computer gaming, professional visualization, data center, and automotive. Both segments have been growing nicely, as have all four platforms.
Investors' main focus should be on gaming and data center, because these are the company's fastest-growing platforms. Moreover, they're also now the two largest platforms by quarterly revenue.
Image source: NVIDIA.
Gaming: Pascal-driven growth should continue
NVIDIA was originally solely a player in the computer gaming market. This market still accounts for the bulk of its revenue and is growing fast. (I included the previous quarter's results, so investors can see the most recent growth rate. Investors should not necessarily expect sequential growth, since Q4 is historically a strong quarter.)
Data source: NVIDIA. FY = fiscal year;YOY = year over year; QOQ = quarter over quarter.
Recent results in gaming have been getting a big boost from NVIDIA's launch last May of its latest GPU architecture, Pascal. PC gamers have been upgrading their old GPUs to more powerful Pascal-based ones. The good news is there's plenty of room for this trend to continue, since we're in the fairly early stage of the upgrade cycle and more than 200 million gamers around the world use NVIDIA's GeForce gaming cards. On the last earnings call in February, CEO Jen-Hsun Huang said that about two quarters of its total gamers had upgraded and that the entire upgrade cycle -- which was then about nine months old -- takes about three to four years.
Management will probably give an update on the call as to the upgrade progress. Moreover, investors can probably expect some indication as to how well NVIDIA's GTX 1080 Ti card is selling. In March, the company launched this card, which it touts as its most powerful GeForce card ever.
In addition to having gamers upgrade their cards, another growth driver for this platform is that the size of the gaming market itself is expanding, driven by factors such as e-gaming, CFO Colette Kress said on the last earnings call.
As to competition in the high-end PC gaming market,Advanced Micro Devices, or AMD, has previously confirmed that its Vega card, which it unveiled at this year's Consumer Electronics Show, will launch by the end of Q2, or the end of June. Investors will have to wait and see how much of a threat Vega presents to NVIDIA, which has the dominant position in discrete GPUs: It held a 70.5% share of the market in the (calendar) fourth quarter of 2016, well ahead of AMD's 29.5% share, according to Jon Peddie Research.
Data center: Artificial intelligence-driven growth should continue for the fastest-growing platform
Investors can count on continued amazing year-over-year growth in NVDIA's data-center platform. In fact, Kress said on the Q4 call that the company expected this platform to showsequentialgrowth,so we should see revenue come in higher than Q4's $296 million. This is the only one of the four main platforms for which NVIDIA's management guided for sequential growth.
Data source: NVIDIA. FY = fiscal year; YOY = year over year; QOQ = quarter over quarter.
Management said on the Q4 call that growth is being driven by the rapid adoption of a GPU-powered deep-learning approach to artificial intelligence, the migration of companies to the cloud,high-performance computing, graphics virtualization, and the company's DGX AI supercomputing appliance. Investorscan probablyexpect the samegrowth driversin the current quarter.
AI has the potential to be a humongous catalyst for growth for this platform.
Professional visualization: Steady as she goes?
The professional visualization platform targets designers, engineers, and artists. As with gaming, this platform should eventually get a nice boost from virtual reality and augmented reality, which are very nascent technologies but are widely expected to take off in the coming years.
Data source: NVIDIA. FY = fiscal year;YOY = year over year; QOQ = quarter over quarter.
Given the current growth dynamics in gaming and data center, NVIDIA doesn't need big growth in this platform to continue to post robust results.
Automotive: A longer-term catalyst for growth
NVIDIA's Tegra processors have been used to power automakers' infotainment and instrument clusters for some time. However, the auto platform's most powerful long-term catalyst for growth is the imminent arrival of fully autonomous vehicles, which is widely anticipated to occur within the next few years.
The company is already benefiting, as numerous top automakers are already using or recently announced they'll soon be adopting NVIDIA's DRIVE PX 2 AI-computing platform to power their partially autonomous vehicles. These include Tesla, Volvo, Audi, Daimler's Mercedes-Benz, and others.
Data source: NVIDIA. FY = fiscal year;YOY = year over year; QOQ = quarter over quarter.
(Note: The revenue numbers for the four platforms don't add up to 100% of NVIDIA's total revenue because the company also has a smalloriginal equipment and intellectual property category.
Q2 guidance
Investors can probably expect NVIDIA shares to react one way or the other if the company's Q2 revenue guidance is notably higher or lower than analysts' estimates. (NVIDIA doesn't provide earnings estimates.) For Q2, analysts are currently estimating that NVIDIA will earn $0.62 per share on revenue of $1.90 billion, representing year-over-year growth of 55% and 32.8%, respectively.
10 stocks we like better than NvidiaWhen investing geniuses David and Tom Gardner have a stock tip, it can pay to listen. After all, the newsletter they have run for over a decade, Motley Fool Stock Advisor, has tripled the market.*
David and Tom just revealed what they believe are the 10 best stocks for investors to buy right now... and Nvidia wasn't one of them! That's right -- they think these 10 stocks are even better buys.
Click here to learn about these picks!
*Stock Advisor returns as of May 1, 2017
Beth McKenna has no position in any stocks mentioned. The Motley Fool owns shares of and recommends Nvidia. The Motley Fool has a disclosure policy.