NVIDIA Is a Lot Bigger Than Self-Driving Cars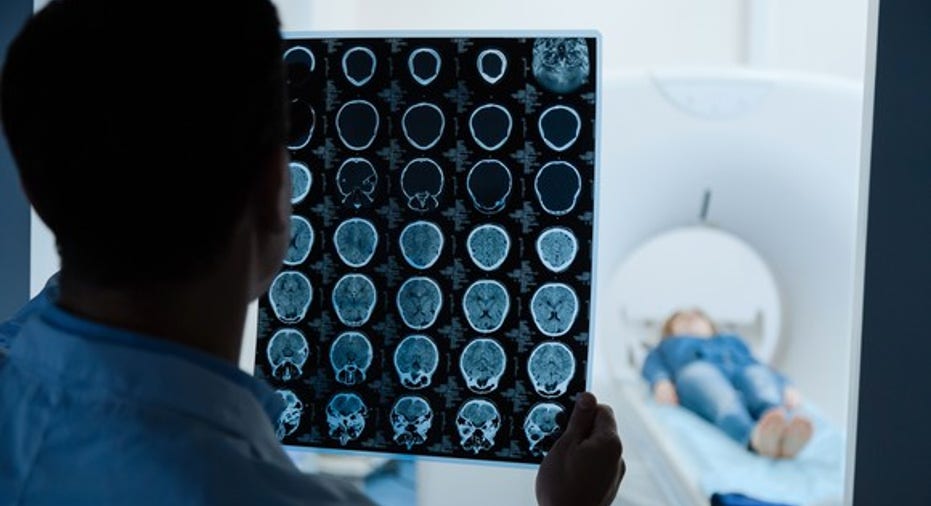 Artificial intelligence (AI) is all the rage recently. Headlines touting the numerous advances in a variety of fields and debates about how we will best serve our robot overlords are pervasive. It seems like much investor focus is on the area of self-driving cars lately, and why not? The prospect of fewer accidents, saved lives, and reduced traffic congestion are not only appealing, they would improve our quality of life.
NVIDIA Corporation (NASDAQ: NVDA) gets some of that press, and much is centered on the company's progress and partnerships in autonomous driving. But the graphics processing guru is making AI advances in a vast array of areas, and one getting the least amount of attention is the area of medicine.
NVIDIA DGX-1 AI Supercomputer in a box. Image source: NVIDIA.
Graphics processing takes on medical images
About a year ago, NVIDIA became a founding technology partner with Massachusetts General Hospital (MGH) and its recently established Clinical Data Science Center. MGH hosts the largest hospital-centered research program in the U.S. and was ranked the top hospital by U.S. News and World Report. This collaboration would combine NVIDIA's DGX-1, a fully integrated, self-sufficient AI supercomputer and Mass General's clinical database of 10 million medical images to train a deep learning neural network.
Deep learning is a subdiscipline of AI that uses algorithms and software modeled on the human brain to process data and learn as they go. This would result in a system that could compare a patient's medical history, symptoms, and test results with the massive database of other patients and available and emerging medical knowledge to provide an improved diagnosis and more targeted courses of treatment.
The initial focus will be in radiology, which deals with x-rays, and pathology, the examination of tissue samples, and eventually expand into the areas of genomics and electronic health records.
AI can spot genetic anomalies
NVIDIA is also working with doctors at the Mayo Clinic on ways to diagnose brain tumors using a scan called an MRI, which produces detailed images of organs and tissues. One of the advances resulting from this research was the ability to identify a specific genetic alteration found in the most common and deadliest form of brain tumor. Patients with this type of tumor -- glioblastoma multiforme -- typically have better outcomes when treated with a combination of chemotherapy and radiation. Those without the anomaly can choose a treatment plan with fewer side effects. The ability to detect this genetic difference can be crucial in determining the proper course of treatment.
AI systems can review MRI's more accurately than pathologists. Image source: Getty Images.
The ABCs of breast cancer
NVIDIA isn't the only company pursuing advances in medical research. Alphabet Inc. (NASDAQ: GOOG) (NASDAQ: GOOGL) division Google recently released a research paper in which it detailed a neural network that could identify tumors in medical images more accurately than human pathologists. The GoogLeNet AI system analyzed thousands of medical images and was able to recognize malignant breast cancer tumors with 89% accuracy, compared to 73% for the pathologists. While the system generates false positives and can't be used on its own, it does present intriguing possibilities as a screening tool to relieve some of the burden on overworked doctors and possibly as a stand-in in impoverished countries when no doctor is available.
GOOGLENET AI PROVIDES GROUNDBREAKING CANCER RESEARCH. IMAGE SOURCE: GETTY IMAGES.
International Business Machines (NYSE: IBM) has also been hard at work in the area of healthcare with its AI-based cognitive supercomputer and its flagship Watson for Oncology program. In a collaboration with the University of North Carolina School of Medicine, Watson reviewed 1,000 cancer patient records, and provided treatment plans that corresponded with oncologist recommendations in 99% of cases, while providing additional recommendations missed by doctors in 30%. This could result in better patient outcomes by identifying and including the latest medical research.
Watson recommends cancer treatment plans on par with oncologists. Image source: IBM.
AI's next frontier
NVIDIA GPUs were crucial to the success and initial advancements in AI systems, and they were the early choice for processing the large data sets required. Last year was NVIDIA's best ever, and the stock price more than quadrupled. Revenue for 2016 increased 38% over the prior year to a record $6.91 billion, and earnings per share were up 138%. The company is seeking to identify the next generation of AI applications that will drive future growth. The area of medicine provides compelling opportunities to benefit future generations while rewarding current shareholders.
10 stocks we like better than NvidiaWhen investing geniuses David and Tom Gardner have a stock tip, it can pay to listen. After all, the newsletter they have run for over a decade, Motley Fool Stock Advisor, has tripled the market.*
David and Tom just revealed what they believe are the 10 best stocks for investors to buy right now...and Nvidia wasn't one of them! That's right -- they think these 10 stocks are even better buys.
Click here to learn about these picks!
*Stock Advisor returns as of April 3, 2017.
Suzanne Frey, an executive at Alphabet, is a member of The Motley Fool's board of directors. Danny Vena owns shares of Alphabet (A shares). Danny Vena has the following options: long January 2018 $640 calls on Alphabet (C shares) and short January 2018 $650 calls on Alphabet (C shares). The Motley Fool owns shares of and recommends Alphabet (A and C shares) and Nvidia. The Motley Fool has a disclosure policy.