NVIDIA Corporation's Next King Might Launch Next Quarter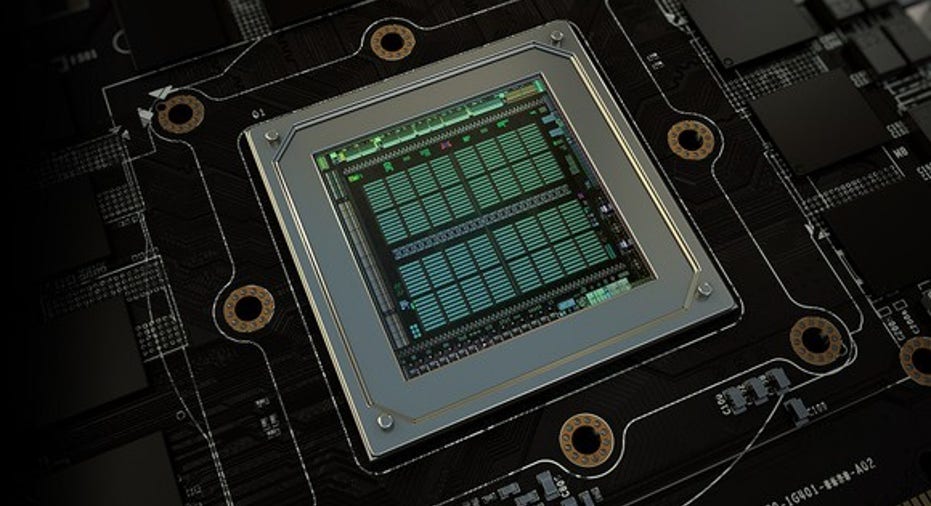 Image source: NVIDIA.
I have written quite extensively about graphics specialist NVIDIA's upcoming ultra-high end graphics chip known as GP102. We know that the company has this product in the works, and we even know that the chip has "taped out" (meaning that the design has been completed). What we don't know is when exactly the company intends to launch it.
According to a post from a user over on the Beyond3D forums, GP102 may actually launch fairly soon.
Potentially arriving next quarter
User Erinyes on the Beyond3D forums claims that "both GP102 and GP106 will be out next quarter." Erinyes does not name sources, but this poster's track record actually appears to be quite solid.
Back in May 2015, when rumors were floating around that NVIDIA might tap Samsung to manufacture its next generation Tegra processor codenamed Parker, the user claimed that it would actually be built on TSMC's 16-nanometer FinFET process. That user also said that Parker would use NVIDIA's custom Denver CPU cores rather than ARM's Cortex A72, another tidbit that wound up being correct.
Then, in June of 2015, the user claimed that NVIDIA's GP100 chip, which powers the recently announced Tesla P100 accelerators, had taped out -- meaning that the design was complete. It often takes about a year to go from tape-out to mass production, and given that the parts were in production as of NVIDIA's May earnings call, it would seem that this information was good.
Finally, the user claimed that NVIDIA's next generation graphics processors would be built at TSMC and not at Samsung as rumored, something that once again proved true.
I don't know who this user is, but her/his track record appears to be excellent when it comes to future NVIDIA products.
Strike while the iron is hot; I like it
NVIDIA's revenue growth story in gaming has been driven by two major factors: unit growth as well as an increase in average selling prices, as the slide below shows.
Image source: NVIDIA.
NVIDIA can drive average selling prices up as long as it delivers products that deliver extremely high performance. So, for example, if GP102 winds up being approximately 33% faster than the GP104-based GeForce GTX 1080, then the company should be able to charge at least 33% more while still offering a compelling performance-per-dollar.
Note that the premium that NVIDIA can charge for GP102 relative to GP104 depends significantly on when it releases it. If GP102 is released about a quarter after GP104 is, then the company should have little issue getting paid a premium at least equivalent to the incremental performance that it delivers.
If GP102 were to arrive, say, 6-12 months after GP104, then the premium that it can charge will likely come down, particularly if competitive pressures become greater in that time.
At any rate, if NVIDIA can get GP102 out within the next 2-3 months, likely as an ultra-enthusiast product under its Titan branding, then this should have a positive impact on the company's average selling prices and gross margins.
If all of the Pascal chips come in 2016, then might we see Volta in 2017?
If NVIDIA is able to pull off getting the entire high-end Pascal lineup out to consumers during 2016, then I have to wonder about when we might expect the company to roll out its Volta-based graphics processors.
NVIDIA's (admittedly very vague) most recent product road map from GTC 2016 shows Volta arriving sometime in late 2017 or in 2018:
Image source: NVIDIA.
If NVIDIA rolls out all of its high-end Pascal parts in 2016, then it's likely going to need something to launch in 2017 in order to keep the momentum going. Perhaps this road map is left intentionally vague and the company actually intends to roll out gaming-oriented Volta parts in 2017.
The article NVIDIA Corporation's Next King Might Launch Next Quarter originally appeared on Fool.com.
Ashraf Eassa has no position in any stocks mentioned. The Motley Fool owns shares of and recommends Nvidia. Try any of our Foolish newsletter services free for 30 days. We Fools may not all hold the same opinions, but we all believe that considering a diverse range of insights makes us better investors. The Motley Fool has a disclosure policy.
Copyright 1995 - 2016 The Motley Fool, LLC. All rights reserved. The Motley Fool has a disclosure policy.