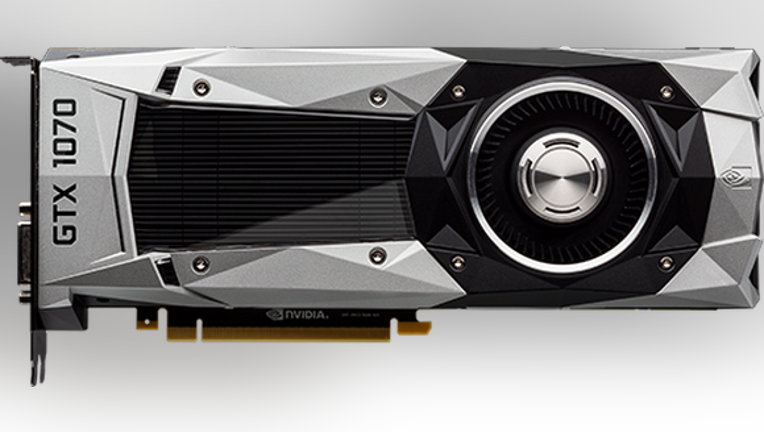 Image credit: NVIDIA.
On May 6, graphics specialist NVIDIA announced two new graphics cards targeted at high-performance gaming-oriented personal computers. The higher end of the two, the GeForce GTX 1080, hit the shelves on May 27, while the more affordable GeForce GTX 1070 became available on June 10.
According to a review of the GeForce GTX 1070 posted by TechPowerUp, the graphics processor delivers exactly what the NVIDIA promised during the unveiling: performance in the same league as the company's previous $1,000 flagship, known as the Titan X, for as low as $379. (The NVIDIA-built model sells for $449.)
Per TechPowerUp, the 1070 managed to edge out the Titan X on average across a broad set of games run at both 2560x1440 resolution and the more performance-intensive 3840x2160 or "4K" resolution. (A greater resolution means the graphics card has to render more pixels.) It also performs better than two of the prior-generation GeForce GTX 970s working in tandem at those resolutions.
As of writing, late on June 10, the GTX 1070 is sold out on NVIDIA's own website GeForce.com and, according to NowInStock.net, at most online retailers.
A strong start for a solid card
Just like the GeForce GTX 1080 before it, initial demand for the GeForce GTX 1070 appears to be outstripping supply. The graphics specialist obviously doesn't publicly announce how many cards it built ahead of availability, but given that the GTX 1070 delivers a large improvement in performance over its predecessor for a relatively modest price increase -- in other words, performance per dollar goes up significantly generation over generation -- it's not hard to see why demand for the 1070 would be robust.
What's even more interesting is that according to NowInStock.net, the much higher-priced GTX 1080 is still in pretty limited supply as of a recent check. Not only are the NVIDIA-built Founders Edition cards seemingly selling well, but the models released by third-party add-in-board vendors also appear to be selling out.
Lots of demand; NVIDIA needs to meet it
At this point, NVIDIA needs to be working as hard as it can in order to bring supply and demand for both the GTX 1070 and GTX 1080 into balance. NVIDIA's CEO has previously said that manufacturing yields on these chips are "good," and NVIDIA's director of technical marketing, Tom Petersen, indicated in an interview with PC Perspective that the use of the new GDDR5X memory wouldn't hamstring supply of the GTX 1080. (GTX 1070 uses cheaper, more commonly available GDDR5 memory.)
These comments indicate that there shouldn't be any fundamental issues with producing the cards.
At a recent investor conference, CFO Colette Kress had the following to say when asked about any potential supply constraints with respect to these new graphics processors:
If NVIDIA's CFO is confident that supply will materialize soon, then I'm willing to believe that the company will reach supply/demand balance sooner rather than later.
The article NVIDIA Corporation's GeForce GTX 1070 Is Off to a Strong Start originally appeared on Fool.com.
Ashraf Eassa has no position in any stocks mentioned. The Motley Fool owns shares of and recommends Nvidia. Try any of our Foolish newsletter services free for 30 days. We Fools may not all hold the same opinions, but we all believe that considering a diverse range of insights makes us better investors. The Motley Fool has a disclosure policy.
Copyright 1995 - 2016 The Motley Fool, LLC. All rights reserved. The Motley Fool has a disclosure policy.