NVIDIA Corporation Soars and Nordstrom Inc. Dives As Stocks Drop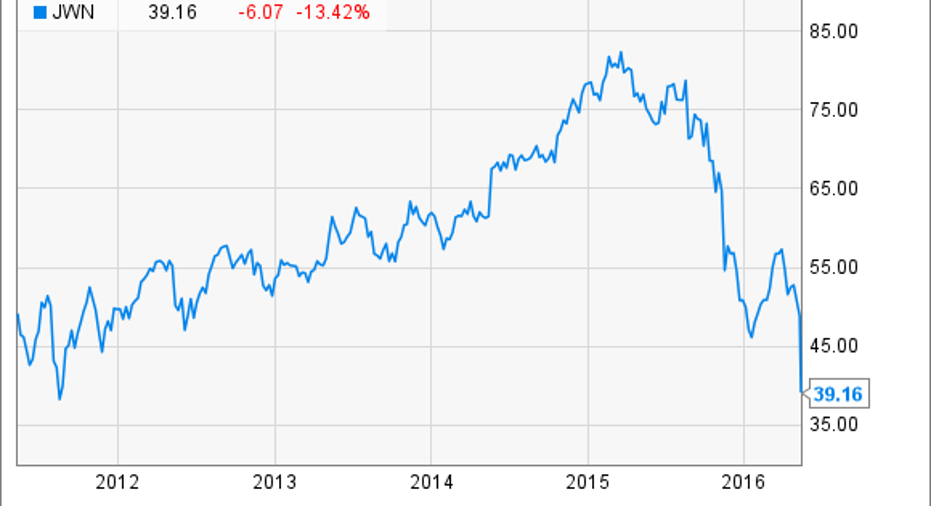 Stocks fell on Friday to close out their third consecutive week of losses. The Dow Jones Industrial Average lost 186 points, or 1.1%, and the S&P 500 gave up 18 points, or 0.9%:
In economic news, retail sales rose at a faster-than-expected pace in April, according to the latest official data. That reading seemed to contrast with the mood among retailers, many of which hit multi-year lows this week after posting declining quarterly sales results. But the new data showed that while spending at department stores is down, customers are gladly shelling out at other retailing locations like building supply stores, auto parts locations, and furniture shops.
As for individual stocks, NVIDIA and Nordstrom were two of the market's biggest movers following their earnings report releases before the opening bell.
NVIDIA's growing business
NVIDIA's 14% pop made it the S&P's biggest daily gainer. The graphics processing giant's shares are now up nearly 100% in the last year.
Friday's jump happened courtesy of surprisingly strong quarterly results: Sales rose 13% to $1.3 billion as earnings soared 39% to $0.46 per share, while consensus estimates were looking for $1.26 billion of revenue and $0.32 per share of profit.
Digging a bit deeper, NVIDIA's gross margin ticked higher by 2 percentage points to 59% of sales while restrained growth in operating expenses produced a surge in bottom-line profit. Net income surged by 41% to $263 million.
Management predicted that these positive trends should continue as its gaming, professional visualization, datacenter, and auto platforms all kick in gains. "We are excited to bring a new wave of innovations to the markets we serve," CEO Jen-Hsun Huang said in a press release. NVIDIA has high hopes for an auto market that may produce surging demand for processors as self-driving cars make their way onto the road. But for now, the next key innovation is its Pascal line of graphics processors, which executives say are in full production mode and will be available later in May.
Nordstrom's declining customer traffic
Nordstrom joined several of its retailing peers in announcing soft operating trends this week, pushing its stock to a fresh five-year low. The company's 3% sales decline surprised management even as it powered a large profit slump. Net income dove to $46 million from $128 million a year ago.
Markdowns were the key factor behind that earnings dip. Nordstrom's gross margin fell 2 percentage points to 34% of sales as executives increased promotions so they wouldn't be stuck with excess inventory. "Our first quarter results were affected by lower than expected sales. In response we have made further adjustments to our inventory and expense plans," CEO Blake Nordstrom told investors.
On the bright side, the retailer's discount stores continued to post solid gains. Comparable-store sales rose 5% at Nordstrom Rack and HauteLook, but that growth was overwhelmed by a 4% comps drop at its core locations. That performance gap helps explain why Nordstrom has opened six new discount stores so far this year, compared to just one new full-price spot.
Still, thanks to what executives described as an accelerating shift in the retailing industry, Nordstrom lowered its full-year outlook. It expects comps to be flat, rather than rise slightly, and it projects earnings of just $2.60 per share at the midpoint of guidance, down from February's forecast of roughly $3.20 per share.
The article NVIDIA Corporation Soars and Nordstrom Inc. Dives As Stocks Drop originally appeared on Fool.com.
Demitrios Kalogeropoulos has no position in any stocks mentioned. The Motley Fool owns shares of and recommends Nvidia. The Motley Fool recommends Nordstrom. Try any of our Foolish newsletter services free for 30 days. We Fools may not all hold the same opinions, but we all believe that considering a diverse range of insights makes us better investors. The Motley Fool has a disclosure policy.
Copyright 1995 - 2016 The Motley Fool, LLC. All rights reserved. The Motley Fool has a disclosure policy.