NVIDIA Corporation Shares Surge on Strong Data Center, Automotive Sales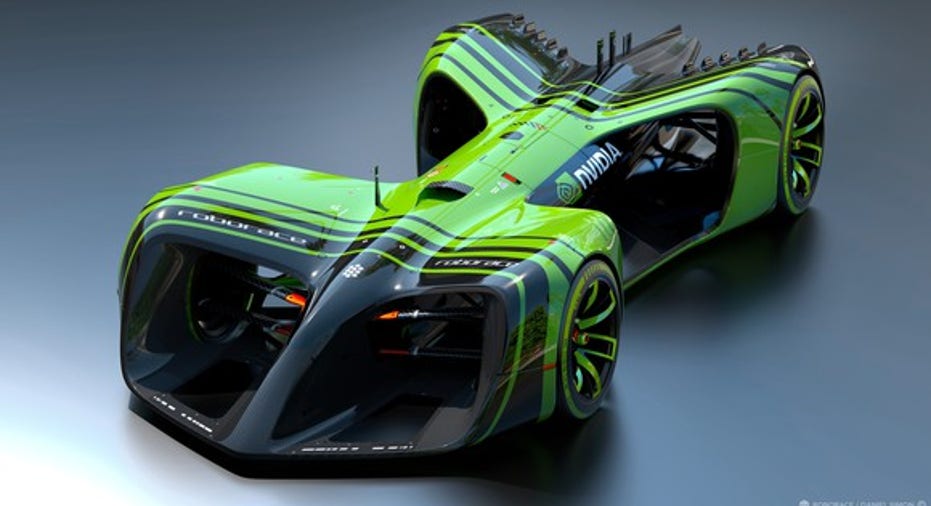 This self-driving race car runs on NVIDIA's Pascal-based Tegra processors. Image source: NVIDIA.
Graphics processor specialist NVIDIA reported results on Thursday night, covering the first quarter of fiscal year 2017. In after-market trading, investors reacted to the report with an instant share-price boost of more than 7%.
Here's how the first quarter worked out.
NVIDIA's Q1 results: The raw numbers
| | Q1 2017 Actuals | Q1 2016 Actuals | Growth (YOY) |
| --- | --- | --- | --- |
| Revenue | $1.31 billion | $1.15 billion | 13.9% |
| Free Cash Flow | $254 million | $216 million | 17.6% |
| Net Income | $196 million | $134 million | 46.3% |
| GAAP EPS (diluted) | $0.33 | $0.24 | 37.5% |
Data source: NVIDIA.
What happened with NVIDIA this quarter?
Sales exceeded the top-end of management's guidance for the quarter. GAAP earnings were expected to stop at roughly $190 million. The company enjoyed strong sales growth in three out of five reportable business segments, as products based on the long-awaited Pascal architecture started rolling out.
Gaming revenue increased 17% year over year, supported by a new virtual-reality development kit, and fresh game titles for the NVIDIA SHIELD set-top box. Pascal-based GeForce cards were introduced at the start of the second quarter. These products should provide additional growth as gamers and system builders grab their system upgrades.
NVIDIA processors are being adopted by carmakers, powering infotainment systems and autonomous driving tools. This segment showed 46.8% sales growth this quarter, landing above $100 million for the first time.
Not to be confused with advanced automobiles, the NVIDIA Tesla data center accelerator also got a Pascal upgrade. Tesla P100 products were announced in early April and will start shipping in June. But scientists and enterprises with massive number-crunching needs snapped up plenty of the older Tesla K40 and K80 chips in the first quarter, notching 62.5% year-over-year growth for the data-center segment.
On the downside, professional visualization revenue only increased by 4%, while OEM and IP sales fell by 20.6%. Excluding $66 million from a stable IP license agreement, the organic part of this division's sales decreased by 29.6%.
Looking ahead, management offered the following guidance for the second quarter.
Revenue should land near $1.35 billion, which would be a 17% increase from the year-ago period.
Using expected gross margins of approximately 57.7%, and $500 million in operating expenses, NVIDIA should see operating profits near $280 million, and roughly $220 million of GAAP net income. Hitting those marks would work out to bottom-line GAAP earnings of approximately $0.34 per diluted share, up from $0.05 per share in the second quarter of 2016.
What management had to say
Co-founder and CEO Jen-Hsun Huang celebrated NVIDIA's strong position in several interesting growth markets.
"Accelerating our growth is deep learning, a new computing model that uses the GPU's massive computing power to learn artificial intelligence algorithms. Its adoption is sweeping one industry after another, driving demand for our GPUs," Huang said in a press statement. "Our new Pascal GPU architecture will give a giant boost to deep learning, gaming and VR."
Looking ahead
The Pascal products are said to be in "full production," ready to hit store shelves and distributors later this month. NVIDIA says that the new products are twice as fast as the current line of Titan X flagship, and uses one-third as much wall power. And the Pascal line will be sold at half the price of Titan X.
While we await independent reviews, we can only go by NVIDIA's own word at this point. Delivering on these promises would be game changing, taking the wind out of arch-rival Advanced Micro Devices' sails; that is, unless AMD's upcoming Polaris architecture can match Polaris blow for blow.
Meanwhile, NVIDIA is riding plenty high on older products as shown by the dramatic wins in data-center and automotive sales.
The article NVIDIA Corporation Shares Surge on Strong Data Center, Automotive Sales originally appeared on Fool.com.
Anders Bylund has no position in any stocks mentioned. The Motley Fool owns shares of and recommends Nvidia. Try any of our Foolish newsletter services free for 30 days. We Fools may not all hold the same opinions, but we all believe that considering a diverse range of insights makes us better investors. The Motley Fool has a disclosure policy.
Copyright 1995 - 2016 The Motley Fool, LLC. All rights reserved. The Motley Fool has a disclosure policy.