NVIDIA Corporation CEO Says 16-Nanometer Pascal Yields Are "Good"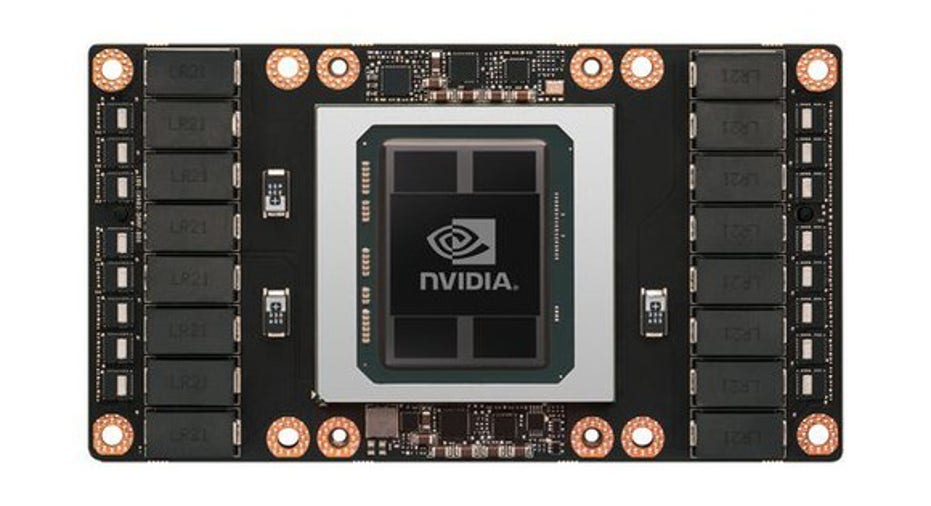 NVIDIA's P100, built on a 16nm process, aimed at high-performance computing. Image source: NVIDIA.
For the first time in roughly four years, graphics specialist NVIDIA is introducing a graphics processor built on a new chip manufacturing technology. Since the launch of its Kepler architecture in early 2012, NVIDIA has put out multiple graphics chips built on TSMC's 28-nanometer chip manufacturing technology.
Although TSMC went into mass production on a newer 20-nanometer chip manufacturing technology in late 2014 (to service a handful of mobile processor customers), NVIDIA skipped this technology for its stand-alone graphics processors in favor of TSMC's 16-nanometer FinFET Plus technology.
Apparently, per NVIDIA CEO Jen-Hsun Huang on the company's most recent earnings call, manufacturing yields on the company's 16-nanometer Pascal graphics processors are "good."
NVIDIA's strategy in action
At NVDIA's last investor meeting, CEO Jen-Hsun Huang made it clear that NVIDIA would no longer be the first customers to use brand-new chip manufacturing technologies. Instead, it would wait for the big customers like Apple to use the latest technologies and then hop aboard afterwards, since the processes should be mature by the time NVIDIA gets to them.
In fact, note that on the call Huang made a point of this with the following statement: "This is now a year behind when the first 16-nanometer FinFET products went into production in TSMC."
Looking to quell the fear expressed by the analysts about yields, Huang said that "[NVDIA] wouldn't have announced [products built on 16-nanometer FinFET] if we didn't have manufacturing under control. So we're in great shape."
Do Huang's comments check out?
Although Huang's commentary is encouraging, "good" is a very subjective term. To get a better sense of the yield picture, I think it's important to look at NVIDIA's gross profit margin guidance for the coming quarter.
NVIDIA should transition over virtually all of its high-end gaming graphics processor shipments from the older 28-nanometer Maxwell architecture to the 16-nanometer Pascal architecture during the current quarter. If yields were bad (meaning cost structure is relatively poor), we would probably see a negative impact to gross margins sequentially.
NVIDIA's gross profit margins were 57.5% on a generally accepted accounting principles, or GAAP, basis in its most recent quarter and 58.6% on a non-GAAP basis. The guidance given for the coming quarter is 57.7% on a GAAP basis and 58.0 on a non-GAAP basis, give or take 50 basis points, respectively.
With gross profit margin guidance looking strong, there's little reason to doubt Huang's claims vis--vis 16-nanometer chip yields.
What's next?
The next step for NVIDIA will be to transition the rest of its product stack from 28-nanometer Maxwell to 16-nanometer Pascal. Fortunately, these chips should generally be smaller and cheaper to produce than the chips found inside of the recently announced GTX 1070/1080, so if yields are good on the larger chips, they should be quite good for the rest of the lineup.
The architecture that's supposed to come after Pascal is known as Volta. It's not clear yet what manufacturing technology NVIDIA will use with these products. On one hand, NVIDIA could try to wring out significant performance enhancements through architecture alone on the current 16-nanometer process.
However, TSMC is expected to go into mass production on its 10-nanometer process in early 2017, so it should be suitable for NVIDIA to use to build graphics processors intended to be sold in late 2017/early 2018.
The article NVIDIA Corporation CEO Says 16-Nanometer Pascal Yields Are "Good" originally appeared on Fool.com.
Ashraf Eassa has no position in any stocks mentioned. The Motley Fool owns shares of and recommends Apple and NVIDIA. The Motley Fool has the following options: long January 2018 $90 calls on Apple and short January 2018 $95 calls on Apple. Try any of our Foolish newsletter services free for 30 days. We Fools may not all hold the same opinions, but we all believe that considering a diverse range of insights makes us better investors. The Motley Fool has a disclosure policy.
Copyright 1995 - 2016 The Motley Fool, LLC. All rights reserved. The Motley Fool has a disclosure policy.