NVIDIA Corp.'s Relationship with Taiwan Semiconductor Manufacturing Is Deepening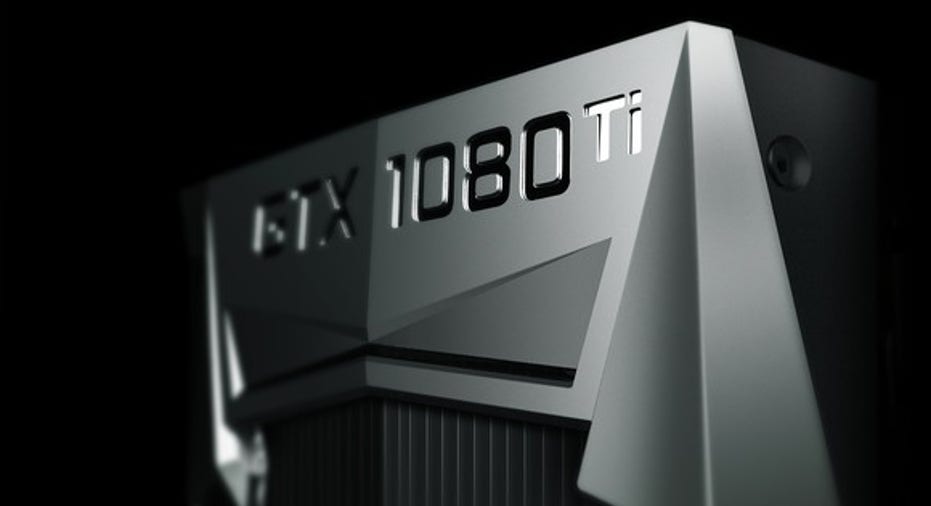 For many years, NVIDIA (NASDAQ: NVDA) has relied on Taiwan Semiconductor Manufacturing Company (NYSE: TSM) to manufacture the graphics chips it designs. Today, most of NVIDIA's Pascal architecture-based graphics processors -- from the GeForce GTX 1060, designed for mainstream PC gamers, all the way through its cutting edge Tesla P100 datacenter accelerators -- are manufactured by TSMC.
What's interesting, though, is that the company's entry-level gaming processor -- a chip known as GP107, and sold as the GeForce GTX 1050 and GeForce GTX 1050 Ti -- isn't built by TSMC. Instead, it's built by Samsung (NASDAQOTH: SSNLF) on that company's 14-nanometer LPP technology.
Image source: NVIDIA.
However, whileNVIDIA is sourcing mass-market graphics chips from a rival, it appears that its relationship withTaiwan Semiconductoris deepening rather than degrading. Here are some reasons to think so.
NVIDIA's "special" 12-nanometer technology
When NVIDIA announced its new Tesla V100 accelerator -- based on a chip code-named GV100 -- it disclosed that those GV100 chips are manufactured using Taiwan Semiconductor's 12-nanometer FFN technology. NVIDIA describes that as a variant of TSMC's 12-nanometer technology (which itself is an enhancement of the company's 16-nanometer technology) customized specifically for NVIDIA's use.
This is the first time that NVIDIA has ever talked about such a customized technology publicly.
Image source: NVIDIA.
Given NVIDIA's success over the last couple of years, and its compelling vision for the future, it's not surprising that TSMC may be placing greater priority on that customer's chip technology needs than it did in the past (when mobile chips were TSMC's main driver).
Not only does such customization help NVIDIA build better products (and TSMC wins if NVIDIA can sell more TSMC-built product), but it could make NVIDIA less prone to sourcing important chips from alternative manufacturers (e.g. Samsung).
NVIDIA CEO praises TSMC
On NVIDIA's most recent earnings call, one analyst asked CEO Jensen Huang about his thoughts vis-a-vis manufacturing technology.
Of course, Huang pointed out that there's more to building better computer chips than just using more-advanced chip manufacturing technology.
"If we want to advance computing performance, we can no longer rely on transistor advances alone," he said. "That's one of the reasons why NVIDIA has never been obsessed about having the latest transistors."
He did, though, note thatNVIDIA does want "the best transistors," going so far as to say that having strong manufacturing technology is "really, really important" to the company.
"I want the best, and TSMC provides us with the absolute best that we can get, and we push along with them as hard as we can," Huang concluded.
Note that Huang specifically called out TSMC in this discussion rather than saying "the foundry landscape" of contract chip manufacturers collectively, and praised the company for delivering "the absolute best [transistors]" that NVIDIA can get.
That's a strong statement, and quite high praise for TSMC.
Expect a strong collaboration going forward
TSMC's technology roadmap looks like it should be quite compelling from NVIDIA's perspective. The 12-nanometer FFN manufacturing technology should serve NVIDIA well over the next year or so, serving as a nice "stopgap" as TSMC works to bring its 7-nanometer technology into mass production. The new tech promises a substantial area reduction, in addition to performance improvements over the 16-nanometer and 12-nanometer technologies
Then, after the 7-nanometer technology goes into production, TSMC says that it plans to follow it up with a performance-enhanced version of the technology -- called, unsurprisingly, 7-nanometer+ -- about a year afterward.
Beyond that, TSMC is planning a 5-nanometer technology.
TSMC's development pipeline looks strong, and as long as the chipmaker can continue to bring these new manufacturing technologies into volume production on time, the relationship between NVIDIA and TSMC could continue to strengthen.
10 stocks we like better than Taiwan Semiconductor ManufacturingWhen investing geniuses David and Tom Gardner have a stock tip, it can pay to listen. After all, the newsletter they have run for over a decade, Motley Fool Stock Advisor, has tripled the market.*
David and Tom just revealed what they believe are the 10 best stocks for investors to buy right now... and Taiwan Semiconductor Manufacturing wasn't one of them! That's right -- they think these 10 stocks are even better buys.
Click here to learn about these picks!
*Stock Advisor returns as of May 1, 2017
Ashraf Eassa has no position in any stocks mentioned. The Motley Fool owns shares of and recommends NVIDIA. The Motley Fool has a disclosure policy.