NVIDIA Corp. Earnings: A Home Run in the Data Center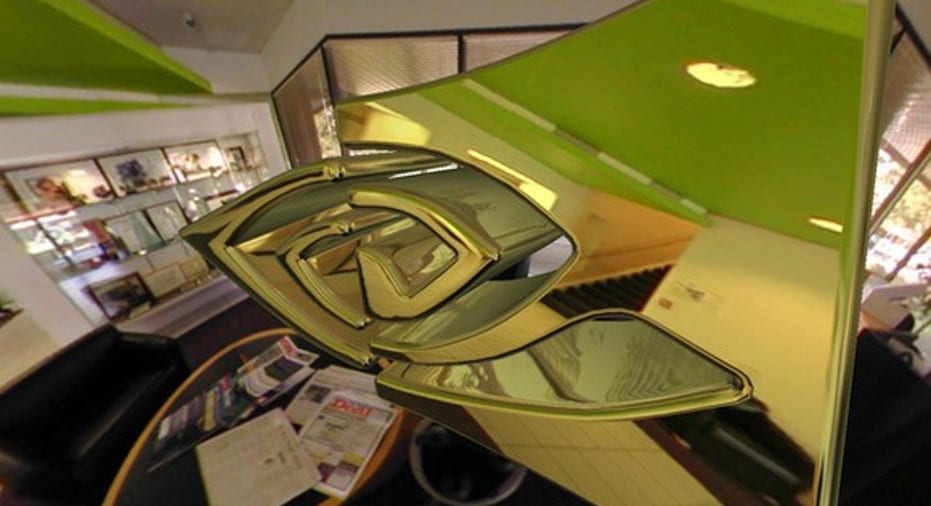 Image source: NVIDIA.
Thursday evening, NVIDIA (NASDAQ: NVDA) reported results for the third quarter of fiscal year 2017. The graphics and mobile computing specialist's efforts in data-center computing are paying off and NVIDIA crushed its own guidance targets.
In after-market trading, NVIDIA shares jumped more than 15% higher as of 5:35 p.m. ET.
NVIDIA's third-quarter results: The raw numbers
Data source: NVIDIA.
What happened with NVIDIA this quarter?
No ifs and buts about it -- NVIDIA's third quarter was a huge success.
Three months ago, management sketched out third-quarter revenue guidance of $1.68 billion. Running through the math on the company's line-by-line financial forecasts, the bottom line was expected to stop at GAAP earnings of $0.53 per share. The final sales result came in 19% above that target, and the earnings figure was 57% above the guidance midpoint.

Sales of the Tegra processor line rose by 87% year over year, landing at $241 million. The mainstay graphics processor business saw revenues increasing 53% to $1.7 billion.

Through the lens of end-market platforms, data-center servers provided $240 million in third-quarter sales -- a threefold increase over the year-ago period. Both gaming and automotive computing sales increased by a little more than 60%.

As part of the earnings release, NVIDIA also increased its next quarterly dividend of $0.14 per share, payable on December 19 to shareholders of record as of Nov. 28. That's a 22% increase from the existing policy, which had remained steady over the last four quarters.
As usual, NVIDIA offered a detailed outlook for the next quarter:
Fourth-quarter revenue should land near $2.1 billion, a 50% increase over the same period in fiscal year 2016.

GAAP gross margins should stop at approximately 59%, up from 56.5% a year earlier.

Using the midpoints of NVIDIA's targeted operating costs and tax rates, the bottom line should see GAAP net income of roughly $534 million or $$0.82 per diluted share. That would be a 134% boost over the year-ago period's $0.35 per share.
What management had to say
In a prepared statement, CEO Jen-Hsun Huang outlined strength across all of NVIDIA's current product lines.
"Our new Pascal GPUs are fully ramped and enjoying great success in gaming, VR, self-driving cars and datacenter AI computing," Huang said. "We have invested years of work and billions of dollars to advance deep learning."
Leading cloud computing services and server system manufacturers have embraced NVIDIA's GPU-based deep learning tools. Huang sees this number-crunching platform sparking "the next era of computing."
Looking ahead
NVIDIA is firing on all cylinders here, exploring new opportunities like the data center while also doing well in legacy markets such as gaming and professional visualization.
The stock is exploring all-time highs here. The after-hours share price stands more than 150% above the year-ago level. The long-awaited Pascal platform has unlocked new horizons for NVIDIA investors. At this point, management must keep up this high level of execution, which is not an easy task. Investors who are keen on tracking growth drivers should keep a close eye on NVIDIA's data center and automotive operations alongside the traditional gaming market.
10 stocks we like better than NVIDIA When investing geniuses David and Tom Gardner have a stock tip, it can pay to listen. After all, the newsletter they have run for over a decade, Motley Fool Stock Advisor, has tripled the market.*
David and Tom just revealed what they believe are the ten best stocks for investors to buy right now... and NVIDIA wasn't one of them! That's right -- they think these 10 stocks are even better buys.
Click here to learn about these picks!
*Stock Advisor returns as of November 7, 2016
Anders Bylund has no position in any stocks mentioned. The Motley Fool owns shares of and recommends NVIDIA. Try any of our Foolish newsletter services free for 30 days.
We Fools may not all hold the same opinions, but we all believe that considering a diverse range of insights makes us better investors. The Motley Fool has a disclosure policy.