NuVasive Straightens Up With Solid Growth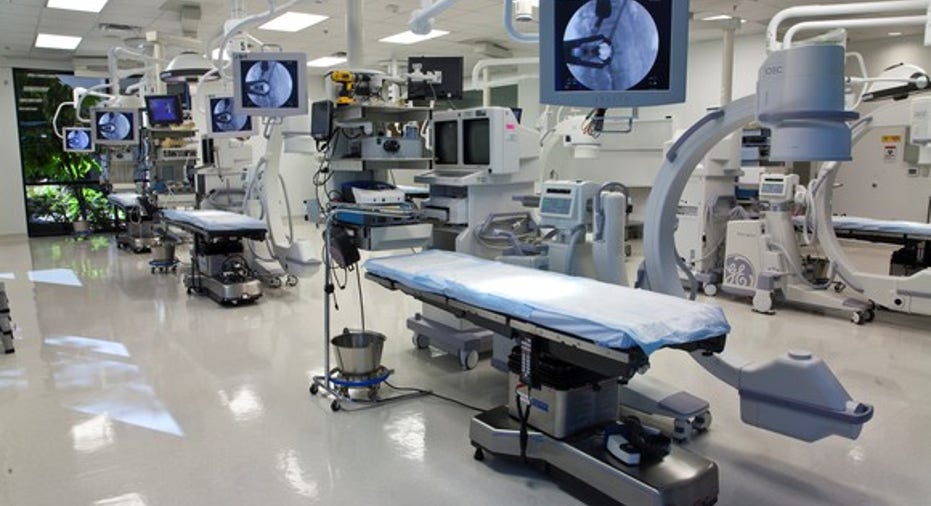 Medical devices can change lives, and NuVasive (NASDAQ: NUVA) prides itself on making spinal surgery as painless and simple as possible. The company specializes in devices to provide procedurally integrated surgical solutions that are minimally disruptive, and NuVasive products have gained popularity over time.
Coming into Tuesday's first-quarter financial report, NuVasive investors hoped to see solid gains in sales and earnings, and the company almost exactly matched their expectations. Moreover, the medical device maker sees product launches this year that could help it grow even faster in the future. Let's look more closely at NuVasive for more clues on how its quarter went and what investors can expect for the rest of the year and beyond.
Image source: NuVasive.
NuVasive moves forward
NuVasive's first-quarter results didn't satisfy everyone, but they were still solid. Revenue was up 16% to $250 million, which was only slightly below the $251 million in sales that investors were expecting to see. Adjusted net income rose a healthier 16% to $20 million, and that worked out to $0.38 per share, exactly matching the consensus forecast among those following the stock.
A closer look at NuVasive's results shows some cross-currents within the report. Adjusted gross margin fell nearly two percentage points to 75.3%, reflecting higher costs from the recently acquired Biotronic NeuroNetwork business. However, GAAP operating expenses as a percentage of revenue dropped three percentage points to just over 66%, and that contributed greatly to NuVasive's favorable bottom-line performance. NuVasive has worked hard to maximize efficiency and reduce unnecessary costs, and those efforts are showing up in its financial results. Also, a dramatic decline in the amount of money spent on business transition costs helped support NuVasive's profits.
CEO Greg Lucier did a good job of putting the results into a broader perspective. "NuVasive is off to a solid start to the year, with our international business exceeding our expectations," Lucier said, "and we saw momentum building in our U.S. business as we exited the quarter." The CEO also highlighted its focus on maximizing operational efficiency, and the growing influence of its in-house manufacturing facility also contributed to the good mood within the company.
What's coming next for NuVasive?
Things continue to look up for NuVasive in the near future, with an expansion in the scope of its business driving excitement among investors. As Lucier said, "With several innovative product and systems launches planned for 2017, including LessRay designed for radiation reduction, RELINE Trauma system, expandable cages, and UNYTE system for complex fractures, we anticipate strong revenue acceleration for the balance of the year."
Also helping NuVasive's growth plans will be greater borrowing capacity. The company amended its line of credit to give it an extra $350 million in borrowing capacity, raising the maximum to $500 million. However, one thing that investors will want to keep an eye on NuVasive's interest expense, which rose to $9.8 million this quarter from $8.5 million in the year-ago quarter. If interest rates rise from here, then those costs could continue to increase going forward.
However, some will be disappointed with NuVasive's guidance for 2017. The company simply reiterated its past forecasts, with expectations for $1.065 billion in sales and adjusted earnings of $2 per share. Those figures represent 11% to 12% top-line growth and a 20% rise in earnings per share from 2016 levels, showing ongoing growth trends that look favorable.
NuVasive investors weren't satisfied with the report, and the stock dropped 5% in after-hours trading following the announcement. Once future product releases start to have an impact, however, NuVasive's fundamentals are strong enough that growth could easily accelerate from here and renew more optimistic views for the spinal surgery specialist going forward.
10 stocks we like better than NuVasiveWhen investing geniuses David and Tom Gardner have a stock tip, it can pay to listen. After all, the newsletter they have run for over a decade, Motley Fool Stock Advisor, has tripled the market.*
David and Tom just revealed what they believe are the 10 best stocks for investors to buy right now... and NuVasive wasn't one of them! That's right -- they think these 10 stocks are even better buys.
Click here to learn about these picks!
*Stock Advisor returns as of April 3, 2017
Dan Caplinger has no position in any stocks mentioned. The Motley Fool recommends NuVasive. The Motley Fool has a disclosure policy.