NuVasive Builds Momentum Going Into 2017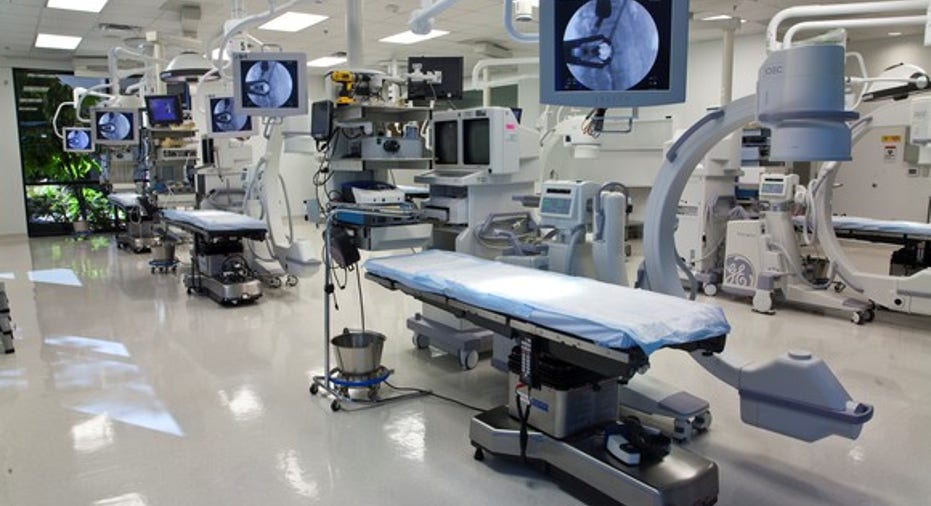 NuVasive (NASDAQ: NUVA) has been highly successful in revolutionizing the spinal-surgery arena. Over time, the company has found medical professionals increasingly willing to adopt its solutions to integrate minimally disruptive procedures into their surgical practices.
Coming into Thursday's fourth-quarter financial report, NuVasive investors were fully expecting that the company would be able to sustain its revenue and profit growth and bounce back from slight weakness last quarter. NuVasive delivered strong results for the quarter, and it sees good times ahead for 2017, as well.
Let's take a closer look at NuVasive to see how it performed last quarter and what's ahead for the company.
Image source: NuVasive.
NuVasive gets back on its upward growth trajectory
NuVasive's fourth-quarter results exceeded most expectations. Sales climbed 26%, to $271.1 million, which was almost $10 million higher than what most investors had been looking to see from the spinal surgical specialist. Adjusted net income soared by more than half, to $27.6 million, and that worked out to adjusted earnings of $0.53 per share. That was higher than the consensus forecast by $0.02 per share.
Looking more closely at the report, NuVasive's margin performance was mixed. Gross margin on an adjusted basis fell by almost a full percentage point, to 75.3%. However, adjusted operating margin improved by a full percent, to 18%, showing the success of some of NuVasive's efforts to keep costs under control even during a period of rapid growth.
The quarterly results marked a solid end to NuVasive's 2016 year. For the full year, revenue climbed 19%, to $962.1 million, and adjusted net income was up almost 30%, to $86.5 million, working out to $1.66 per share. For the most part, the currency-related challenges that NuVasive has had to deal with in the past have largely faded away, and currency impacts had only a negligible impact on NuVasive's full-year results.
CEO Greg Lucier was very happy with how NuVasive did during the period. "By all measures," Lucier said, "the Company had a tremendous year executing against our market-share taking initiatives, delivering strong revenue growth, including a return to 20% year-over-year growth in our core international markets." The CEO also noted that strategic acquisitions played their part "to augment our leadership in spine and deliver the substantial growth we forecasted."
Can NuVasive keep straightening up its financials?
Moreover, NuVasive expects that the coming year will bring even more opportunities. In Lucier's words, "We are committed to driving further market expansion, especially in the spine deformity area, while significantly increasing our in-sourced manufacturing capabilities and focusing on streamlining our operations." By doing so, NuVasive expects to enjoy economies of scale and become more profitable going forward.
NuVasive's guidance for 2017 wasn't quite as favorable as some investors had hoped. The spinal-solutions company said that it expects revenue of $1.065 billion, which is almost exactly in line with the consensus forecast among those following the stock. However, adjusted earnings of $2 per share would be a slight shortfall compared to investor expectations. Even so, NuVasive is hoping that improved operating margin and EBITDA (earnings before interest, taxes, depreciation, and amortization) margin will help the company's bottom line make more progress looking ahead.
NuVasive investors didn't react very strongly one way or the other to the company's report, and the stock was down just a fraction of a percent in after-hours trading following the announcement. It was good for the company to get its fundamental growth back in gear to end 2016, and a lot will depend on whether NuVasive can continue to make progress throughout 2017 toward reaching its full potential in the spinal surgery realm.
10 stocks we like better than NuVasiveWhen investing geniuses David and Tom Gardner have a stock tip, it can pay to listen. After all, the newsletter they have run for over a decade, Motley Fool Stock Advisor, has tripled the market.*
David and Tom just revealed what they believe are the 10 best stocks for investors to buy right now... and NuVasive wasn't one of them! That's right -- they think these 10 stocks are even better buys.
Click here to learn about these picks!
*Stock Advisor returns as of February 6, 2017
Dan Caplinger has no position in any stocks mentioned. The Motley Fool recommends NuVasive. The Motley Fool has a disclosure policy.