Nuance Keeps Talking Up Its Cloud Transformation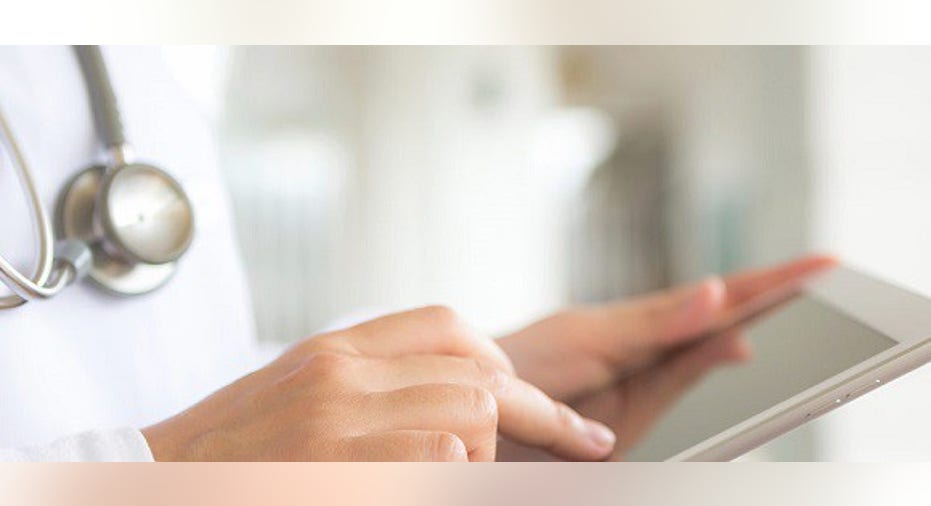 Image source: Nuance Communications.
Voice-recognition specialist Nuance Communications is just one of the many companies that have worked toward getting more of their income from recurring revenue sources. The cloud computing revolution has helped push Nuance strongly in that direction, making it possible to take products and services and offer them to customers on a subscription basis. Coming into Tuesday's fiscal second-quarter financial report, Nuance investors were prepared for the downward pressure on revenue that a transformation to a cloud-based revenue model brings, but they wanted signs of stronger profitability. Nuance did fairly well in accomplishing those tasks, but investors weren't convinced about its future prospects. Let's take a closer look at what Nuance Communications said and what lies ahead for the company.
Nuance sounds the growth bells
Nuance's fiscal second-quarter results were relatively solid. Adjusted revenue was down by just a fraction of a percent to $487.4 million, and that wasn't able to produce the modest growth of less than 1% that investors had expected. Adjusted net income, however, climbed 16% to $115 million, and that produced earnings of $0.38 per share. That was $0.03 higher than the consensus forecast among those following the stock.
As we've seen in past quarters, Nuance saw much different performance in each of its primary segments. The enterprise segment was the best performer, posting organic revenue gains of 13% that helped send adjusted segment profit up by more than 70%. The healthcare segment was more sedate, as organic sales growth amounted to 1% and its bottom line fell modestly. Imaging suffered 5% sales declines and flat profits, while the mobile division did the worst, seeing 16% declines in organic top-line growth. But mobile's profits were still up 5%.
Nuance continued making headway toward increasing its recurring revenue sources. The proportion of all sales coming from recurring revenue jumped to 71%, up 6 percentage points in just the past year. By contrast, perpetual licensing revenue was down by more than a quarter, and the company cited falling demand for mobile handset devices as driving the trend lower.
CFO Dan Tempesta was positive about Nuance's report. "Overall, we are pleased with the company's performance through the first half of fiscal 2016," Tempesta said, showing "continued improvement across all major financial metrics." The CFO again repeated its efforts in executing its transformation program toward recurring revenue models.
What's Nuance talking about for the future?
Nuance is still optimistic that it will stay on track for the remainder of the fiscal year, and it once again stated that net new bookings growth should remain between 2% and 5%. Enterprise strength should continue, and contributions from mobile operator services, Dragon Medical, diagnostics, and Clintegrity will play important roles in growing bookings going forward. One challenge, however, will be the anticipated moves of Dragon Medical and diagnostics products toward cloud-based and other recurring-revenue sources.
Nuance's fiscal third-quarter guidance was also reasonably consistent with expectations. The company believes it will bring in between $483 million and $497 million in adjusted revenue during the quarter, producing adjusted earnings of $0.35 to $0.38 per share. The sales figures are a bit lower than most Nuance investors were expecting, but earnings guidance is relatively consistent. Full-year revenue guidance also got cut by $50 million to a range of $1.975 billion to $2.025 billion. However, adjusted earnings of $1.48 to $1.57 per share were up $0.06 to $0.07 per share from the previous range.
Yet Nuance investors didn't react favorably to the news, sending the stock down around 3% at midday on Wednesday following the Tuesday evening announcement. Investors seem to want the entire transition to a cloud-based model completed before they'll be entirely comfortable with the volatility in Nuance's results.
The article Nuance Keeps Talking Up Its Cloud Transformation originally appeared on Fool.com.
Dan Caplinger has no position in any stocks mentioned. The Motley Fool recommends Nuance Communications. Try any of our Foolish newsletter services free for 30 days. We Fools may not all hold the same opinions, but we all believe that considering a diverse range of insights makes us better investors. The Motley Fool has a disclosure policy.
Copyright 1995 - 2016 The Motley Fool, LLC. All rights reserved. The Motley Fool has a disclosure policy.