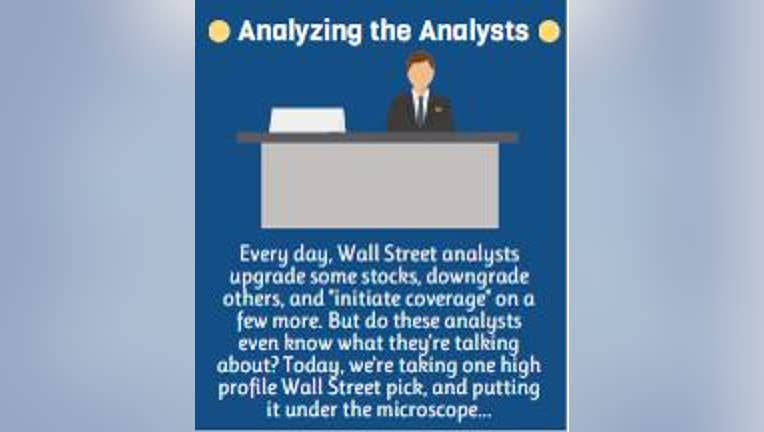 Speech-to-text (and vice versa) specialist Nuance Communications (NASDAQ: NUAN) reported its fiscal Q4 and full-year 2016 earnings last night. The company beat analyst expectations on both revenue and earnings -- and that was just the start of the good news.
Analysts at investment banker Raymond James (which ranks in the top 5% of analysts we track at a CAPS Rating of 96.28) rewarded Nuance's strong performance yesterday with a ratings upgrade this morning. As reported on StreetInsider.com, Raymond James -- which already had Nuance stock at outperform -- has now upped its enthusiasm to "strong buy," and assigned a price target of $24 to the stock.
If the analyst is right, then Nuance stock, currently selling for just $17 and change, could produce 40% profits over the next year for investors who buy it today. But is Raymond James right?
Here are three things you need to know.
Nuance stock has having a very rough year -- until all of a sudden, it wasn't.NUAN data by YCharts.
1. "Beating earnings" isn't always what it's cracked up to be
As my fellow Fool Dan Caplinger reported last night, Nuance beat analyst estimates on both Q4 revenue ($512.4 million) and pro forma earnings ($118.6 million). And yet, while Nuance's numbers were better than expected, the company's revenue was still down 0.2% year over year -- and earnings declined 9%.
2. Guidance isn't much better
If 2016's results failed to impress, then 2017 doesn't look much better for Nuance. According to the company's guidance, Nuance is likely to pull in between $2.02 billion and $2.07 billion in revenue this current fiscal 2017 -- roughly on par with analysts' expected$2.04 billion. Earnings-wise, however, Nuance predicts pro forma profits will range only between $1.53 and $1.63 per share. Analysts are looking for $1.63 per share, period, and the only way Nuance is going to make them happy is if it maxes out its own earnings projection.
3. You call this a "strong buy"?
So far, so bad. Reviewing the numbers so far -- both actual performance in 2016, and projected performance in 2017 -- there really doesn't seem to be that much for Raymond James to be getting excited about in Nuance's yesterday-report.
Adding to the confusion, while both StreetInsider.com and TheFly.com confirm that Raymond James has upgraded the stock, neither one provides any insight into why exactly Raymond James likes Nuance. It could be management's insistence that after 2017, the company will enjoy "a continuation of the favorable trends we have outlined for FY16 and FY17." But given that the 2017 numbers are likely to fall short of investor expectations, it just as likely is not this management commentary that has Raymond James so excited.
So is there any reason for optimism at all?
The most important thing: Valuation
I actually think there is reason to be optimistic about Nuance stock. Here's why:
With Q4 numbers in hand, we now know that Nuance did exceptionally well on the cash front last year. Cash from operations at the company totaled $566 million -- a new record for Nuance. Capital spending of $55 million was in line with recent spending levels. And while the company spent more on acquisitions than I had been hoping to see ($173 million), this all still leaves Nuance with $338 million in real free cash flow for the year, which was nearly as much as 2015's record cash haul.
Valued on this free cash flow, and taking into account net debt, S&P Global Market Intelligence data show that Nuance stock currently sports an enterprise value of $6.2 billion. Divide $338 million in free cash flow into that number, and the stock's EV/FCF ratio works out to just 18.3. That's not an expensive valuation given that most analysts who follow the stock expect to see Nuance grow profits at about 16% annually. It's not cheap, exactly, and for that reason I take issue with Raymond James' assertion that Nuance stock is already a "strong buy."
But it's getting there.
Forget the 2016 Election: 10 stocks we like better than Nuance Communications Donald Trump was just elected president, and volatility is up. But here's why you should ignore the election:
Investing geniuses Tom and David Gardner have spent a long time beating the market no matter who's in the White House. In fact, the newsletter they have run for over a decade, Motley Fool Stock Advisor, has tripled the market.*
David and Tom just revealed what they believe are the ten best stocks for investors to buy right now... and Nuance Communications wasn't one of them! That's right -- they think these 10 stocks are even better buys.
Click here to learn about these picks!
*Stock Advisor returns as of November 7, 2016
Fool contributorRich Smithdoes not own shares of, nor is he short, any company named above. You can find him onMotley Fool CAPS, publicly pontificating under the handleTMFDitty, where he currently ranks No. 314 out of more than 75,000 rated members.
The Motley Fool recommends Nuance Communications. Try any of our Foolish newsletter services free for 30 days. We Fools may not all hold the same opinions, but we all believe that considering a diverse range of insights makes us better investors. The Motley Fool has a disclosure policy.