Nuance Boosts Bookings on Healthcare, Automotive Demand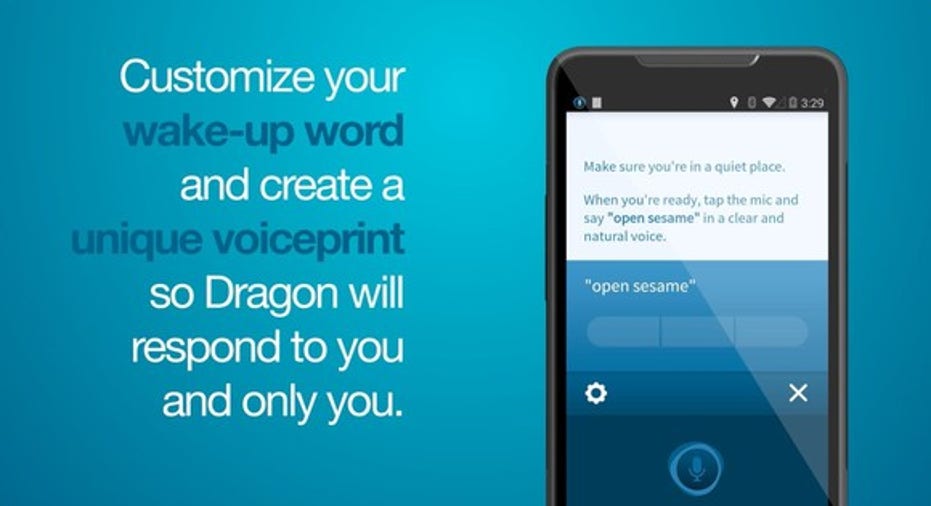 Nuance Communications (NASDAQ: NUAN) has built up considerable expertise in turning voice commands into recognizable actions, and the company is working hard at expanding the breadth of applications for its cutting-edge technology. Increasingly, Nuance has sought to make many different tasks easier, whether it's transcribing doctors' notes into electronic medical records or having automobile entertainment systems understand commands from drivers. Coming into Tuesday's fiscal first-quarter financial report, Nuance investors were prepared for slight declines in revenue and earnings per share, but the company managed to score a slight sales gain on big gains in new bookings.
Let's take a closer look at Nuance Communications to see how it did and what it sees ahead for its business in 2017 and beyond.
Image source: Nuance.
Nuance makes progress
Nuance's fiscal first-quarter results were relatively close to what most of those following the stock had expected. Adjusted revenue climbed by less than 1% to $496 million, but that was still better than the consensus forecast for a decline to $490 million. On a GAAP basis, Nuance's net loss nearly doubled from year-ago levels, but after accounting for various extraordinary items, adjusted earnings of $0.35 per share matched up exactly with what most investors were looking to see.
Taking a closer look at Nuance's numbers, the figure that stands out the most was the 23% growth in net new bookings, which hit $380.3 million. Nuance attributed the increase to healthcare and mobile, and it specifically called out the Dragon Medical One platform and integrated clinical documentation solutions as driving the growth.
From a segment perspective, the enterprise segment was the key driver of revenue growth, posting a 15% rise in organic sales for the segment. However, the rest of the company didn't share that success. The smaller imaging business had the worst results, seeing organic sales fall 15%. The key healthcare segment saw organic revenue decline 6% from year-ago levels, and the mobile division suffered a 5% drop.
Segment profits showed similar patterns. Enterprise was the only division to post growth in its segment bottom line, while minimal declines in profitability for healthcare and mobile paled in comparison to a one-third plunge in the imaging segment's adjusted profit.
Nuance has worked hard to boost recurring revenue, and its slow growth continued during the quarter. Recurring revenue made up 73% of adjusted sales during the quarter, up six percentage points from the fiscal first quarter of 2016. By contrast, perpetual product and licensing revenue saw its decrease accelerate, falling by nearly a third from the year-ago quarter.
CFO Dan Tempesta was straightforward in his description of the company's success. "Nuance delivered strong performance against our guidance in the first quarter," Tempesta said, "as we continued our execution and momentum across the business." The CFO pointed to "solid results" in bookings, sales, profit, and cash flow as signs of the progress that Nuance has made.
What's ahead for Nuance?
Nuance now thinks that it should be able to start seeing more impressive revenue gains. In Tempesta's words, "Last quarter's groundwork and a robust outlook for the second quarter place the company on track for our FY17 non-GAAP guidance with a return to organic revenue growth and continued strong cost discipline and profitability."
In particular, Nuance reiterated its guidance for the full 2017 fiscal year. Bookings should sustain growth of 2% to 6% compared to fiscal 2016, and organic growth in sales should amount to about 1% for the year. Recurring revenue should stay at its current level of around 72% to 73% of total revenue, which will be between $2.02 billion to $2.07 billion and produce adjusted earnings of $1.53 to $1.63 per share.
Fiscal second-quarter predictions from Nuance were very much in line with investor expectations. The company sees adjusted sales of $493 million to $507 million, producing adjusted earnings of $0.36 to $0.40 per share. The consensus forecast among those following the stock is at the midpoint of both ranges.
Perhaps as a result, Nuance investors didn't have a huge response to the news, with only the smallest of gains in after-hours trading following the announcement. If Nuance can continue to find its way into more breakthrough technologies going forward, then it will have a better chance at producing the growth that investors really want to see in the months and years to come.
10 stocks we like better than Nuance CommunicationsWhen investing geniuses David and Tom Gardner have a stock tip, it can pay to listen. After all, the newsletter they have run for over a decade, Motley Fool Stock Advisor, has tripled the market.*
David and Tom just revealed what they believe are the 10 best stocks for investors to buy right now... and Nuance Communications wasn't one of them! That's right -- they think these 10 stocks are even better buys.
Click here to learn about these picks!
*Stock Advisor returns as of February 6, 2017
Dan Caplinger has no position in any stocks mentioned. The Motley Fool recommends Nuance Communications. The Motley Fool has a disclosure policy.